Jak absorbovat šok z přechodu na jiné energie
STOCKHOLM – Ruská válka na Ukrajině vyslala do celého světa šokové vlny. Ceny ropy vystřelily vzhůru a prudký růst zaznamenaly i ceny potravin, což vyvolalo politickou nestabilitu. Když byly ceny potravin naposledy takto rozkolísané, vypukly v celém arabském světě a na územích od Burkiny Faso po Bangladéš vzpoury. Tentokrát dochází k energetickému a potravinovému šoku na pozadí pandemie covid-19. Kdy tyto šoky skončí?
Neskončí. Můžeme si tedy vybrat buď odevzdanost a zoufalství, anebo politickou agendu budování sociální a politické odolnosti vůči budoucím šokům. Takové jsou naše možnosti a my bychom je raději měli začít brát vážně, protože šoky se pravděpodobně budou dál zhoršovat. Vedle geopolitických krizí vyvolá další disrupci také naléhavá klimatická krize, od ničivých záplav přes obrovská sucha až po možnou neúrodu ve všech klíčových obilných regionech současně. Stojí za zmínku, že Indie coby druhý největší producent pšenice na světě nedávno zakázala její vývoz, aby reagovala na ničivou vlnu veder letos na jaře.
Má to ovšem háček: snížení zranitelnosti vůči šokům například zahájením energetické a potravinové revoluce bude samo o sobě také disruptivní. Energetická soustava představuje základ industrializovaných ekonomik a je zapotřebí ji přebudovat, abychom mohli během pár desetiletí utlumit fosilní paliva. Obrovské průmyslové sektory jako těžba uhlí a ropy se budou muset omezovat, až vymizí úplně. A zemědělství, doprava i další sektory se budou muset radikálně proměnit, aby byly trvale udržitelnější a odolnější.
Úkol pro politiky je tedy zřejmý: vymyslet spravedlivé politické přístupy, které ochrání lidi před zákonitými šoky.
Jedním nápadem se značným potenciálem je takzvaný Fond občana, který by se řídil jednoduchou rovnicí poplatku a výnosu. Firmy, které vytvářejí emise skleníkových plynů nebo dobývají přírodní zdroje, by do fondu platily poplatky a ty by se poté přerozdělily a rovným dílem vyplácely všem občanům, což by vytvořilo ekonomický polštář pro období transformace i po ní.
A není to pouhý nápad. Už v roce 1976 založil tehdejší republikánský guvernér Aljašky Jay Hammond Aljašský permanentní fond, na který musely firmy zasílat poplatky za těžbu ropy. Výtěžek se pak rovným dílem vyplácel všem občanům tohoto státu. V roce 2021 tak každý občan Aljašky, který měl na tuto platbu nárok, obdržel 1114 dolarů – nikoliv jako sociální dávku, nýbrž jako dividendu ze statku patřícího státu (v tomto případě omezených zásob ropy). Nejvyšší dividenda se na Aljašce vyplatila během guvernérského působení republikánky Sarah Palinové, kdy každému občanovi spadlo do klína 3269 dolarů.
Introductory Offer: Save 30% on PS Digital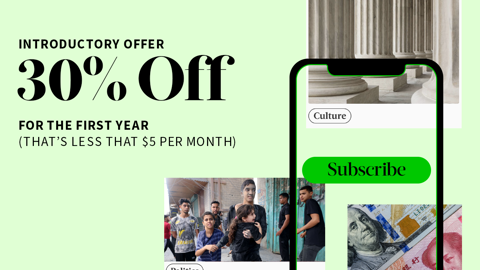 Introductory Offer: Save 30% on PS Digital
Subscribe now to gain greater access to Project Syndicate – including every commentary and our entire On Point suite of subscriber-exclusive content – starting at less than $5 per month.
V roce 2017 navrhli James A. Baker a George P. Shultz, dva bývalí republikánští ministři zahraničí, podobný plán pro celé Spojené státy, přičemž odhadovali, že poplatky za uhlíkové emise přinesou každé americké domácnosti dividendu ve výši 2000 dolarů ročně. Jejich plán si získal podporu 3500 ekonomů a našel širokou odezvu nejen u firem a ekologických skupin, ale i (což je neuvěřitelnější) napříč politickými stranami.
Ekonomický princip je prostý. Poplatek za uhlík snižuje emise, neboť zvyšuje cenu za znečišťování. A přestože by firmy přenesly tyto náklady na zákazníky, nejhůře zasažení by byli ti nejbohatší, protože právě oni jsou zdaleka největším a nejrychleji rostoucím zdrojem emisí. Nejchudší lidé by naopak měli z dividendy největší přínos, poněvadž 2000 dolarů znamená pro nízkopříjmovou domácnost mnohem víc než pro domácnost s vysokými příjmy. A nakonec by na tom vydělala většina lidí.
Avšak vzhledem k tomu, že šokové výkyvy cen potravin a energií obvykle nejtvrději dopadají na nízkopříjmové skupiny, proč tuto dividendu zavádět plošně? Důvodem je, že tak dalekosáhlá politika potřebuje mít širokou a trvalou podporu, přičemž lidé mnohem spíš podpoří určitý program či politiku, pokud z nich oni sami alespoň něco mají.
Fond občana navíc není pouze způsobem, jak stlačit emise a poskytnout ekonomickou záchrannou síť pro přechod na čistou energii. Zároveň by podporoval inovace a kreativitu, neboť by zajišťoval podporu podnikatelům a činorodým občanům, které budeme k transformaci našich energetických a potravinářských systémů potřebovat.
Fond občana by se dal navíc rozšířit tak, aby zahrnoval i další globální statky včetně těžebního a jiného dobývacího průmyslu, plastů, oceánských zdrojů, a dokonce i vědomostí, dat a sítí. Všechny tyto obory pracují se společnými statky – které patří všem –, a firmy, jež je využívají, by proto měly platit za vytvořené negativní externality.
Všeobecná základní dividenda samozřejmě není všelék. Musí být součástí širšího plánu budování takové společnosti, která bude odolnější vůči šokům, a to i prostřednictvím většího úsilí o přerozdělení bohatství progresivním zdaněním a poskytnutím větší moci zaměstnancům. Za tímto účelem vyvíjí iniciativa Earth4All, v jejímž čele stojím, soubor novátorských návrhů, které považujeme za nejslibnější cesty k vybudování soudržné společnosti, jež dokáže lépe přijímat dlouhodobá rozhodnutí ku prospěchu většiny.
Náš nejdůležitější poznatek je možná ze všech nejočividnější, ale zároveň se snadno přehlíží. Ať už činíme pro vyřešení velkých problémů základní minimum, nebo se naopak maximálně snažíme vybudovat odolnou společnost, k naší budoucnosti v obou případech patří i disrupce a šoky. Jedinou možností je proto naučit se s disrupcemi žít, přičemž Fond občana jednoznačně funguje jako tlumič šoků.
Z angličtiny přeložil Jiří Kobělka