Den Schock der Energiewende abfedern
STOCKHOLM – Der Krieg Russlands gegen die Ukraine hat die ganze Welt erschüttert. Die Ölpreise sind in die Höhe geschnellt und die Lebensmittelpreise sind gestiegen, was zu politischer Instabilität geführt hat. Das letzte Mal, als die Lebensmittelpreise so stark schwankten, brachen in der gesamten arabischen Welt, von Burkina Faso bis Bangladesch, Unruhen aus. Diesmal findet der Energie- und Nahrungsmittelschock vor dem Hintergrund der COVID-19-Pandemie statt. Werden die Schocks irgendwann aufhören?
Sie werden es nicht. Wir haben also die Wahl zwischen Resignation und Verzweiflung oder einer politischen Agenda zur Stärkung der sozialen und politischen Widerstandsfähigkeit gegen künftige Schocks. Das sind unsere Optionen, und wir sollten besser anfangen, sie ernst zu nehmen, denn die Schocks werden wahrscheinlich noch schlimmer werden. Zusätzlich zu den geopolitischen Krisen wird der Klimanotstand noch größere Störungen mit sich bringen, wie z. B. verheerende Überschwemmungen, extreme Dürren und womöglich sogar einen gleichzeitigen Ernteausfall in wichtigen Getreideanbaugebieten der Welt. Es ist erwähnenswert, dass Indien, der zweitgrößte Weizenproduzent der Welt, vor kurzem als Teil seiner Reaktion auf eine verheerende Hitzewelle in diesem Frühjahr einen Exportstopp verhängt hat.
Will man jedoch die Anfälligkeit für Schocks, z. B. durch die Herbeiführung von Energie- und Nahrungsmittelrevolutionen verringern, wird dies ebenfalls Disruptionen zur Folge haben. Das Energiesystem ist die Grundlage der industrialisierten Volkswirtschaften, und es muss überarbeitet werden, um innerhalb weniger Jahrzehnte aus den fossilen Brennstoffen auszusteigen. Riesige Industriezweige wie Kohle und Öl werden schrumpfen und dann verschwinden müssen. Auch die Landwirtschaft, das Transportwesen und andere Sektoren werden sich radikal verändern müssen, um nachhaltiger und widerstandsfähiger zu werden.
Die Herausforderung für die Politiker liegt also auf der Hand: eine gerechte Politik zu entwickeln, die die Menschen vor den unvermeidlichen Schocks schützt.
Eine Idee mit großem Potenzial ist ein Bürgerfonds, der nach einem einfachen Gebühren- und Dividendensystem funktioniert. Unternehmen, die Treibhausgasemissionen ausstoßen oder natürliche Ressourcen abbauen, würden Gebühren in den Fonds einzahlen, der dann gleiche Zahlungen an alle Bürgerinnen und Bürger ausschüttet und so ein wirtschaftliches Polster für die Zeit der Transformation und darüber hinaus schafft.
Dies ist nicht nur eine Idee. Im Jahr 1976 richtete der republikanische Gouverneur von Alaska, Jay Hammond, den Alaska Permanent Fund ein, der von Unternehmen eine Gebühr für die Ölförderung erhebt und die Einnahmen dann zu gleichen Teilen an alle Bürger des Staates ausschüttet. Im Jahr 2021 erhielt jeder anspruchsberechtigte Einwohner Alaskas 1.114 Dollar – nicht als "Sozialhilfe", sondern in Form einer Dividende aus einem staatlichen Gemeingut (in diesem Fall einem endlichen Ölvorrat). Die größte Dividende, die jemals gezahlt wurde, gab es während der Gouverneurszeit der Republikanerin Sarah Palin im Jahr 2008, als jeder Einwohner in den Genuss eines Geldsegens von 3.269 Dollar kam.
Subscribe to PS Digital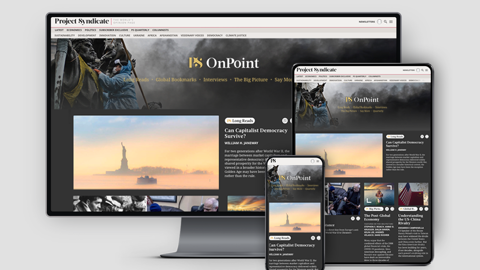 Subscribe to PS Digital
Access every new PS commentary, our entire On Point suite of subscriber-exclusive content – including Longer Reads, Insider Interviews, Big Picture/Big Question, and Say More – and the full PS archive.
2017 schlugen James A. Baker und George P. Shultz, zwei ehemalige republikanische Außenminister, einen ähnlichen Plan für die gesamten Vereinigten Staaten vor. Sie schätzten, dass Gebühren auf Kohlenstoffemissionen jedem US-Haushalt eine Dividende von 2.000 Dollar pro Jahr einbringen würden. Mit der Unterstützung von 3.500 Wirtschaftswissenschaftlern findet ihr Plan nicht nur bei Unternehmen und Umweltverbänden großen Anklang, sondern auch (und das ist noch unglaublicher) Zustimmung aus beiden politischen Lagern.
Das wirtschaftliche Prinzip ist einfach. Eine Abgabe auf Kohlenstoff senkt die Emissionen, indem sie den Preis für die Verschmutzung in die Höhe treibt. Und obwohl die Unternehmen diese Kosten an die Verbraucher weitergeben würden, wären die Wohlhabendsten am stärksten betroffen, da sie die bei weitem größte und am schnellsten wachsende Emissionsquelle sind. Die Ärmsten hingegen würden am meisten von der Dividende profitieren, denn 2.000 Dollar bedeuten für einen Haushalt mit niedrigem Einkommen viel mehr als für einen Haushalt mit hohem Einkommen. Letztendlich würden die meisten Menschen davon profitieren.
Aber warum sollte die Dividende für alle gelten, wenn Lebensmittel- und Energiepreisschocks die einkommensschwachen Bevölkerungsschichten am härtesten treffen? Der Grund dafür ist, dass eine Politik dieser Größenordnung sowohl eine breite als auch eine dauerhafte Unterstützung benötigt. Die Menschen sind viel eher bereit, ein Programm oder eine Politik zu unterstützen, wenn zumindest etwas für sie dabei herausspringt.
Außerdem ist ein Bürgerfonds nicht nur eine Möglichkeit, die Emissionen zu senken und ein wirtschaftliches Sicherheitsnetz für den Übergang zu sauberer Energie zu schaffen. Er würde auch Innovation und Kreativität fördern, indem er den Unternehmern und Risikoträgern, die wir für die Umgestaltung unserer Energie- und Lebensmittelsysteme brauchen, eine Basis an Unterstützung bietet.
Die Abgaben für einen Bürgerfonds könnten auch auf andere globale Gemeingüter ausgeweitet werden, darunter Bergbau und andere Rohstoffindustrien, Kunststoffe, die Ressourcen der Ozeane und sogar auf Wissen, Daten und Netzwerke. Bei allen handelt es sich um Gemeingüter, die allen gehören und die von Unternehmen ausgebeutet werden, die für die von ihnen verursachten negativen externen Effekte aufkommen müssen.
Natürlich ist eine allgemeine Grunddividende kein Allheilmittel. Sie muss Teil eines umfassenderen Plans zum Aufbau von Gesellschaften sein, die widerstandsfähiger gegen Schocks sind, unter anderem durch größere Anstrengungen zur Umverteilung des Wohlstands durch progressive Besteuerung und die Stärkung der Arbeitnehmer. Zu diesem Zweck entwickelt Earth4All, eine Initiative, die ich mit leite, eine Reihe neuartiger Vorschläge, die wir als die vielversprechendsten Wege zum Aufbau kohäsiver Gesellschaften erachten. Gesellschaften, die besser in der Lage wären, langfristige Entscheidungen zum Wohle der Mehrheit zu treffen.
Unsere wichtigste Erkenntnis ist vielleicht die offensichtlichste, aber sie ist auch leicht zu übersehen. Ob wir nun das Nötigste tun, um die großen Herausforderungen zu bewältigen, oder ob wir alles tun, um widerstandsfähige Gesellschaften aufzubauen – Störungen und Schocks sind Teil unserer Zukunft. Daher ist die Bereitschaft, Störungen zu akzeptieren, die einzige Option, und ein Bürgerfonds wird zu einem offensichtlichen Schockdämpfer.
Übersetzung: Andreas Hubig