Transformacja Energetyczna Napędza Transformację Władzy
WASZYNGTON, DC - W walce o redukcję emisji gazów cieplarnianych i zapobieganie najgorszym skutkom zmian klimatycznych, świat ma ogromne zasoby, które pozostają w dużej mierze niewykorzystane: kobiety.
Zapobieganie katastrofalnym skutkom zmian klimatu wymaga zrozumienia co - i kto - napędza transformację. Inwestowanie w kobiety, co oznacza poprawę ich dostępu do edukacji, czynników ekonomicznych i kapitału, daje rządom szansę na osiągnięcie ambitnych celów klimatycznych.
Kilka badań wykazało, w jaki sposób promowanie równości płci może pobudzić działania na rzecz klimatu. Państwa z większym odsetkiem kobiet w swoich organach ustawodawczych są bardziej skłonne do zatwierdzania umów i traktatów środowiskowych. A gdy więcej kobiet jest zaangażowanych w grupowe podejmowanie decyzji dotyczących zarządzania gruntami, grupa ta oszczędza więcej. Poza tym, szacuje się, że zwiększenie produktywności kobiet prowadzących małe gospodarstwa rolne może zmniejszyć emisję dwutlenku węgla nawet o dwa miliardy ton do 2050 roku.
Przejście na czystą energię wymaga zmiany systemu zasilania. Innymi słowy, zmiana systemów energetycznych wymaga zmiany systemów władzy. Pomimo tego, że kobiety są odpowiedzialne za połowę światowej produkcji żywności, posiadają one mniej niż 20% gruntów rolnych na świecie. I chociaż kobiety stanowią 45% siły roboczej w rolnictwie w krajach rozwijających się (i 37% na całym świecie), otrzymują one tylko 7% inwestycji w tym sektorze. Gdyby otrzymały taki sam dostęp do zasobów produkcyjnych jak mężczyźni, kobiety w krajach rozwijających się mogłyby zwiększyć plony w swoich gospodarstwach o 20-30% i uwolnić 100-150 milionów ludzi od głodu.
W obecnej sytuacji kobiety i dziewczęta nieproporcjonalnie mocno odczuwają skutki zmian klimatu. Według Organizacji Narodów Zjednoczonych kobiety stanowią 80% osób przesiedlonych w wyniku zmian klimatu i są 14 razy bardziej narażone na śmierć w wyniku katastrofy związanej z klimatem niż mężczyźni. Do 2025 r. zmiany klimatu mogą uniemożliwić co najmniej 12,5 mln dziewcząt ukończenie edukacji każdego roku. Jak zauważono w Malala Fund, "po wstrząsach klimatycznych zestresowane rodziny często wyciągają dziewczęta ze szkoły, aby pomagały przy zwiększonych obowiązkach domowych - takich jak przynoszenie wody i drewna na opał - lub aby zawrzeć wczesne małżeństwo, by zmniejszyć obciążenie ograniczonych zasobów gospodarstwa domowego." W Botswanie szacuje się, że 70% dzieci, które porzuciły szkołę podczas suszy, to dziewczynki, podczas gdy w Etiopii małżeństwa dzieci wzrosły średnio o 119% w regionach najbardziej dotkniętych suszą.
Kiedy ekstremalne zjawiska pogodowe pozbawiają żywicieli rodzin środków do życia i domów, nie mogą oni już sobie pozwolić na to, by dzieci uczyły się zamiast pracować; czasami dziewczęta w wieku 11 lub 12 lat stają się pannami młodymi. Oznacza to zmarnowany talent i utracony potencjał, a także wczesne macierzyństwo dla wielu osób. Co więcej, dzieci z niższym wykształceniem są mniej biegłe w zrównoważonych praktykach rolniczych.
Introductory Offer: Save 30% on PS Digital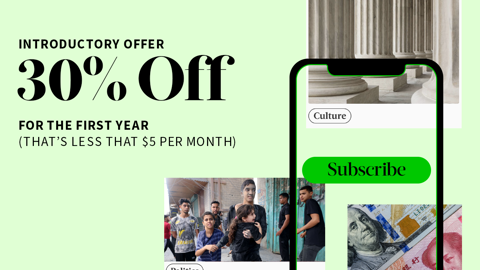 Introductory Offer: Save 30% on PS Digital
Subscribe now to gain greater access to Project Syndicate – including every commentary and our entire On Point suite of subscriber-exclusive content – starting at less than $5 per month.
Dobrą wiadomością jest to, że inwestowanie w kobiety i dziewczęta obiecuje wysokie zyski pod względem wspierania wzrostu, budowania odporności i wzmacniania wysiłków adaptacyjnych. Wykorzystanie tej szansy wymaga jednak zmiany powszechnych wyobrażeń i wspólnych wysiłków, aby kobiety stały się bardziej widoczne - zwłaszcza w kontekście kształtowania polityki. Podczas Konferencji Narodów Zjednoczonych w sprawie Zmian Klimatu w Egipcie (COP27) kobiety stanowiły mniej niż 34% zespołów krajowych. W 2020 r. kobiety kierowały jedynie 15% ministerstw środowiska w 193 krajach.
Przeznaczanie kapitału na wspieranie kobiet w rolnictwie, utrzymywanie dziewcząt w szkołach, finansowanie kobiet-przedsiębiorców i wspieranie sieci informacyjnych prowadzonych przez kobiety w sytuacjach kryzysowych od dawna uznawane jest za niezbędne do osiągnięcia celu, jakim jest wzrost gospodarczy sprzyjający włączeniu społecznemu. Przyczyni się to również do zmniejszenia emisji gazów cieplarnianych i utrzymania globalnego ocieplenia w granicach 1,5° Celsjusza określonych w porozumieniu klimatycznym z Paryża.
Wyobraźmy sobie świat, w którym kobiety rolniczki mają równy dostęp do środków produkcji, mają fundusze, aby stać się przedsiębiorcami w zakresie czystej energii, uczą się umiejętności wymaganych do korzystania z nowych zielonych miejsc pracy, a sieci prowadzone przez kobiety, takie jak Women Wetem Weta w Vanuatu, zapewniają wczesne ostrzeżenia o katastrofach, aby chronić swoje społeczności. Jest to świat "więcej za więcej": więcej dzieci jest wykształconych, więcej społeczeństw może się utrzymać, a wszyscy mogą cieszyć się większym dobrobytem, bezpieczeństwem i stabilnością.
Aby zrealizować tę wizję, osoby sprawujące władzę muszą wykorzystać ten moment zagrożenia oraz możliwości, aby zapewnić kobietom i dziewczętom możliwość wykorzystania ich potencjału, a tym samym wesprzeć wspólną walkę ze zmianami klimatu i ich skutkami. Transformacja energetyczna jest szansą dla nas wszystkich. Jej maksymalne wykorzystanie będzie wymagało inwestowania w tych, którzy będą ją napędzać.
Z angielskiego przetłumaczyła Marz McNamer