Em defesa de um Tratado de Não Proliferação de Combustíveis Fósseis
CIDADE DO CABO / BERLIM – O Verão do hemisfério norte em 2021 trouxe-nos vários recordes relativos a catástrofes naturais. A lista (que inclui cheias intensas na China e na Europa Ocidental, vagas de calor e seca na América do Norte, seca extrema em África e incêndios florestais na região subárctica e na Europa do Sul) é comprida, está a crescer e é global.
Isto marca o início do caos climático e transmite uma mensagem categórica: já não podemos confiar nos padrões históricos para desenvolvermos previsões de futuras catástrofes naturais. Especificamente, o mais recente relatório do Painel Intergovernamental sobre as Alterações Climáticas (PIAC) atribui mais claramente os eventos meteorológicos extremos à influência humana sobre o clima, assinalando que os combustíveis fósseis causaram 86% das emissões de dióxido de carbono na década passada.
Durante décadas, um pequeno número de empresas privadas e estatais extremamente ricas e poderosas lucrou grandemente com a venda destes combustíveis, ao mesmo tempo que enganou o público e influenciou governos para impedir a acção política necessária ao combate às alterações climáticas. As estratégias das Grandes Petrolíferas (NdT: "Big Oil", no original) para preservarem o seu modelo de negócio durante o maior tempo possível estão bem documentadas. Os anúncios no Facebook que promovem o seu "respeito pelo ambiente" e a sua "gasolina verde" foram visualizados, só em 2020, 431 milhões de vezes.
Esta fraude corporativa é especialmente problemática para os países do Sul Global, que se esforçam por melhorar a sua segurança económica, e que se arriscam a ficar presos a activos infra-estruturais poluentes que se tornarão improdutivos. Com efeito, todas as regiões têm elevado potencial para as energias renováveis. A colaboração e apoio internacionais, especialmente o financiamento proveniente do Norte Global, são essenciais para a sua concretização.
A inexistência de um mecanismo internacional que seja directamente responsável pelos combustíveis fósseis traduz-se na continuação da expansão significativa do sector, mesmo depois da assinatura, em 2015, do acordo de Paris sobre o clima. De acordo com o Relatório das Nações Unidas sobre as Disparidades na Produção, a produção de combustíveis fósseis planeada para 2030 é actualmente 120% maior do que teria sido permitido numa restrição orçamental de carbono de 1,5° Celsius.
A implementação destes planos ameaçaria desencadear alterações climáticas desenfreadas. Mas os seus apoiantes parecem estar a conseguir ficar impunes, mostrando claramente que os líderes políticos fizeram vista grossa a este motor tão óbvio do caos climático. Até países considerados campeões climáticos, como o Canadá, o Reino Unido, os Estados Unidos e a Noruega, estão a aprovar novos projectos de combustíveis fósseis, ao mesmo tempo que accionam o alarme climático de forma alinhada com o PIAC.
Subscribe to PS Digital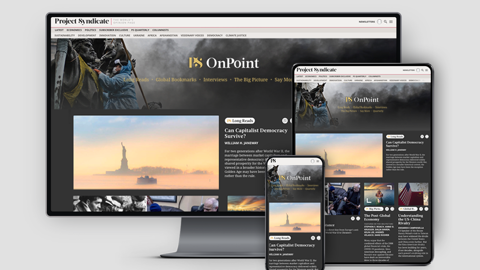 Subscribe to PS Digital
Access every new PS commentary, our entire On Point suite of subscriber-exclusive content – including Longer Reads, Insider Interviews, Big Picture/Big Question, and Say More – and the full PS archive.
Apesar da insistência na minimização de emissões poder ter sido uma abordagem sensata para o início da década de 1990, hoje em dia é claramente insuficiente. Também precisamos de um mecanismo complementar e explicitamente orientado para a restrição da oferta de combustíveis fósseis.
Iniciativas emergentes, como a Beyond Oil and Gas Alliance, podem funcionar como fóruns para a implementação de um novo padrão de liderança climática e a criação do espaço político necessário para promoção do debate entre países pioneiros e países vulneráveis. Mas com o aumento da inércia política torna-se necessário desenvolver um instrumento jurídico internacional. Uma ferramenta que começa a ganhar apoios globais, e que nos ajudaria a entrar num rumo pertinente para um clima habitável, é um Tratado de Não Proliferação de Combustíveis Fósseis.
Um tratado deste tipo imitaria os acordos internacionais existentes que visam reduzir a ameaça das armas nucleares, das minas terrestres, da eliminação do ozono e de outros riscos de segurança. E basear-se-ia nos três pilares do Tratado de Não Proliferação Nuclear.
Nos últimos meses, o mundo fez avanços significativos para o primeiro pilar de um futuro tratado – a não-proliferação. A Agência Internacional para a Energia afirmou que todos os novos desenvolvimentos de combustíveis fósseis conflituarão com os objectivos do acordo de Paris, os membros do G7 concordaram em suspender o financiamento para novos projectos baseados no carvão e muitas jurisdições já proibiram todas as novas licenças para combustíveis fósseis.
O segundo pilar é uma desactivação viável. A maioria dos climatologistas concorda que necessitamos de eliminar progressivamente a produção e os inventários existentes de combustíveis fósseis. Mesmo sem projectos novos assentes no carvão, no petróleo ou no gás natural, o mundo produziria 35% mais petróleo e 69% mais carvão até 2030 do que é consistente com um percurso no sentido dos 1,5 °C.
Terceiro, um novo tratado deveria ajudar a possibilitar um abandono justo dos combustíveis fósseis, através de um processo de cooperação internacional centrado na equidade. As economias abastadas e produtoras de combustíveis fósseis liderariam o caminho, e partilhariam os benefícios e os fardos da transição com os países mais desfavorecidos. Isto incluiria o fornecimento de recursos financeiros que permitissem aos legisladores implementar e apoiar as políticas climáticas necessárias.
Centenas de organizações que representam milhares de pessoas responderam ao apelo a um Tratado de Não Proliferação de Combustíveis Fósseis. No início deste ano, o Dalai Lama e outros 100 laureados com o Nobel apelaram ao fim da expansão dos combustíveis fósseis, enquanto mais de 2000 académicos e cientistas demonstraram o seu apoio numa carta aberta.
Teremos de viver num mundo em que os eventos climáticos extremos serão mais intensos e mais frequentes. Mas a primeira regra para se sair de um buraco é parar de cavar. E isso obrigará a não sucumbir ao poder e à influência do lóbi dos combustíveis fósseis e dos seus aliados políticos.
Encontrar soluções viáveis para a gestão do declínio da indústria dos combustíveis fósseis é hoje mais importante que nunca. Um Tratado de Não Proliferação de Combustíveis Fósseis proporciona uma visão e um rumo para uma possível e verdadeira liderança e cooperação climática a nível internacional.