De noodzaak van een Non-Proliferatieverdrag voor Fossiele Brandstoffen
KAAPSTAD/BERLIJN – De noordelijke zomer van 2021 heeft een reeks recordbrekende natuurrampen met zich meegebracht. De lijst – met onder meer zware overstromingen in China en West-Europa, hittegolven en droogte in Noord-Amerika, extreme droogte in Afrika, en bosbranden in het subarctische gebied en Zuid-Europa – is lang, groeit en is wereldwijd.
Dit is het begin van de klimaatchaos, en het levert een grimmige boodschap op: we kunnen niet langer vertrouwen op historische patronen om voorspellingen te doen over toekomstige natuurrampen. Met name in het jongste rapport van de Intergouvernementele Werkgroep inzake klimaatverandering (IPCC) worden extreme weersomstandigheden duidelijker toegeschreven aan de invloed van de mens op het klimaat, waarbij erop wordt gewezen dat fossiele brandstoffen de afgelopen tien jaar 86 procent van de kooldioxide-uitstoot hebben veroorzaakt.
Tientallen jaren lang heeft een klein aantal extreem rijke en machtige privé- en staatsbedrijven enorm geprofiteerd van de verkoop van deze brandstoffen, terwijl zij het publiek om de tuin hebben geleid en regeringen hebben beïnvloed om politieke actie voor de aanpak van de klimaatverandering te verhinderen. De strategieën van Big Oil om zijn bedrijfsmodel zo lang mogelijk in stand te houden zijn goed gedocumenteerd. Facebook-advertenties waarin hun ʻklimaatvriendelijkheid' en ʻgroene gas' worden aangeprezen, werden alleen al in 2020 431 miljoen keer bekeken.
Dergelijk bedrog van bedrijven is vooral problematisch voor landen in het Mondiale Zuiden, die ernaar streven hun economische zekerheid te verbeteren en het risico lopen zich vast te leggen in vuile infrastructuur die zal stranden. In feite heeft elke regio een groot potentieel voor hernieuwbare energie. Internationale samenwerking en steun, met name financiering vanuit het Mondiale Noorden, is essentieel om dit potentieel te verwezenlijken.
Door het ontbreken van een internationaal mechanisme dat fossiele brandstoffen rechtstreeks aanpakt, is de sector aanzienlijk blijven groeien, zelfs sinds de ondertekening van het  klimaatverdrag van Parijs in 2015. Volgens het Production Gap Report van de Verenigde Naties is de geplande productie van fossiele brandstoffen in 2030 momenteel 120 procent groter dan zou zijn toegestaan bij een koolstofbudget van 1,5° Celsius.
Als deze plannen worden uitgevoerd, dreigt de klimaatverandering op hol te slaan. Maar hun voorstanders lijken ermee weg te komen, wat duidelijk aantoont dat politieke leiders hun ogen hebben gesloten voor deze meest voor de hand liggende aanjager van de klimaatchaos. Zelfs zogenaamde klimaatkampioenen als Canada, het Verenigd Koninkrijk, de Verenigde Staten en Noorwegen keuren nieuwe projecten voor fossiele brandstoffen goed, terwijl ze in navolging van het IPCC de noodklok luiden.
Subscribe to PS Digital Now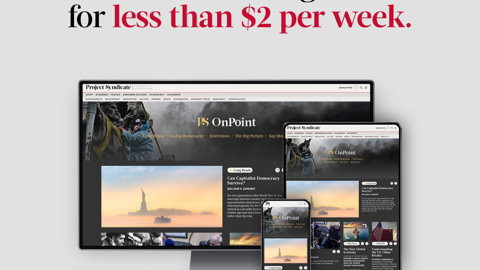 Subscribe to PS Digital Now
Access every new PS commentary, our entire On Point suite of subscriber-exclusive content – including Longer Reads, Insider Interviews, Big Picture/Big Question, and Say More – and the full PS archive.
Concentratie op het minimaliseren van de emissies was misschien een verstandige aanpak aan het begin van de jaren negentig, maar is vandaag duidelijk niet genoeg. We hebben ook een aanvullend mechanisme nodig dat expliciet gericht is op het beperken van het aanbod van fossiele brandstoffen.
Opkomende initiatieven zoals de Beyond Oil and Gas Alliance kunnen dienen als fora die een nieuwe norm voor klimaatleiderschap vaststellen en de politieke ruimte creëren om de besprekingen tussen pioniers en kwetsbare landen vooruit te helpen. Naarmate het politieke momentum groeit, moet echter een route worden uitgestippeld om een internationaal rechtsinstrument tot stand te brengen. Een instrument dat wereldwijd steeds meer steun krijgt en ons op weg zou kunnen helpen naar een leefbaar klimaat, is een Non-Proliferatieverdrag voor Fossiele Brandstoffen.
Zo'n verdrag zou een voorbeeld moeten nemen aan bestaande internationale overeenkomsten die de dreiging van kernwapens, landmijnen, aantasting van de ozonlaag en andere veiligheidsrisico's moeten verminderen. En het zou gebaseerd moeten zijn op de drie pijlers van het  Non-Proliferatieverdrag voor Kernwapens.
Wat de eerste pijler van een toekomstig verdrag – non-proliferatie – betreft, heeft de wereld de afgelopen maanden aanzienlijke vooruitgang geboekt. Het Internationaal Energieagentschap heeft gezegd dat elke nieuwe ontwikkeling van fossiele brandstoffen in strijd is met de doelstellingen van het Verdrag van Parijs, de leden van de G7 zijn overeengekomen geen nieuwe steenkoolprojecten meer te financieren, en veel jurisdicties hebben alle nieuwe vergunningen voor fossiele brandstoffen verboden.
De tweede pijler is een haalbare uitfasering. De meeste klimaatwetenschappers zijn het erover eens dat we de bestaande voorraden en productie van fossiele brandstoffen moeten afbouwen. Zelfs zonder nieuwe kolen-, olie- of gasprojecten zou de wereld tegen 2030 35 procent meer olie en 69 procent meer kolen produceren dan in overeenstemming is met een 1,5°C-traject.
In de derde plaats moet een nieuw verdrag helpen om een rechtvaardige transitie, weg van fossiele brandstoffen, mogelijk te maken door middel van een proces van internationale samenwerking dat rechtvaardigheid als kernpunt heeft. Rijke economieën die fossiele brandstoffen produceren, moeten het voortouw nemen, en de voordelen en lasten van de transitie delen met armere landen, werknemers en getroffen gemeenschappen. Dit zou onder meer moeten inhouden dat beleidsmakers de financiële middelen krijgen om het noodzakelijke klimaatbeleid uit te voeren en te ondersteunen.
Honderden organisaties die duizenden individuen vertegenwoordigen hebben zich aangesloten bij de oproep voor een Non-Proliferatieverdrag voor Fossiele Brandstoffen. Eerder dit jaar hebben de Dalai Lama en honderd andere Nobelprijswinnaars opgeroepen om een einde te maken aan de expansie van fossiele brandstoffen, terwijl ruim tweeduizend academici en wetenschappers hun steun hebben betuigd in een open brief.
We zullen moeten leren leven in een wereld waarin extreme klimaatgebeurtenissen intenser en frequenter worden. Maar de eerste regel om uit een put te geraken is te stoppen met graven. En derhalve mogen we niet toegeven aan de macht en invloed van de fossiele-brandstoffenlobby en haar politieke bondgenoten.
Het vinden van levensvatbare oplossingen om de neergang van de fossielebrandstoffensector in goede banen te leiden is nu belangrijker dan ooit. Een Non-Proliferatieverdrag voor Fossiele Brandstoffen biedt een visie en een pad voor hoe echt internationaal leiderschap en samenwerking op klimaatgebied eruit zouden kunnen zien.
Vertaling: Menno Grootveld