Argument Za Poparciem Traktatu o Nierozprzestrzenianiu Paliw Kopalnych
CAPE TOWN/BERLIN – Lato 2021 roku przyniosło serię rekordowych klęsk żywiołowych. Lista – obejmująca intensywne powodzie w Chinach i Europie Zachodniej, fale upałów i susze w Ameryce Północnej, ekstremalne susze w Afryce oraz pożary lasów w Sub-Arktyce i południowej Europie – jest długa i nadal rośnie i ma globalny zasięg.
To początek chaosu klimatycznego, który niesie ze sobą surowe przesłanie: nie możemy już polegać na wzorcach historycznych w prognozowaniu przyszłych klęsk żywiołowych. Warto zauważyć, że najnowszy raport Międzyrządowego Zespołu ds. Zmian Klimatu (IPCC) wyraźniej przypisuje ekstremalne zjawiska pogodowe wpływowi człowieka na klimat, wskazując, że paliwa kopalne były przyczyną 86% emisji dwutlenku węgla w ostatniej dekadzie.
Przez dziesięciolecia niewielka liczba niezwykle bogatych i potężnych prywatnych i państwowych firm czerpała ogromne korzyści ze sprzedaży tych paliw, jednocześnie oszukując opinię publiczną i wywierając wpływ na rządy, aby powstrzymały działania polityczne w celu przeciwdziałania zmianom klimatu. Strategie tzw. "Big Oil" - mające na celu zachowanie swojego modelu biznesowego tak długo jak to możliwe - są dobrze udokumentowane. Reklamy na Facebooku promujące ich "przyjazność dla klimatu" i "zielony gaz" zostały wyświetlone 431 milionów razy tylko w roku 2020.
Takie korporacyjne oszustwo jest szczególnie problematyczne dla krajów Globalnego Południa, które dążą do poprawy bezpieczeństwa ekonomicznego i ryzykują zamknięcie się w brudnych aktywach infrastrukturalnych. W rzeczywistości każdy region ma wysoki potencjał energii odnawialnej. Współpraca międzynarodowa i wsparcie - w szczególności finansowanie z Globalnej Północy - są niezbędne do jego realizacji.
Brak międzynarodowego mechanizmu bezpośrednio zajmującego się paliwami kopalnymi oznacza, że branża nadal znacząco się rozwija, nawet od podpisania porozumienia klimatycznego z Paryża w 2015 roku. Według raportu ONZ na temat luki produkcyjnej, planowana produkcja paliw kopalnych w 2030 r. jest obecnie o 120% większa niż byłoby dozwolone w ramach budżetu węglowego 1,5 ° Celsjusza.
Wdrożenie tych planów groziłoby wywołaniem niekontrolowanych zmian klimatycznych. Ale ich zwolennicy wydają się uchodzić na sucho, wyraźnie pokazując, że przywódcy polityczni przymknęli oko na ten najbardziej oczywisty czynnik chaosu klimatycznego. Nawet tak zwani przodownicy klimatyczni - jak Kanada, Wielka Brytania, Stany Zjednoczone i Norwegia - zatwierdzają nowe projekty paliw kopalnych, jednocześnie głosząc o alarmie klimatycznym zgodnie z IPCC.
Subscribe to PS Digital Now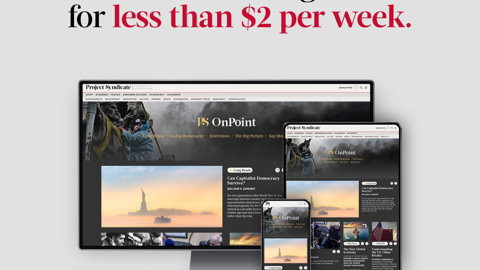 Subscribe to PS Digital Now
Access every new PS commentary, our entire On Point suite of subscriber-exclusive content – including Longer Reads, Insider Interviews, Big Picture/Big Question, and Say More – and the full PS archive.
Chociaż skoncentrowanie się na minimalizowaniu emisji mogło być rozsądnym podejściem na początku lat 90-tych, dziś wyraźnie nie wystarcza. Potrzebujemy również mechanizmu uzupełniającego, wyraźnie ukierunkowanego na ograniczanie dostaw paliw kopalnych.
Pojawiające się inicjatywy, takie jak Beyond Oil and Gas Alliance, mogą służyć jako fora, które ustanawiają nową normę przywództwa klimatycznego i tworzą przestrzeń polityczną do pogłębiania dyskusji między pierwszymi inicjatorami i wrażliwymi krajami. Jednak wraz ze wzrostem rozmachu politycznego należy wypracować ścieżkę do ustanowienia międzynarodowego instrumentu prawnego. Jednym z narzędzi, które zyskuje globalne poparcie i które pomogłoby nam wprowadzić nas na sensowną ścieżkę w kierunku przyjaznego klimatu jest Traktat o Nierozprzestrzenianiu Paliw Kopalnych.
Ten traktat naśladowałby istniejące umowy międzynarodowe, których celem jest zmniejszenie zagrożenia bronią jądrową, minami lądowymi, zubożeniem warstwy ozonowej i innymi zagrożeniami bezpieczeństwa. I byłoby oparte na trzech filarach Układu o Nierozprzestrzenianiu Broni Jądrowej.
W kwestii pierwszego filaru przyszłego traktatu – nieproliferacji – w ciągu ostatnich kilku miesięcy świat poczynił znaczne postępy. Międzynarodowa Agencja Energetyczna stwierdziła, że każdy nowy rozwój paliw kopalnych będzie kolidował z celami porozumienia paryskiego, członkowie G7 zgodzili się zaprzestać finansowania nowych projektów węglowych, a wiele jurysdykcji zakazało wszystkich nowych zezwoleń na paliwa kopalne.
Drugi filar to możliwe do zrealizowania wycofanie. Większość klimatologów zgadza się, że musimy zlikwidować istniejące zapasy i produkcję paliw kopalnych. Nawet bez nowych projektów węglowych, naftowych lub gazowych świat wyprodukowałby o 35% więcej ropy naftowej i 69% więcej węgla do 2030 r. niż jest to zgodne z planowaną ścieżką 1,5°C.
Po trzecie, nowy traktat powinien pomóc w umożliwieniu sprawiedliwego odejścia od paliw kopalnych w procesie współpracy międzynarodowej, której podstawą jest sprawiedliwość. Bogate gospodarki produkujące paliwa kopalne byłyby liderem i dzieliłyby korzyści i ciężary transformacji z biedniejszymi krajami, pracownikami i dotkniętymi społecznościami. Powinno to obejmować zapewnienie środków finansowych umożliwiających decydentom wdrożenie i utrzymanie niezbędnej polityki klimatycznej.
Setki organizacji reprezentujących tysiące osób przyłączyły się do apelu o zawarcie traktatu o nierozprzestrzenianiu paliw kopalnych. Na początku tego roku Dalajlama i 100 innych laureatów Nagrody Nobla wezwali do zaprzestania ekspansji paliw kopalnych, podczas gdy ponad 2000 naukowców i naukowców zasygnalizowało swoje poparcie w liście otwartym.
Będziemy musieli żyć w świecie, w którym ekstremalne zjawiska klimatyczne staną się bardziej intensywne i częstsze. Ale pierwszą zasadą wyjścia z dziury jest zaprzestanie kopania. A to wymaga nie ulegania sile i wpływom jakie posiada lobby paliw kopalnych i jego polityczni sojusznicy.
Znalezienie opłacalnych rozwiązań do zarządzania upadkiem przemysłu paliw kopalnych jest teraz ważniejsze niż kiedykolwiek. Traktat o nierozprzestrzenianiu paliw kopalnych oferuje wizję i drogę do tego, jak mogłoby wyglądać prawdziwe międzynarodowe przywództwo i współpraca w dziedzinie klimatu.
Z angielskiego przetłumaczyła Marz McNamer