Další fáze akce proti klimatické změně
FEZ – Zatímco se minulý listopad snažila většina světa poprat se zvolením Donalda Trumpa americkým prezidentem, odehrála se v marocké Marrákeši Konference OSN o klimatické změně (COP22). Účastníci z celého světa, včetně nejvyšších představitelů 38 zemí, se sešli, aby vytvořili plán k implementaci Pařížské dohody z roku 2015, která má za cíl omezit globální oteplování na výrazně méně než 2℃ nad předindustriální úrovní. Byl to důležitý krok vpřed, téma však zůstává mnohem komplexnější – a politicky napjaté – než by si většina chtěla přiznat.
Globální spolupráce, která se v poslední době vynořila, je jistě vítána. Ale zatímco týmová práce je pro úspěch zásadní, stejně tak podstatné je rozpoznání odlišné role a povinnosti vlád v industrializovaném a rozvinutém světě.
Industrializované země dlouho produkovaly masivní množství emisí a dalších druhů znečištění, během čehož spotřebovávali obrovský podíl světových zdrojů – včetně 90% světové vody – ve jménu jejich vlastního rozvoje. Výsledkem je, že mají tyto země nyní vysokou životní úroveň a bezpečnost potravin.
Pro rozvojové země je situace diametrálně jiná. Nejen že mnohem méně přispěli ke klimatické změně, ale trpí také jejími nejhoršími následky, včetně nedostatku jídla a ztrát živobytí, které způsobují čím dál extrémnější a častější výkyvy počasí, jako jsou sucha či povodně.
Zejména Afrika platí velkou cenu. Ačkoliv je kontinent zodpovědný pouze za 4% celkových emisí skleníkových plynů, trpí klimatickou změnou více než kterýkoliv jiný kontinent, jelikož rostoucí teploty, posun sezón a množící se sucha vyčerpávají biodiversitu, ničí ekosystémy a oslabují bezpečnost a stabilitu.
Čadské jezero, kdysi obrovský rezervoár čerstvé vody, ztratilo od roku 1963 zhruba 90% své plochy a hrozí mu trvalé vyschnutí. V Africe zmizí každoročně čtyři miliony hektarů lesa – dvojnásobek světového průměru. Zemědělství, především samozásobitelské hospodaření, zaměstnává přes 60% africké pracovní síly a nese s sebou rozšířené ničení živobytí, nemluvě o zvýšenému nebezpečí nezajištěných potravin jako důsledku narušené utilizace plodin. Výnosy ze zemědělství by vskutku mohly klesnout a to o 20% odteď do roku 2050, s tím, že populace roste dvojnásobně. Celá sekce afrického pobřeží, včetně téměř třetin jeho pobřežní infrastruktury, bude potopená.
Subscribe to PS Digital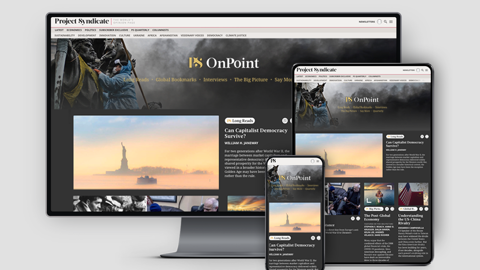 Subscribe to PS Digital
Access every new PS commentary, our entire On Point suite of subscriber-exclusive content – including Longer Reads, Insider Interviews, Big Picture/Big Question, and Say More – and the full PS archive.
Afrika má již nyní deset milionů "klimatických uprchlíků." Pokud se nic nestane, tak toto číslo během pouhých tří let naroste na 60 milionů. To ohrožuje nejen ohromný ekonomický progres, který kontinent za poslední roky udělal, ale také základní práva desítek milionů Afričanů.
Industrializované země se zavázaly, že podpoří své rozvojové protějšky, jako ty v Africe, v jejich snaze obrnit se proti klimatické změně. Jejich sliby jsou však vzhledem k tomu, co je potřeba, nevelké a přetrvávají pochyby, zda budou splněny. Politici často skloňují "udržitelný rozvoj," ale chybí jim pak odpovědi na to, jak ho dosáhnout. V mnoha případech – a Trump je v tomto asi nejvýznamnější příklad – se zdají býti odhodláni udělat pravý opak.
V současné době je ekonomická síla využívána jako politický nástroj, ovládaný vůdci s cílem vyhnout se globální odpovědnosti. "Velké mocnosti" světa nedodržují dohody OSN regulující průmysl, který produkuje skleníkové plyny a vyhazují těžké kovy do země a oceánů. Nejenže si pevně stojí za jaderným průmyslem, ale špatně spravují odpad tohoto průmyslu, což může ničit ekosystémy od oceánů až po lesy a nakazit lidi smrtelnými chorobami. Trump explicitně vyjádřil svůj záměr ignorovat dohodu z Paříže.
Deklarace z Marrákeši zdůrazňuje, že úspěch ve zmírnění klimatické změny bude vyžadovat politickou vůli na té nejvyšší úrovni. Navíc, taková akce musí brát v potaz potřeby a kontext v rozvojových zemích, zejména v těch nejméně rozvinutých ekonomikách a v těch, které jsou efekty klimatické změny nejvíce ohroženy.
S tímto na paměti požaduje deklarace větší snahu o vymýcení chudoby, zajištění dostatku potravin a řešení výzev v zemědělství, které představuje klimatická změna. Volá také po větší podpoře pro klimatické projekty, včetně prostřednictvím budování kapacit a transferu technologií z rozvinutých do rozvojových zemí.
Navzdory Trumpově neochotě se zdá, že mnoho zemí naléhavost jednat rozpoznalo. Účastníci na summitu Africké unie, který se konal během Marrákešské konference, nabídli vlastní závazek k vybudování Afriky, která bude odolná ke klimatické změně a schopná postoupit v udržitelném rozvoji.
K tomu musí africké státy identifikovat cestu k nezbytným zdrojům financování; navrhnout mechanismy k podpoře implantace hlavních programů; posílit kapacity institucí k potýkání se s riziky klimatu a chopit se příležitostí v nízkouhlíkatém vývoji v oblastech energetiky, technologických inovací a "zeleného" průmyslu.
Samozřejmě, odpovědnost za zmírnění klimatické změny neleží pouze na vládě. Například neziskové organizace již mají silný účinek, kdy zavádějí vzdělávací programy a dokonce organizují protesty ke zvýšení povědomí o ekologických výzvách, kterým čelíme.
V mnoha ohledech je však vláda klíčová k umožnění takovýchto kroků. Zatímco by efektivní řešení klimatické změny bylo v podstatě nemožné bez občansko-společenských organizací, jejich účinek je často podrýván politickými úvahami jejich vlád, která mohou, kupříkladu, protěžovat stávajícího dodavatele elektřiny na úkor zelených alternativ, aby tak zachovaly existující pracovní místa.
Některé vlády již podstatná opatření k podpoře posunu směrem k ekologicky šetrným praktikám zavedly, včetně finančních a tržních pobídek. Pouze s více takovými iniciativami a závazkem dokončit Marrákešskou deklaraci a podpořit cíle summitu Africké unie mohou vlády nasměrovat své země, potažmo celý svět, na cestu k udržitelnému rozvoji.