Desmantelar a economia dos combustíveis fósseis na Estocolmo+50
BERLIM – O nosso planeta enfrenta uma crise tripla de clima, natureza e poluição, com uma causa comum: a economia dos combustíveis fósseis. O petróleo, o gás e o carvão estão na origem de perturbações climáticas galopantes, da perda generalizada da biodiversidade e da omnipresente poluição por plástico. A conclusão é evidente e tem de ser preponderante quando os líderes políticos se reunirem esta semana em Estocolmo, para comemorarem o 50.º aniversário da primeira Conferência das Nações Unidas sobre o Meio Ambiente Humano. Qualquer esforço para enfrentar estas ameaças existenciais para a saúde humana e ecológica de pouco servirá se a economia dos combustíveis fósseis permanecer intacta.
Como notou recentemente o Secretário-Geral da ONU, António Guterres, os combustíveis fósseis estão a asfixiar o nosso planeta. Na década passada, a sua combustão foi responsável por 86% das emissões globais de dióxido de carbono, pela qual são esmagadoramente responsáveis apenas alguns intervenientes. Com efeito, a responsabilidade por quase dois terços de todo o CO2 emitido desde a Revolução Industrial pode ser atribuída a apenas 90 poluidores, essencialmente os maiores produtores de combustíveis fósseis.
Contudo, em lugar de refrear os poluidores, os governos do mundo estão a planear permitir uma produção de combustíveis fósseis superior ao dobro do que seria consistente com o objectivo (definido pelo acordo de Paris sobre o clima, de 2015) de limitar o aquecimento global a 1,5° Celsius acima dos níveis pré-industriais. E no que se refere aos danos provocados pelos combustíveis fósseis, o aumento das temperaturas globais e a intensificação dos eventos climáticos são só o início.
No ano passado, o Relator Especial da ONU para as Substâncias Tóxicas e os Direitos Humanos, Marcos A. Orellana, afirmou o que as comunidades na linha da frente há muito sabem: a produção de combustíveis fósseis gera compostos tóxicos e polui a atmosfera, a água e os solos. A poluição atmosférica decorrente da queima dos combustíveis fósseis foi responsável por cerca de uma em cada cinco mortes em todo o mundo em 2018. Por outro lado, o petróleo e o gás são elementos de base para substâncias químicas tóxicas, pesticidas e fertilizantes de síntese que estão a empurrar ecossistemas e espécies para a extinção. Estes produtos baseados em combustíveis fósseis perpetuam um modelo económico e agro-industrial que promove a desflorestação, destrói a biodiversidade e ameaça a saúde humana.
Os combustíveis fósseis também contribuem para a proliferação dos plásticos, que se acumulam até nas zonas mais remotas do planeta, desde o cume do Monte Evereste ao fundo da Fossa das Marianas. Noventa e nove por cento de todos os plásticos são produzidos a partir de substâncias químicas derivadas dos combustíveis fósseis, essencialmente petróleo e gás. A produção de matérias-primas petroquímicas para os plásticos e a utilização dos combustíveis fósseis ao longo da cadeia de valor do plástico estão a estimular a procura por petróleo e gás e a expor milhões de pessoas a poluição tóxica.
Como se isso não bastasse, os combustíveis fósseis fomentam e financiam conflitos violentos por todo o mundo. A economia dos combustíveis fósseis está a viabilizar a guerra do presidente russo Vladimir Putin na Ucrânia e a crise humanitária que a mesma criou. Nos sete anos decorridos depois de a Rússia ter anexado ilegalmente a Crimeia, oito das maiores empresas mundiais de combustíveis fósseis enriqueceram o governo da Rússia com uns estimados 95,4 mil milhões de dólares. As receitas russas com exportações de energia dispararam desde a invasão da Ucrânia em Fevereiro, que fez subir os preços. E as grandes empresas petrolíferas ocidentais, aproveitando o conflito, arrecadaram lucros excepcionais.
Secure your copy of PS Quarterly: The Year Ahead 2023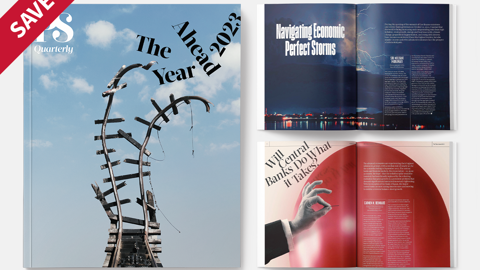 Secure your copy of PS Quarterly: The Year Ahead 2023
Our annual fourth-quarter magazine is here, and available only to Digital Plus and Premium subscribers. Subscribe to Digital Plus today, and save $15.

Em vez de enfrentarem a responsabilização, a indústria do petróleo e do gás e os seus aliados estão a explorar a crise da Ucrânia para insistirem em ainda mais perfurações, mais fracturação hidráulica e mais exportações de gás natural liquefeito (GNL) por todo o mundo. Mas a nova infra-estrutura de combustíveis fósseis, que demorará anos até estar pronta, não fará nada por resolver a crise energética actual. Em vez disso, só agravará a dependência do mundo relativamente aos combustíveis fósseis, reforçará a capacidade dos produtores de causarem estragos sobre as pessoas e o planeta, e afastará ainda mais do nosso alcance um futuro seguro em termos climáticos.
Com os líderes mundiais a reunirem-se na Estocolmo+50, acabar com o nosso vício dos combustíveis fósseis deveria ser a principal prioridade. Mas os combustíveis fósseis estão manifestamente ausentes da síntese e da agenda oficiais, e quase não são mencionados nos documentos de trabalho dos três Diálogos de Liderança que supostamente conterão as conclusões da cimeira.
Esta omissão não é acidental. O lóbi dos combustíveis fósseis tem décadas de experiência em semear a dúvida sobre os danos que o sector causa e em encobrir a relação entre os combustíveis fósseis e as substâncias químicas tóxicas usadas na agricultura industrial e nos produtos de plástico. Nos casos em que a negação descarada não funcionou, o sector apregoou falsas soluções, nomeadamente soluções tecnológicas especulativas, mecanismos de mercado com lacunas gigantescas e enganadoras promessas de "neutralidade líquida". O objectivo consiste em desviar as atenções políticas das acções urgentes e necessárias para acabar com a dependência dos combustíveis fósseis e para se expandirem abordagens comprovadas, como as energias renováveis, a agro-ecologia e a redução e reutilização do plástico.
O que a Estocolmo+50 tem de proporcionar é precisamente uma acção transformativa como essa. Os governos e os decisores participantes têm de reconhecer que os combustíveis fósseis são a causa principal da crise tripla que enfrentamos, e têm de definir uma agenda ousada para impedir a expansão dos combustíveis fósseis, garantir um declínio rápido e equilibrado do petróleo, do gás e do carvão, e acelerar uma transição justa para um futuro livre de combustíveis fósseis.
Um possível elemento de uma tal agenda seria um Tratado de Não-Proliferação de Combustíveis Fósseis, uma iniciativa que atraiu apoio generalizado, nomeadamente de milhares de organizações da sociedade civil, centenas de cientistas e parlamentares, mais de 100 laureados com o Nobel e dúzias de governos municipais. Para incentivar o andamento, um leque alargado de interessados (como representantes de comunidades indígenas, de governos, de instituições internacional e do meio académico) reunir-se-ão no dia anterior à Estocolmo+50 para a Pré-Cimeira para a Transição Global Justa dos Combustíveis Fósseis.
Paralelamente à reunião de Estocolmo, um comité de negociação intergovernamental, convocado pelo Programa das Nações Unidas para o Ambiente, reunirá em Dacar para desenvolver um tratado global juridicamente vinculativo sobre os plásticos. Fundamentalmente, o tratado terá de adoptar uma abordagem pormenorizada que aborde todo o ciclo de vida dos plásticos, a começar pela extracção de combustíveis fósseis.
Se aprendemos alguma coisa nos 50 anos que decorreram desde a primeira conferência de Estocolmo, é que um futuro preso aos combustíveis fósseis não é futuro. Para enfrentar as crises convergentes das alterações climáticas, da perda da biodiversidade e da poluição petroquímica e de plástico, a Estocolmo+50 não tem alternativa senão afrontar directamente o petróleo, o gás e o carvão.