Odstraňme na konferenci Stockholm+50 ekonomiku fosilních paliv
BERLÍN – Naše planeta čelí trojnásobné krizi klimatu, přírody a znečištění, přičemž všechny mají jednu společnou příčinu: ekonomiku fosilních paliv. Ropa, plyn a uhlí jsou hlavními důvody překotné klimatické disrupce, rozsáhlé ztráty biodiverzity a všeprostupujícího znečištění plasty. Tento závěr je zřejmý a musí mít prvořadou prioritu, až se vedoucí političtí představitelé sejdou tento týden ve Stockholmu, aby si připomněli 50. výročí první Konference OSN o lidském životním prostředí. Jakákoliv snaha řešit tyto existenční hrozby pro zdraví člověka i životní prostředí bude mít pramalý význam, dokud ekonomika fosilních paliv zůstane nedotčená.
Jak nedávno poznamenal generální tajemník OSN António Guterres, fosilní paliva dusí naši planetu. V posledních deseti letech se jejich spalováním vytvořilo 86% globálních emisí oxidu uhličitého, za které nese převážnou zodpovědnost hrstka znečišťovatelů. Téměř dvě třetiny veškerého CO2 emitovaného od průmyslové revoluce lze zpětně vytrasovat k pouhým 90 znečišťovatelům, vesměs největším producentům fosilních paliv.
Místo aby však světové vlády utáhly znečišťovatelům otěže, plánují v současné době umožnit v roce 2030 více než dvojnásobnou produkci paliv, než by odpovídala cíli – dohodnutému na pařížské klimatické konferenci v roce 2015 – omezit globální oteplování na 1,5° Celsia oproti předindustriální úrovni. A pokud jde o škody, které fosilní paliva páchají, pak vyšší globální teploty a stále intenzivnější extrémní meteorologické jevy jsou teprve začátek.
Zvláštní zpravodaj OSN pro toxické látky a lidská práva Marcos A. Orellana loni potvrdil, co komunity žijící v první linii vědí už dávno: produkce fosilních paliv vytváří toxické sloučeniny a znečišťuje vzduch, vodu i půdu. Znečištění ovzduší vlivem spalování fosilních paliv zapříčinilo v roce 2018 každé páté úmrtí na světě. Ropa a plyn navíc představují základní stavební kameny jedovatých chemikálií, pesticidů a umělých hnojiv, jež dovádějí ekosystémy a biologické druhy na pokraj vyhynutí. Tyto produkty založené na fosilních palivech jen upevňují pozici ekonomického a zemědělsko-průmyslového modelu, který je hnacím motorem odlesňování, ničí biodiverzitu a ohrožuje lidské zdraví.
Fosilní paliva stojí také za šířením plastů, které se hromadí i v nejodlehlejších koutech planety, od vrcholu Mount Everestu po dno Mariánského příkopu. Devětadevadesát procent veškerého plastu se přitom vyrábí z chemikálií vyvinutých z fosilních paliv, převážně ropy a plynu. Produkce petrochemických surovin určených k výrobě plastů a používání fosilních paliv v celém hodnotovém řetězci plastů zvyšují poptávku po ropě a plynu a vystavují miliony lidí toxickému znečištění.
A jako by ani toto vše nestačilo, fosilní paliva přiživují a financují násilné konflikty po celém světě. Ekonomika fosilních paliv umožňuje válku ruského prezidenta Vladimira Putina na Ukrajině i humanitární krizi, kterou tato válka vytvořila. Během sedmi let od doby, kdy Rusko nezákonně anektovalo Krym, obohatilo osm největších světových producentů fosilních paliv ruskou vládu odhadem o 95,4 miliardy dolarů. Ruské příjmy z energetického exportu od února prudce vzrostly, protože invaze na Ukrajinu zvýšila ceny. A velké západní ropné společnosti, které na konfliktu vydělávají, zaznamenaly rekordní zisky.
WINTER SALE: Save 25% on a new PS subscription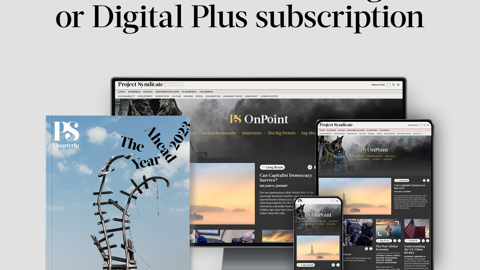 WINTER SALE: Save 25% on a new PS subscription
For a limited time, you can gain greater access to Project Syndicate – including every commentary and our entire On Point suite of subscriber-exclusive content – starting at less than $6 per month.
Místo aby byli voláni k zodpovědnosti, ropný a plynárenský průmysl a jeho spojenci využívají ukrajinské krize k tlaku na ještě větší objem vrtání, frakování a vývozu zkapalněného zemního plynu (LNG) do celého světa. Nová infrastruktura fosilních paliv, která se bude do provozu zavádět roky, však současnou energetickou krizi nijak nevyřeší. Místo toho jen prohloubí závislost světa na fosilních palivech, zvýší schopnost producentů páchat škody na lidech i na planetě a odsouvat klimaticky bezpečnou budoucnost mimo náš dosah.
Na ekologické konferenci Stockholm+50 za účasti vedoucích světových představitelů by překonání naší závislosti na fosilních palivech mělo být prvořadou prioritou. V oficiální koncepční zprávě i v agendě však fosilní paliva nápadně chybějí a rovněž v podkladech ke třem dialogům vedení, které mají informovat o výsledku summitu, o nich prakticky není zmínka.
Toto opominutí není náhodné. Lobby fosilních paliv má desítky let zkušeností se zaséváním pochybností o škodách, které tento obor páchá, a se zakrýváním spojitosti mezi fosilními palivy a toxickými chemikáliemi používanými v průmyslovém zemědělství a při výrobě plastů. Když přímé popírání nezabralo, začal průmysl předkládat falešná řešení včetně spekulativních technologických receptů, tržní mechanismy s obřími mezerami a zavádějící záruky "čisté nuly". Cílem je odvést politickou pozornost od naléhavé akce, která je zapotřebí k ukončení závislosti na fosilních palivech, a od osvědčených přístupů, jako jsou obnovitelná energie, agroekologie nebo méně intenzivní a opakované používání plastů.
Konference Stockholm+50 musí přijít právě s takovými transformativními kroky. Účastnické vlády a vedoucí činitelé musí vzít na vědomí, že fosilní paliva jsou hlavním hnacím motorem současné trojnásobné krize, a musí nastolit smělou agendu, která zastaví expanzi fosilních paliv, zajistí rychlý a spravedlivý ústup od ropy, plynu i uhlí a urychlí spravedlivý přechod na budoucnost bez fosilních paliv.
Jedním z možných bodů takové agendy je Smlouva o nešíření fosilních paliv – iniciativa, která si získala širokou podporu mimo jiné od několika tisíc organizací občanské společnosti, několika set vědců a poslanců, více než sta nositelů Nobelovy ceny a desítek městských zastupitelstev. V zájmu urychlení pokroku se široká paleta protagonistů – včetně zástupců domorodých komunit, vlád, mezinárodních institucí a akademické sféry – sejde den před konferencí Stockholm+50 na Presummitu o globálním spravedlivém odklonu od fosilních paliv.
Současně se stockholmským jednáním se v Dakaru z popudu Ekologického programu OSN schází mezivládní vyjednávací komise, aby zformulovala právně závaznou globální úmluvu o plastech. Je zcela klíčové, aby tato úmluva zaujala komplexní přístup, který bude řešit celý životní cyklus plastů, počínaje těžbou fosilních paliv.
Pokud jsme během 50 let od první stockholmské konference něco získali, pak je to poznatek, že budoucnost spojená s fosilními palivy žádnou budoucností není. Chce-li konference Stockholm+50 řešit spojené krize změny klimatu, ztráty biodiverzity a petrochemického a plastového znečištění, pak nemá jinou alternativu než se přímo postavit proti ropě, plynu a uhlí.
Z angličtiny přeložil Jiří Kobělka