Likwidacja Gospodarki Opartej na Paliwach Kopalnych na Szczycie Sztokholm+50
BERLIN - Nasza planeta stoi w obliczu potrójnego kryzysu - klimatycznego, przyrodniczego i związanego z zanieczyszczeniem środowiska - a wspólną przyczyną jest gospodarka oparta na paliwach kopalnych. Ropa, gaz i węgiel są przyczyną gwałtownych zmian klimatycznych, utraty bioróżnorodności i wszechobecnego zanieczyszczenia plastikiem. Wniosek jest oczywisty i musi być najważniejszy, gdy przywódcy polityczni zbiorą się w tym tygodniu w Sztokholmie, aby uczcić 50-tą rocznicę pierwszej Konferencji Narodów Zjednoczonych na temat Środowiska Ludzkiego. Wszelkie wysiłki zmierzające do przeciwdziałania tym poważnym zagrożeniom dla zdrowia ludzi i środowiska będą niewiele znaczyły, dopóki gospodarka oparta na paliwach kopalnych pozostanie nienaruszona.
Jak zauważył niedawno Sekretarz Generalny ONZ António Guterres, paliwa kopalne duszą naszą planetę. W ostatniej dekadzie ich spalanie odpowiadało za 86% globalnej emisji dwutlenku węgla, za którą w przeważającej mierze odpowiedzialnych jest zaledwie kilka podmiotów. W rzeczywistości niemal dwie trzecie wszystkich emisji CO2 od czasów rewolucji przemysłowej przypada na zaledwie 90 trucicieli, w większości największych producentów paliw kopalnych.
Jednak zamiast ograniczyć działalność trucicieli, rządy państw świata planują obecnie zezwolić na ponad dwukrotnie większą produkcję paliw kopalnych w 2030 roku, niż wynikałoby to z celu uzgodnionego w ramach paryskiego porozumienia klimatycznego z 2015 roku w kwestii ograniczenia globalnego ocieplenia do 1,5° Celsjusza powyżej poziomu sprzed epoki przemysłowej. A jeśli chodzi o szkody wyrządzane przez paliwa kopalne, wyższe temperatury na świecie i nasilenie ekstremalnych zjawisk pogodowych to dopiero początek.
W ubiegłym roku specjalny sprawozdawca ONZ ds. toksykologii i praw człowieka, Marcos A. Orellana, potwierdził to, co społeczności na liniach frontu wiedzą od dawna: produkcja paliw kopalnych generuje toksyczne związki i zanieczyszcza powietrze, wodę i glebę. W 2018 r. zanieczyszczenie powietrza spowodowane spalaniem paliw kopalnych było przyczyną około jednego na pięć zgonów na świecie. Ponadto ropa naftowa i gaz ziemny są budulcem toksycznych chemikaliów, pestycydów i nawozów sztucznych, które powodują wymieranie ekosystemów i gatunków. Te produkty oparte na paliwach kopalnych utrwalają model gospodarczy i rolno-przemysłowy, który napędza wylesianie, niszczy bioróżnorodność i zagraża zdrowiu ludzi.
Paliwa kopalne są również przyczyną rozprzestrzeniania się tworzyw sztucznych, które gromadzą się nawet w najbardziej odległych zakątkach naszej planety, od szczytu Mount Everestu po dno Rowu Mariańskiego. Dziewięćdziesiąt dziewięć procent wszystkich tworzyw sztucznych wytwarza się z substancji chemicznych pochodzących z paliw kopalnych, głównie ropy naftowej i gazu ziemnego. Produkcja surowców petrochemicznych do produkcji tworzyw sztucznych oraz wykorzystywanie paliw kopalnych w całym łańcuchu wartości tworzyw sztucznych zwiększają zapotrzebowanie na ropę i gaz oraz narażają miliony ludzi na toksyczne zanieczyszczenia.
Jakby tego było mało, paliwa kopalne podsycają i finansują brutalne konflikty na całym świecie. Gospodarka oparta na paliwach kopalnych umożliwia prezydentowi Rosji Władimirowi Putinowi prowadzenie wojny na Ukrainie i wywołany przez nią kryzys humanitarny. W ciągu siedmiu lat po nielegalnej aneksji Krymu przez Rosję, osiem największych na świecie firm zajmujących się paliwami kopalnymi wzbogaciło rząd rosyjski o szacunkową kwotę 95,4 miliarda dolarów. Dochody Rosji z eksportu energii gwałtownie wzrosły od czasu inwazji na Ukrainę w lutym, która spowodowała wzrost cen. Wielkie zachodnie koncerny naftowe, które skorzystały na tym konflikcie, zgarnęły rekordowe zyski.
WINTER SALE: Save 25% on a new PS subscription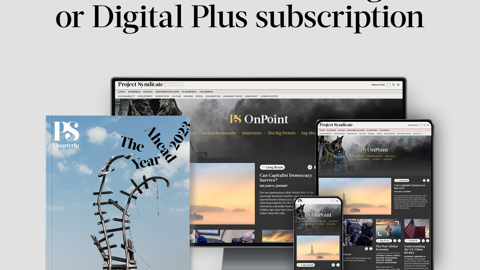 WINTER SALE: Save 25% on a new PS subscription
For a limited time, you can gain greater access to Project Syndicate – including every commentary and our entire On Point suite of subscriber-exclusive content – starting at less than $6 per month.
Zamiast stawić czoła odpowiedzialności, przemysł naftowy i gazowy oraz jego sojusznicy wykorzystują kryzys na Ukrainie, by forsować zwiększenie liczby odwiertów, szczelinowania i eksportu skroplonego gazu ziemnego (LNG) na całym świecie. Jednak nowa infrastruktura paliw kopalnych - której uruchomienie zajmie lata - w żaden sposób nie przyczyni się do rozwiązania obecnego kryzysu energetycznego. Zamiast tego pogłębi ona jedynie zależność świata od paliw kopalnych, zwiększy możliwości producentów w zakresie dokonywania spustoszeń wśród ludzi i na planecie, a także sprawi, że bezpieczna dla klimatu przyszłość stanie się jeszcze bardziej nieosiągalna.
Gdy światowi przywódcy zbierają się na Szczycie Sztokholm+50, naszym głównym priorytetem powinno być zerwanie z uzależnieniem od paliw kopalnych. Jednak paliwa kopalne są wyraźnie nieobecne w oficjalnej koncepcji i programie szczytu, a także ledwie wspomniane w dokumentach przygotowujących trzy Dialogi Przywódcze, które mają wpłynąć na wyniki szczytu.
To pominięcie nie jest przypadkowe. Lobby paliw kopalnych ma kilkudziesięcioletnie doświadczenie w zasiewaniu wątpliwości co do szkód, jakie wyrządza ta branża, oraz w ukrywaniu związku między paliwami kopalnymi a toksycznymi chemikaliami stosowanymi w rolnictwie przemysłowym i wyrobach z tworzyw sztucznych. Gdy jawne zaprzeczenie nie przynosiło rezultatów, branża proponowała fałszywe rozwiązania, w tym spekulacyjne rozwiązania technologiczne, mechanizmy rynkowe z gigantycznymi lukami prawnymi oraz mylące obietnice "zero netto." Celem jest odwrócenie uwagi polityków od pilnych działań, które należy podjąć, aby położyć kres uzależnieniu od paliw kopalnych i rozwinąć sprawdzone metody, takie jak energia odnawialna, agroekologia oraz redukcja i ponowne wykorzystanie tworzyw sztucznych.
To właśnie takie transformacyjne działania musi przynieść Sztokholm+50. Uczestniczące rządy i decydenci muszą przyznać, że paliwa kopalne są główną siłą napędową potrójnego kryzysu, z którym mamy do czynienia. Muszą oni także ustalić odważny plan zatrzymania ekspansji paliw kopalnych, zapewnienia szybkiego i sprawiedliwego spadku zużycia ropy, gazu i węgla oraz przyspieszenia sprawiedliwego przejścia do przyszłości wolnej od paliw kopalnych.
Jednym z elementów takiego programu może być Traktat o Nierozprzestrzenianiu Paliw Kopalnych - inicjatywa, która zyskała szerokie poparcie, w tym tysięcy organizacji obywatelskich, setek naukowców i parlamentarzystów, ponad 100 laureatów Nagrody Nobla oraz dziesiątków rządów miast. Aby przyspieszyć postęp, w przeddzień konferencji Sztokholm+50 szeroka grupa interesariuszy - w tym przedstawiciele społeczności rdzennych, rządów, instytucji międzynarodowych i środowisk akademickich - zbierze się na Szczycie Wstępnym Poświęconym Globalnemu Sprawiedliwemu Odejściu od Paliw Kopalnych.
Równolegle ze spotkaniem w Sztokholmie, w Dakarze zbiera się międzyrządowy komitet negocjacyjny zwołany przez Program Środowiskowy ONZ w celu opracowania prawnie wiążącego globalnego traktatu w sprawie tworzyw sztucznych. Co najważniejsze, traktat ten będzie musiał przyjąć kompleksowe podejście, uwzględniające cały cykl życia tworzyw sztucznych, począwszy od wydobycia paliw kopalnych.
W ciągu 50 lat od pierwszej konferencji w Sztokholmie nauczyliśmy się jednej rzeczy: przyszłość związana z paliwami kopalnymi nie jest wcale przyszłością. Aby stawić czoła zbiegającym się kryzysom związanym ze zmianami klimatu, utratą bioróżnorodności oraz zanieczyszczeniem petrochemicznym i plastikowym, konferencja Sztokholm+50 nie ma innego wyjścia, jak tylko stawić czoła ropie, gazowi oraz węglowi.
Z angielskiego przetłumaczyła Marz McNamer