Zastąpmy Rosyjską Ropę i Gaz Źródłami Odnawialnymi
AUCKLAND/STOCKHOLM - Inwazja Rosji na Ukrainę wstrząsnęła wieloma od dawna przyjmowanymi na Zachodzie założeniami dotyczącymi podstaw pokoju w Europie. Między innymi spowodowała, że politycy ponownie skupili się na zależności energetycznej jako kluczowej kwestii strategicznej.
Stany Zjednoczone ogłosiły niedawno wprowadzenie natychmiastowego zakazu importu rosyjskiej ropy i gazu, podczas gdy Wielka Brytania i Unia Europejska zobowiązały się do bardziej stopniowego ograniczania importu. Powód jest jasny: ukarać Rosję, zmniejszyć jej wpływy i przywrócić pokój na Ukrainie. Jednak błędne decyzje podejmowane teraz - a zwłaszcza dalsze preferowanie paliw kopalnych zamiast energii odnawialnej - mogą doprowadzić do tego, że przyszłość będzie znacznie mniej pokojowa.
W ostatnich latach niektóre kraje zachodnie nadmiernie uzależniły się od rosyjskiej ropy i gazu, więc decyzja o redukcji nie była łatwa. Jednak większą i trudniejszą decyzją, przed którą stoją rządy państw zachodnich, jest to, jak zmniejszyć całkowitą zależność od paliw kopalnych. Zwykłe zastąpienie jednego brudnego źródła energii innym spowodowałoby, że rosnące zagrożenia związane ze zmianami klimatycznymi zostałyby zażegnane później - o ile w ogóle.
Biorąc pod uwagę presję obecnego kryzysu ukraińskiego, taka krótkowzroczność byłaby zrozumiała. Rządy państw zachodnich muszą wypełnić lukę energetyczną powstałą w wyniku wstrzymania importu paliw kopalnych z Rosji, minimalizując jednocześnie szkody dla gospodarek narodowych. Jak do tej pory, mają w tym względzie poparcie społeczeństwa. Jeśli jednak koszty energii wzrosną zbyt wysoko lub niedobory staną się zbyt uciążliwe, wynikające z tego spustoszenie gospodarcze może osłabić poparcie społeczne.
Wszelkie alternatywne źródła energii muszą zatem szybko pojawić się na rynku i zapewnić niedrogie i niezawodne dostawy. Nie powinny też powodować nowych geopolitycznych uwikłań, które mogłyby być przyczyną problemów w przyszłości.
Podczas niedawnej dorocznej konferencji energetycznej CERAWeek w Houston w Teksasie, prezesi Big Oil i ich lobbyści szybko zaproponowali zwiększenie wydobycia ropy naftowej i gazu ziemnego, zniesienie limitów wydobycia, złagodzenie przepisów i odwrócenie polityki mającej na celu obniżenie emisji dwutlenku węgla. Wielu analityków i ekonomistów zajmujących się energetyką powtórzyło to stanowisko.
Secure your copy of PS Quarterly: The Year Ahead 2023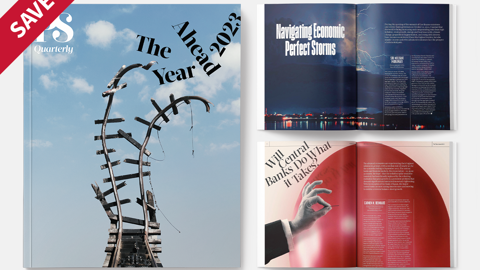 Secure your copy of PS Quarterly: The Year Ahead 2023
Our annual fourth-quarter magazine is here, and available only to Digital Plus and Premium subscribers. Subscribe to Digital Plus today, and save $15.

Jednak w sytuacji, gdy zmiany klimatu szybko stają się główną przyczyną braku bezpieczeństwa na całym świecie, podwojenie zużycia paliw kopalnych byłoby tragicznym błędem - wyborem, który może sprawić, że w nadchodzących dziesięcioleciach świat stanie się bardziej brutalnym miejscem.
W raporcie Production Gap z 2021 r. zwrócono uwagę na rozdźwięk między obecnymi planami produkcji paliw kopalnych a zobowiązaniami klimatycznymi. Przy obecnej polityce, globalne ocieplenie może osiągnąć w tym stuleciu katastrofalny poziom 2,7° Celsjusza. Powinniśmy szybko zamykać odwierty i kopalnie oraz ograniczać produkcję, a nie zwiększać moce produkcyjne.
Zmiany klimatyczne już teraz sprawiają, że świat staje się bardziej niebezpieczny i mniej stabilny. Najnowszy raport Międzyrządowego Zespołu ds. Zmian Klimatu (IPCC) - nazwany przez Sekretarza Generalnego ONZ António Guterresa"atlasem ludzkiego cierpienia" - zawiera surową ocenę ogromnych kosztów ekonomicznych i ludzkich także we wczesnych skutkach zmian klimatycznych, których doświadczamy obecnie. Wyłania się z niej obraz przyszłości jakiej musimy uniknąć.
Przeglądając nagłówki gazet w ciągu ostatnich 12 miesięcy, można zauważyć rekordowe powodzie, burze, pożary, fale upałów i susze. Wszystkie te zjawiska pogodowe stają się coraz częstsze, bardziej ekstremalne i śmiertelne w wyniku zmian klimatycznych i wszystkie mogą zwiększać prawdopodobieństwo konfliktów i niestabilności. Obecnie 80% żołnierzy sił pokojowych ONZ jest rozmieszczonych w krajach uważanych za najbardziej narażone na zmiany klimatu. Podobnie, w niedawnym badaniu stwierdzono, że wzrost temperatury o 1°C wiąże się z 54% wzrostem częstotliwości konfliktów w tych częściach Afryki, gdzie koczowniczy pasterze i osiadli rolnicy rywalizują o kurczące się zasoby wody i żyznej ziemi.
Jak słusznie zauważono w raporcie IPCC, konsekwencje zmian klimatycznych najszybciej destabilizują miejsca, w których napięcia są już wysokie, a struktury rządowe osłabione lub skorumpowane. Jak pokazują badania przeprowadzone na potrzeby przyszłego raportu Sztokholmskiego Międzynarodowego Instytutu Badań nad Pokojem (SIPRI) Środowisko Pokoju, zbrojne grupy ekstremistyczne, takie jak al-Shabaab, Państwo Islamskie i Boko Haram, rozwinęły się w regionach, które najbardziej odczuwają skutki zmian klimatu. Znajdują one rekrutów i zwolenników wśród ludzi, których życie i środki do życia stały się coraz bardziej niepewne z powodu powodzi czy susz.
W naszym zglobalizowanym, połączonym siecią świecie reperkusje lokalnych oddziaływań klimatycznych mogą się szybko rozprzestrzeniać, powodując wstrząsy w łańcuchu dostaw, konflikty i masowe migracje. A jak pokazała inwazja Rosji na Ukrainę, porządek oparty na zasadach jest niepokojąco kruchy, przez co zwykli ludzie muszą stawiać czoła straszliwym konsekwencjom.
Odrzucenie przez Zachód rosyjskiej ropy i gazu stwarza okazję do przyspieszenia procesu odchodzenia od paliw kopalnych. Efektywność energetyczna i inne sposoby ograniczania popytu mogą częściowo przyczynić się do realizacji tego celu.
Co do reszty, alternatywne źródła energii odnawialnej, takie jak energia słoneczna i wiatrowa, mają sens ekonomiczny. Ich instalacja jest znacznie szybsza i bezpieczniejsza niż instalacja elektrowni jądrowych czy większości omawianych alternatywnych rozwiązań opartych na paliwach kopalnych. Nie narażają też ludzi na gwałtowne skoki i spadki cen na światowych rynkach paliw.
Logika wskazuje tylko jeden kierunek. Świat osiągnie prawdziwe bezpieczeństwo energetyczne - i będzie miał szansę na zbudowanie bardziej pokojowej, przyjaznej dla mieszkańców i przystępnej cenowo przyszłości - tylko wtedy, gdy zrezygnujemy z paliw kopalnych.
Wszyscy autorzy są członkami panelu ekspertów doradzających inicjatywie Środowisko Pokoju w SIPRI.
Z angielskiego przetłumaczyła Marz McNamer