Восстановление системы убежища
НЬЮ-ЙОРК – Европейский Союз должен взять на себя ответственность за отсутствие единой политики предоставления убежища, которая из-за растущего притока беженцев в этом году, переросла из управляемой проблемы в еще один политический кризис. Каждое государство – член ЕС эгоистично сосредоточилось на своих собственных интересах, часто действуя вопреки интересам других. Это усилило панику среди лиц, ищущих убежища, широкой общественности и власти, ответственной за закон и порядок. Лица, ищущие убежища стали главными жертвами.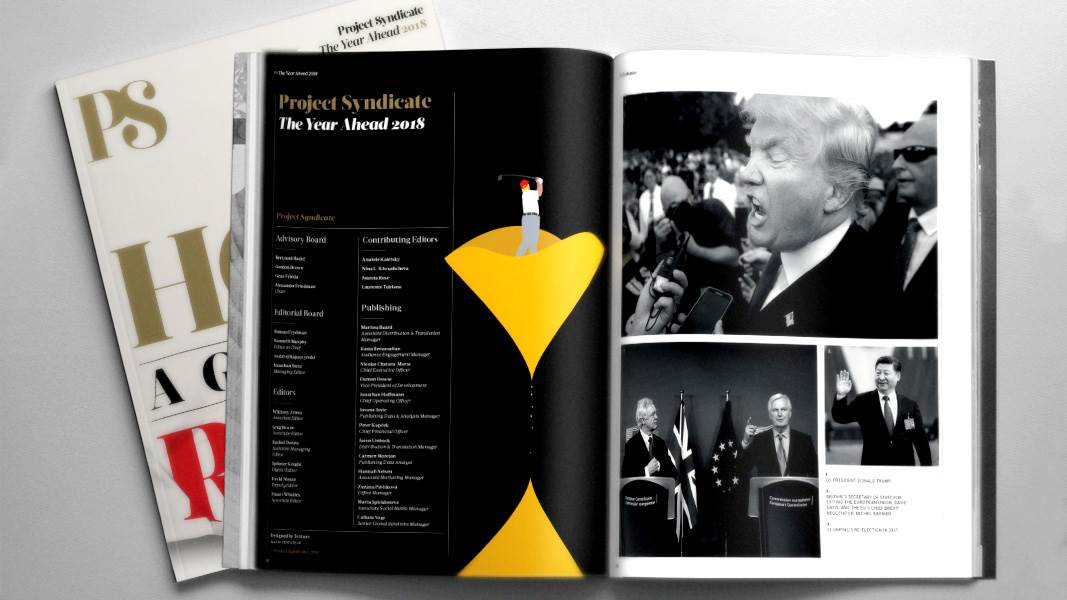 The Year Ahead 2018
The world's leading thinkers and policymakers examine what's come apart in the past year, and anticipate what will define the year ahead.
ЕС нуждается в комплексном плане реагирования на кризис, таком, который вновь восстановит эффективное управление потоками лиц, ищущих убежище, настолько, чтобы они были размещены безопасным, упорядоченным образом и в том темпе, который соответствует возможности Европы пропустить их через себя. Чтобы стать комплексным, план должен выйти за пределы Европейских границ. Менее разрушительно и гораздо дешевле поддерживать потенциальных просителей убежища в пределах или вблизи их настоящего местоположения.
Так как нынешний кризис берет свое начало в Сирии, судьба сирийского населения должна стать главным приоритетом. Но нельзя забывать и о других лицах, ищущих убежище и мигрантах. Также, Европейский план должен быть сопровожден глобальным ответом, под руководством Организации Объединенных Наций и при участии государств-членов ЕС. Это бы распределило бремя сирийского кризиса на большее количество стран, одновременно формируя мировые стандарты для решения проблем вынужденной миграции в целом.
Вот шесть компонентов комплексного плана.
Во-первых, в обозримом будущем, ЕС ежегодно должен принимать, по меньшей мере, миллион лиц, ищущих убежища. И, чтобы это сделать, необходимо справедливо разделить бремя - принцип, который, наконец-то, был утвержден квалифицированным большинством на саммите в прошлую среду.
Адекватное финансирование имеет решающее значение. ЕС должен обеспечить €15 000 ($16,800) каждому просителю убежища в первые два года, чтобы помочь покрыть расходы на жилье, медицинское обслуживание и образование - и сделать прием беженцев более привлекательным для государств-членов ЕС. ЕС может увеличить эти фонды, путем выпуска долгосрочных облигаций, прибегнув к своей в большей степени неиспользованной ААА кредитоспособности, которая будет иметь дополнительную пользу, предоставляя обоснованный фискальный стимул Европейской экономике.
В равной степени важно, позволить обеим сторонам, государствам и лицам, ищущим убежища, выразить свои предпочтения, используя наименьшее возможное принуждение. Размещение беженцев, там, куда они хотят идти - и где их хотят - является непременным условием (sine qua non) успеха.
Во-вторых, ЕС должен возглавить мировые усилия по обеспечению адекватного финансирования Ливана, Иордании и Турции, чтобы поддержать четыре миллиона беженцев, проживающих в настоящее время в этих странах.
До сих пор, была собрана только часть необходимого финансирования, для предоставления базовой помощи. Если включены образование, обучение и другие насущные потребности, ежегодные затраты составят минимум €5,000 на одного беженца или €20 млрд. Сегодня помощь Турции со стороны ЕС, несмотря на ее увеличение в два раза на прошлой неделе, по-прежнему, составляет всего €1 млрд. Кроме того, ЕС также должен помочь создать специальные экономические зоны с предпочтительным  статусом торговли в регионе, включая Тунис и Марокко, для привлечения инвестиций и создания рабочих мест, как для местных жителей так и для беженцев.
ЕС нужно будет взять на себя ежегодное обязательство перечислять приграничным странам минимально €8-10 млрд, остальную необходимую сумму предоставят Соединенные Штаты и другие страны. Это могло бы быть добавлено к сумме долгосрочных облигаций, выпущенных для поддержки лиц, ищущих убежища в Европе.
В-третьих, ЕС должен немедленно начать формирование единого Агентства по убежищу и миграции ЕС и со временем единую пограничную охрану Евросоюза. Сегодняшний пэчворк из 28 отдельных систем убежища не работает: это дорого, неэффективно и приносит страшно противоречивые результаты в определении того, кто имеет право на убежище. Новое агентство постепенно бы упростило процедуры; установило бы общие правила для трудоустройства и предпринимательства, а также соответствующие выгоды; и разработало бы эффективную политику, уважающую право возвращения для мигрантов, которые не имеют права на убежище.
В-четвертых, должны быть установлены безопасные каналы для лиц, ищущих убежища, начиная от приема их в Греции и Италии до стран их назначения. Это необходимо сделать как можно быстрее, чтобы успокоить панику. Следующим логическим шагом, является расширение безопасных путей к приграничной зоне, тем самым снижая количество мигрантов, которые совершают опасную переправу по Средиземному морю. Если лица, ищущие убежища имеют реальный шанс в итоге достичь Европы, вероятнее всего они останутся там, где они находятся. Это потребует переговоров с приграничными государствами, совместно с Агентством ООН по Делам Беженцев, чтобы установить там обрабатывающие центры – с Турцией во главе.
Оперативные и финансовые договоренности, разработанные ЕС, должны быть использованы для установления глобальных стандартов обращения с лицами, ищущими убежища и мигрантами. Это пятая часть комплексного плана.
Наконец, чтобы поглотить и интегрировать более миллиона лиц, ищущих убежища и мигрантов в год, ЕС должен мобилизовать частный сектор – неправительственные общественные организации, церковные группы и бизнес – действовать в качестве спонсоров. Это потребует не только адекватного финансирования, но также человеческого и IT потенциала, чтобы соответствовать и мигрантам и спонсорам.
Массовое переселение из охваченной войной Сирии, никогда не должно было стать кризисом. К этому долго шли, это легко было предугадать, и по силам справиться Европе и международному сообществу. Премьер-министр Венгрии Виктор Орбан, в настоящее время, также разработал план из шести пунктов направленный на решение кризиса. Но его план, который ставит безопасность границ выше прав человека лиц, ищущих убежища и мигрантов, угрожает разделить и уничтожить ЕС, отказываясь от ценностей, на базе которых он был создан и нарушая законы, которые должны им управлять.
ЕС должен ответить подлинно Европейской политикой предоставления убежища, которая положит конец панике и излишним человеческим страданиям.