Rebâtir le système du droit d'asile
NEW YORK – L'Union européenne doit admettre sa propre responsabilité dans l'absence de politique commune en matière d'asile, absence qui a cette année changé une situation gérable d'arrivée croissante de réfugiés en une nouvelle crise politique majeure. Chaque État membre s'est égoïstement concentré sur ses propres intérêts, au point d'agir bien souvent au détriment des intérêts d'autrui. C'est ainsi qu'est née une panique chez les demandeurs d'asile, au sein de l'opinion publique, et du côté des autorités en charge de l'application de la loi, une situation dont les demandeurs d'asile sont les premiers à souffrir.
L'UE a désormais besoin d'un plan global de réponse à cette crise, qui réaffirme l'efficacité de la gouvernance sur les flux de demandeurs d'asile, afin que les migrations puissent s'effectuer dans l'ordre et la sécurité, à un rythme adapté aux capacités européennes d'absorption des réfugiés. Afin d'être complet, ce plan devra s'étendre au-delà des frontières de l'Europe. La situation est moins chaotique, et beaucoup moins coûteuse, lorsque les demandeurs d'asile potentiels demeurent au sein ou proches de leur localisation actuelle.
En tant qu'origine de la crise actuelle en Syrie, le sort de la population syrienne doit être inscrit au plus haut des priorités, sans pour autant que soient oubliés d'autres demandeurs d'asile et migrants. De même, ce plan européen devra s'accompagner d'une réponse mondiale, sous l'autorité des Nations Unies et avec la participation de ses pays membres. Ceci viendrait répartir la charge de la crise syrienne sur les épaules d'un plus grand nombre d'États, tout en permettant l'instauration de normes mondiales pour la gestion des difficultés plus largement liées aux déplacements forcés.
Les six composantes de ce plan global doivent être les suivantes.
Premièrement, et au cours d'un avenir proche, il appartiendra à l'UE d'accepter au moins un million de demandeurs d'asile chaque année. Pour ce faire, il lui faudra répartir la charge de manière équitable – principe enfin approuvé par une majorité qualifiée lors du sommet de mercredi dernier.
Un financement adéquat se révélera crucial. Il s'agirait pour l'UE d'apporter 15 000 € par demandeur d'asile au cours de chacune des deux premières années, afin de contribuer à couvrir le logement, la santé et les coûts d'éducation de ces populations – et d'inciter plus activement les États membres à accepter les réfugiés. L'UE pourrait lever ces fonds en émettant des obligations à long terme via sa capacité d'emprunt AAA largement inexploitée, ce qui aura pour bénéfice ajouté de susciter une stimulation budgétaire fort nécessaire à l'économie européenne.
Subscribe to PS Digital Now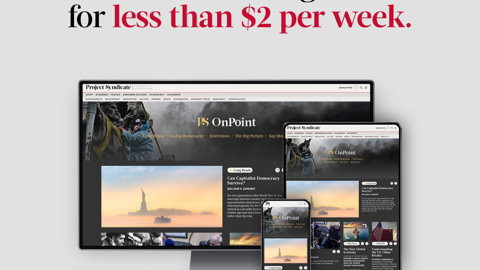 Subscribe to PS Digital Now
Access every new PS commentary, our entire On Point suite of subscriber-exclusive content – including Longer Reads, Insider Interviews, Big Picture/Big Question, and Say More – and the full PS archive.
Il sera tout aussi important de permettre à la fois aux États et aux demandeurs d'asile d'exprimer leurs préférences, en usant le moins possible de la contrainte. Le placement des réfugiés là où ils le souhaitent – et là où ils sont désirés – constituera une condition sine qua non de réussite.
Deuxièmement, l'UE doit conduire l'effort mondial d'apport d'un financement adéquat au Liban, à la Jordanie et à la Turquie, afin de venir en aide aux quatre millions de réfugiés vivant actuellement dans ces pays.
Jusqu'à présent, seule une part minime des financements nécessaires aux soins les plus basiques a été levée. Si l'on y intègre l'éducation, la formation et d'autres besoins essentiels, les coûts annuels s'élèvent à au moins 5 000 € par réfugié, soit au total à 20 milliards €. L'aide actuelle de l'UE à la Turquie, doublée la semaine dernière, ne s'élève encore aujourd'hui qu'à 1 milliard €. Il s'agirait également pour l'UE de contribuer à la création de zones économiques spéciales, bénéficiant d'un statut commercial privilégié dans la région, y compris en Tunisie et au Maroc, afin d'attirer l'investissement et de créer des emplois à la fois pour les locaux et les réfugiés.
Il appartiendrait à l'UE de s'engager financièrement en faveur des pays frontaliers, à hauteur chaque année d'au moins 8 à 10 milliards €, le reste des financements provenant des États-Unis et du reste du monde. Ceci pourrait s'ajouter au montant des obligations à long terme émises en soutien aux demandeurs d'asile en Europe.
Troisièmement, l'UE doit immédiatement commencer à bâtir une Agence des migrations et du droit d'asile, et plus tard un corps commun de gardes-frontières en son sein. L'actuel patchwork de 28 systèmes distincts en matière d'asile ne fonctionne pas : il se révèle couteux, inefficace, et produit des résultats extrêmement incohérents sur le plan de la détermination des personnes admissibles au droit d'asile. Cette nouvelle agence pourrait ainsi progressivement harmoniser les procédures ; instaurer des règles communes en matière d'emploi et d'entrepreneuriat, ainsi que des avantages adaptés ; et élaborer une politique efficace de retour au pays pour les migrants non admissibles au droit d'asile, dans le respect des droits de la personne.
Quatrièmement, il est nécessaire d'établir des voies sécurisées pour les demandeurs d'asile, en commençant par leur permettre de passer de Grèce et d'Italie vers leur pays de destination. Il s'agit là d'une urgence extrême si l'UE entend mettre un terme à la panique. L'étape suivante logique consisterait à étendre ces voies sûres jusqu'aux régions frontalières, en réduisant ainsi le nombre de migrants entreprenant une traversée périlleuse de la Méditerranée. Si les demandeurs d'asile peuvent avoir une chance raisonnable d'atteindre enfin l'Europe, il est alors peu probable qu'ils restent là ils se situent. Ceci exigera une négociation avec les pays situés en première ligne, en coopération avec l'Agence de l'ONU pour les réfugiés, afin que puissent y être installés des centres de gestion – avec pour priorité la Turquie.
Les arrangements opérationnels et financiers développés par l'UE devront être utilisés aux fins de l'instauration de normes mondiales pour la gestion des migrants et demandeurs d'asile. Il s'agit là de la cinquième composante du plan global.
Enfin, afin de pouvoir absorber et intégrer plus d'un million de migrants et demandeurs d'asile chaque année, l'UE devra mobiliser le secteur privé – ONG, organismes humanitaires, et entreprises – afin que celui-ci apporte son parrainage. Ceci exigera non seulement des financements suffisants, mais également les capacités humaines et technologiques nécessaires à la mise en contact de ces migrants et soutiens privés.
L'exode né d'une guerre syrienne déchirante n'aurait jamais dû se changer en crise. Accentué au fil du temps, facile à entrevoir, cet exode aurait pu être pleinement gérable pour l'Europe et la communauté internationale. Le Premier ministre hongrois Viktor Orbán a lui aussi récemment présenté un plan en six points de réponse à la crise. Seulement voilà, en subordonnant les droits humains des demandeurs d'asile et migrants à la sécurité des frontières, ce plan menace de diviser et de détruire l'UE, en lui faisant renoncer aux valeurs sur lesquelles elle s'est bâtie, et violer les lois censées la gouverner.
Il est grand temps que l'UE réagisse en produisant une politique de droit d'asile véritablement européenne, afin que puissent cesser la panique et les souffrances humaines inutiles.
Traduit de l'anglais par Martin Morel