Radikální cíle pro trvale udržitelný rozvoj
BERLÍN – Představme si na okamžik, že bychom mohli změnit svět podle našich přání. Dramatická hospodářská nerovnost ustupuje sociálnímu a politickému začleňování. Všeobecná lidská práva se stávají realitou. Končíme s odlesňováním a ničením orné půdy. Stavy ryb se obnovují. Dvě miliardy lidí se těší na život bez chudoby, hladu a násilí. Místo abychom jen řečnili o klimatických změnách a nedostatku zdrojů, začínáme respektovat a dodržovat limity naší planety a její atmosféry.
Taková byla meta v roce 2001, kdy Organizace spojených národů přijala Rozvojové cíle tisíciletí (MDG). A bude to meta i napřesrok, kdy MDG vyprší a OSN schválí nástupnický rámec ekologické a rozvojové politiky. Nadcházející soubor Cílů trvale udržitelného rozvoje (SDG) se bude snažit chránit ekosystémy, šetřit přírodní zdroje a podobně jako MDG zbavit miliony lidí chudoby.
Kombinace ekologických a rozvojových rámců je dobrý nápad – nápad, jenž staví na úspěchu řady právně závazných mezinárodních úmluv a dohod formulovaných pod záštitou OSN za účelem ochrany klimatu, ochrany biodiverzity, podpory lidských práv a snížení chudoby. Tyto úmluvy a dohody možná nejsou dokonalé – a země, které je ratifikují, bohužel ne vždy stanovených cílů dosáhnou –, avšak vedly k vytvoření institucionálních procesů, které podněcují země k plnění slibů a dodávají občanům odvahu hnát vlády k zodpovědnosti.
Ačkoliv však SDG budou díky tomu stát na pevném právním základě, tento základ je nutné dále rozvíjet. U velkých environmentálních problémů včetně destrukce úrodné ornice a globální produkce plastů například zatím nebyly stanoveny globální dohody a cíle. Takové dohody přitom budou nezbytné k tomu, aby SDG zohledňovaly lidská práva, životní prostředí a rozvoj jako jeden celek.
Vědci a organizace občanské společnosti vyzývají k obrácení trendu degradace půdy do roku 2020 a naléhavě požadují, aby se v OSN sešla alespoň jedna mezinárodní expertní komise, která by tento stěžejní aspekt globální potravinové bezpečnosti řešila. Každý rok je v důsledku nadužívání hnojiv ztraceno 12 milionů hektarů půdy – což je oblast velikosti Rakouska a Švýcarska. Ekologické dopady dále zvyšuje farmaření ve velkém měřítku. Také sociální důsledky mohou být kruté: vystěhovávání, ztráta obživy a násilné konflikty.
Rovněž používání plastů je nutné držet na uzdě. Od 50. let se jejich celosvětová produkce stonásobně zvýšila. Každý rok se vyrobí více než 280 milionů tun plastů, přičemž obrovské množství postupně proniká do spodní vody, řek a oceánů – a pak po potravním řetězci dále vzhůru. Ačkoliv plasty nejsou biologicky rozložitelné, ani jedna země se nezavázala, že bude bránit jejich pronikání do životního prostředí.
Subscribe to PS Digital Now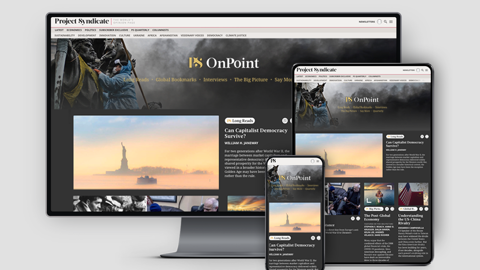 Subscribe to PS Digital Now
Access every new PS commentary, our entire On Point suite of subscriber-exclusive content – including Longer Reads, Insider Interviews, Big Picture/Big Question, and Say More – and the full PS archive.
Další do značné míry neprobádanou možností by bylo stanovení cílů pro utlumení ekologicky i sociálně škodlivých dotací. Tyto dotace – například ty, které poskytuje společná zemědělská politika Evropské unie – dosahují celosvětově objemu stamiliard dolarů, přičemž jen vyčerpávají rozpočty a chudým lidem nic nepřinášejí. Jejich seškrtáním by se nejen odstranily zvrácené podněty, ale zároveň by se uvolnily peníze na školství, všeobecnou zdravotní péči a infrastrukturu ve venkovských oblastech, kde jsou zapotřebí k vytváření příjmových příležitostí.
Bohužel není pravděpodobné, že svět bude vypadat tak, jak si přejeme. Jednání o SDG odrážejí to, co je v současné době v multilaterálním rámci možné: je toho relativně málo. Žádná vláda není opravdu ochotna popasovat se s příčinami nerovnosti a hladu, což by vyžadovalo učinit hlavní prioritu ze spravedlivého zdaňování a rozsáhlého systému dávek. Takové reformy by byly účinnější než jakákoliv rozvojová pomoc, avšak prozatím jsou mimo diskusi.
Rovněž pravidla globální ekonomiky zůstávají nedotknutelná, takže je prakticky nemožné restrukturalizovat finanční a obchodní politiku tak, aby jejich výsledkem nebyly větší chudoba, nekontrolovatelné klimatické změny a nezvratné ničení zdrojů.
Jazyk, na kterém se zatím jednotlivé strany dohodly, není nijak povzbudivý. Přežitá snaha o ekonomický růst za každou cenu není odpovědí na otázku, jak lze nalézt rovnováhu mezi rozvojem a limity naší planety i skutečností, že miliardy lidí žijí v chudobě. V omezeném světě není neomezený růst možný, a pokud se přínosy růstu spravedlivě nerozdělí, pak ani rostoucí výkon nenasytí všechny.
Vytvoření smělejší rozvojové agendy přitom nebrzdí jen rozvinuté země. Elity z rozvíjejících se a rozvojových států využívají jednání o SDG především jako platformu pro výzvy k mezinárodním transferům pomoci.
Kvalita OSN závisí na kvalitě jejích členů. Tu poznáme podle toho, do jaké míry budou členové pohlížet na SDG jako na příležitost stanovit vskutku nové priority a vskutku univerzální cíle pro ekologickou a rozvojovou politiku v jednadvacátém století.