Betere plastics voor gezondere oceanen
LONDEN – Plastics behoren tot de meest populaire materialen die vandaag de dag worden gebruikt. Gezien de veelzijdigheid van het materiaal is het geen wonder dat er in de hele wereld ieder jaar 320 miljoen ton van wordt gebruikt. De recente vakantieperiode heeft velen opgezadeld met een berg plastic producten en verpakkingsmateriaal. Maar plastics vormen ook een ernstige bedreiging voor ons milieu.
Als ze niet op de juiste manier worden weggegooid, kunnen plastics tientallen jaren blijven rondslingeren of -drijven. Behalve dat ze schadelijk zijn voor land- en zeedieren kunnen vrij ronddobberende plastics in de oceanen gifstoffen in zich opnemen en afgebroken worden tot micro-plastics, die vervolgens de voedselketen binnenkomen.
Het is deze schijnbare onsterfelijkheid die overheden ertoe heeft gebracht bepaalde milieu-onvriendelijke plastic producten te belasten of ze geheel en al in de ban te doen. Veel overheden stimuleren ook beter afvalbeheer, en het hergebruik, herontwerp en recyclen van plastic producten.
Dit is verstandig beleid. Maar hoewel belastingen, verboden en afvalbeheer het probleem van de plastic-vervuiling zullen verminderen, zullen ze het niet oplossen. En omdat plastics worden gemaakt van een nevenproduct van de olieraffinage, zou een verbod ook weinig of geen invloed hebben op de koolwaterstofextractie. Wat belastingen en verboden wél zullen doen, is het beroven van de allerarmsten van een nuttig en goedkoop materiaal.
Het is een feit dat – ondanks de inspanningen van goed-bedoelende wettenmakers en niet-gouvernementele organisaties – duizenden tonnen plastic afval iedere dag nog steeds in het milieu terechtkomen, met name in de oceanen. Er is duidelijk behoefte aan een betere aanpak.
Sommige regeringen en bedrijven zijn ervan overtuigd dat "bio-plastics" – die deels worden gewonnen uit biomassa, zoals maïszetmeel – de oplossing zijn. Maar dit betoog vertoont gaten: bio-plastics zijn heel duur en energie-intensief om te produceren, en bevatten nog steeds grote hoeveelheden materialen die uit olie afkomstig zijn.
Subscribe to PS Digital Now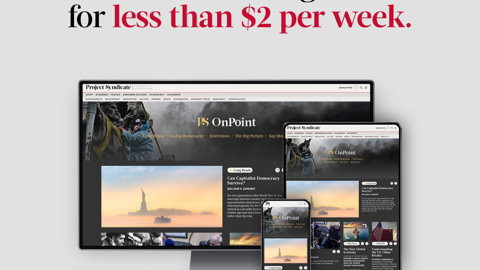 Subscribe to PS Digital Now
Access every new PS commentary, our entire On Point suite of subscriber-exclusive content – including Longer Reads, Insider Interviews, Big Picture/Big Question, and Say More – and the full PS archive.
Bovendien is het voor het recyclen van bio-plastics nodig dat ze worden gescheiden van gewone plastics. Dergelijke polymeren kunnen op biologische wijze worden afgebroken, maar alleen onder de bijzondere omstandigheden die zich voordoen bij industrieel composteren. Met andere woorden: hoewel deze technologie misschien aantrekkelijk klinkt, zal zij het probleem niet oplossen van het plastic afval dat in het milieu terecht komt.
De focus van de plastics-industrie heeft lange tijd gelegen op de functionaliteit van een product gedurende zijn levenscyclus. Deze benadering is niet langer houdbaar. De wereld heeft behoefte aan een nieuw soort plastic, dat goede prestaties levert, maar ook veel sneller biologisch afbreekbaar zal zijn dan de plastics die we vandaag de dag gebruiken.
Dat maakt de weg vrij voor oxo-biodegradeerbaar plastic (ODP). Anders dan andere plastics, waaronder bio-plastics, kan OBP overal in het milieu worden afgebroken, en worden gerecycled als het nog tíjdens zijn levenscyclus wordt verzameld. Gewone plastic producten kunnen bij de productie en tegen weinig of geen extra kosten met bestaande middelen worden opgewaardeerd tot OBP, door gebruik te maken van technologie die de Oxo-biodegradable Plastics Association bezig is te verspreiden.
OBP wordt geproduceerd door een speciaal middel aan een normale polymeer toe te voegen. Dit middel (dat wordt geproduceerd door een bedrijf waarvan ik de directeur ben) ontmantelt de moleculaire structuur van de polymeer aan het einde van zijn levenscyclus en maakt een natuurlijke decompositie in een open milieu mogelijk.
En bij OBP komt decompositie niet neer op de afbraak in microscopisch kleine plastic deeltjes. Zoals Ignacy Jakubowicz, een hoogleraar aan het Zweedse Onderzoeksinstituut en een van 's werelds toonaangevende deskundigen op het gebied van polymeren, uitlegt, verandert bij de afbraak van OBP het materiaal volledig, waarbij koolwaterstofmoleculen in zuurstofhoudende moleculen veranderen, die weer in het milieu kunnen worden opgenomen. Op grond van internationale normen (zoals ASTM D6954) is voor het gebruik van OBP een bewijs van afbreekbaarheid en bio-afbreekbaarheid vereist, en de bevestiging dat er geen sprake is van zware metalen of giftigheid.
Nu plastics veranderen, moeten de manieren waarop landen ze in hun economieën integreren ook veranderen. Het goede nieuws is dat, ook al hebben de Verenigde Staten en Europa innovatieve oplossingen slechts aarzelend omarmd, andere landen er meer voor open hebben gestaan. Saoedi-Arabië en de Verenigde Arabische Emiraten hebben bijvoorbeeld de import of fabricage van conventionele plastics verboden voor een breed scala aan producten, en beide landen eisen nu dat plastic producten worden opgewaardeerd met behulp van OBP-technologie. Ze hebben niet gekozen voor "bio-based"-plastics.
De wereld heeft geen nieuwe verboden of belastingen nodig. Mensen die met plastic werken, en hun regeringen, moeten zich daarentegen net zo goed kunnen aanpassen als het materiaal zelf, waarbij ze hun voordeel moeten doen met technologische doorbraken om ervoor te zorgen dat we optimaal kunnen profiteren van een goedkoop en veelzijdig materiaal, zonder het milieu te onderwerpen aan zijn verwoestende impact.
Vertaling: Menno Grootveld