Lepšími plasty za zdravější oceány
LONDÝN – Plasty patří k nejoblíbenějším materiálům dneška. Vzhledem k jejich rozmanitosti není příliš divu, že se jich na světě každoročně použije přibližně 320 milionů tun. I po nedávných vánočních svátcích zůstala mnoha lidem hora plastových výrobků a obalů. Plasty však zároveň představují vážnou ekologickou hrozbu.
Pokud je správným způsobem nezlikvidujeme, mohou plasty desítky let ležet v přírodě nebo plavat na hladině. Kromě toho, že škodí suchozemským i vodním organismům, mohou plasty plovoucí v oceánech adsorbovat toxické látky a rozpadat se v mikroplasty, které pak vstupují do potravinového řetězce.
Tato jejich zdánlivá nezničitelnost vede vlády k tomu, že určité ekologicky škodlivé produkty zdaňují nebo zcela zakazují. Řada vlád také podporuje lepší nakládání s odpady a opětovné používání, redesign a recyklaci plastových produktů.
Je to moudrá politika. Ačkoliv však daně, zákazy a politika nakládání s odpady zmenší rozměr problému znečištění plasty, nedokáže ho zcela vyřešit. A protože se plasty vyrábějí z vedlejšího produktu rafinace ropy, jejich zákaz by měl jen malý či přímo nulový dopad na těžbu uhlovodíků. Daně a zákazy naopak připraví nejchudší lidi o užitečný a levný materiál.
Faktem zůstává, že navzdory dobře míněnému úsilí právníků a nevládních organizací tisíce tun plastového odpadu stále dennodenně pronikají do okolního prostředí, zejména do oceánů. Evidentně je zde zapotřebí lepší přístup.
Některé vlády a firmy se nechaly přesvědčit, že řešením jsou "bioplasty" – které jsou částečně založené na biomase, jako je kukuřičný škrob. Tento argument je však pomýlený: bioplasty jsou velmi drahé, jejich výroba energeticky náročná, a přitom i ony obsahují velké množství látek na ropné bázi.
Subscribe to PS Digital Now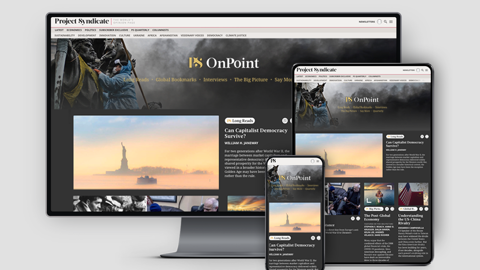 Subscribe to PS Digital Now
Access every new PS commentary, our entire On Point suite of subscriber-exclusive content – including Longer Reads, Insider Interviews, Big Picture/Big Question, and Say More – and the full PS archive.
Recyklace bioplastů navíc vyžaduje jejich separaci od běžných plastů. Tyto polymery se testují na biorozložitelnost, avšak jen v konkrétních podmínkách panujících při průmyslovém kompostování. Jinými slovy nám tato technologie sice může připadat lákavá, ale nevyřeší problém plastového odpadu prosakujícího do životního prostředí.
Výrobci plastů se už dlouho zaměřují na funkčnost produktu během jeho životnosti. Tento přístup už není udržitelný. Svět potřebuje nový typ plastu – takový, jenž bude mít dobré vlastnosti, ale zároveň bude biologicky rozložitelný mnohem rychleji než plasty, které používáme dnes.
Na scénu tedy vstupuje oxo-biodegradovatelný plast (OBP). Na rozdíl od ostatních plastů včetně bioplastů se OBP biologicky rozkládá kdekoliv v životním prostředí a lze ho recyklovat, pokud se během své životnosti sebere jako odpad. Běžné plastové výrobky lze upgradovat na OBP pomocí stávajících strojních zařízení již v době výroby při nízkých nebo nulových dodatečných nákladech, a to s využitím technologie, na jejímž vysvětlení Sdružení za oxo-biodegradovatelné plasty pracuje.
OBP se vyrábí přimícháním speciálního aditiva do běžného polymeru. Toto aditivum (vyráběné společností, jejímž jsem ředitelem) rozkládá molekulární strukturu polymeru na konci jeho životnosti a umožňuje jeho přirozený rozklad v otevřeném prostředí.
V případě OBP navíc pojem "rozklad" neznamená rozdrobení na plastové fragmenty. Jak vysvětluje Ignacy Jakubowicz, profesor Švédských výzkumných institutů a jeden z čelních světových expertů na polymery, při rozpadu OBP se mění celá jejich materiálová struktura: z uhlovodíkových molekul se stávají molekuly obsahující kyslík, které lze asimilovat zpět do životního prostředí. Podle mezinárodních standardů (jako je ASTM D6954) by používání OBP vyžadovalo důkaz o degradaci a biodegradaci spolu s potvrzením o neexistenci těžkých kovů a ekotoxicity.
Se změnami plastů se musí měnit i způsoby, jimiž je státy začleňují do svých ekonomik. Dobrou zprávou je, že ačkoliv Spojené státy a Evropa přijímají novátorská řešení pomalu, jiné země jsou vůči nim otevřenější. Například Saúdská Arábie a Spojené arabské emiráty zakázaly dovoz či výrobu konvenčních plastů pro širokou paletu produktů a obě země dnes vyžadují, aby se plastové výrobky upgradovaly pomocí technologie OBP. Rozhodly se nejít cestou bioplastů.
Svět nepotřebuje nové zákazy či daně. Spíše by potřeboval, aby lidé, kteří s plasty pracují, a jejich vlády začali být stejně adaptabilní jako samotný tento materiál – aby se s využitím technologických pokroků zasazovali o to, že dokážeme tento levný a rozmanitý materiál maximálně zužitkovat, aniž přitom zatížíme životní prostředí jeho škodlivými účinky.
Z angličtiny přeložil Jiří Kobělka.