Ekologizace horníků
LONDÝN – Prezidentství Donalda Trumpa v USA během posledního roku obrátilo hornictví – a především uhelný průmysl – v politický cause célèbre. V červnu, během jeho prvního setkáni kabinetu Bílého domu, prohlásil Trump, že jeho energetická politika dává horníkům zpět práci a transformuje komplikovaný sektor ekonomiky.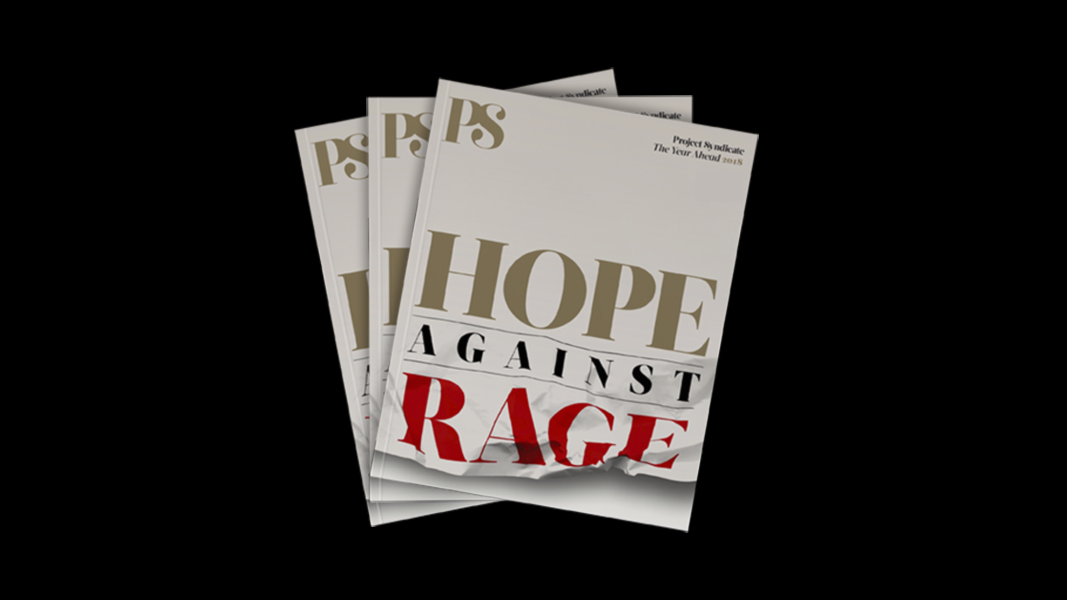 The Year Ahead 2018
The world's leading thinkers and policymakers examine what's come apart in the past year, and anticipate what will define the year ahead.
Trump se však mýlí v tom, že podpora horníků a vyjadřování respektu této obtížné profesi bude stačit k tomu, aby bylo hornictví udržitelné. Abychom toho dosáhli, bude zapotřebí mnohem komplexnějšího souboru provázanosti.
Debaty o těžbě a životním prostředí jsou často omezeny na "propojení" mezi extrakcí zdroje a představením dalších zdrojů do extrakčního procesu. Vycházející Routledge Handbook of the Resource Nexus (Příručka pro propojení zdrojů), kterou jsem co-editoval, definuje termíny jako je vztah mezi dvěma a více přirozeně se vyskytujícími materiály, které jsou použity jako vstupy v systému, který poskytuje službu lidem. V případě uhlí je to "propojení" mezi skálou a obrovským množstvím vody a energie potřebných k jeho vytěžení.
Pro politiky je porozumění tomuto propojení klíčové k efektivní správě zdrojů a země. Podle průzkumu z roku 2014 existuje inverzní vztah mezi třídou rudy a množstvím vody a energie použité na její extrakci. Jinými slovy, špatná interpretace toho, jak reagují vstupy a výstupy, by mohla mít hluboké ekologické následky.
Navíc vzhledem k tomu, že je mnoho technologií obnovitelných zdrojů budováno z vytěžených kovů a minerálů, bude hrát globální těžební průmysl klíčovou roli v přechodu do nízkouhlíkaté budoucnosti. Fotovoltaické buňky sice získávají energii ze slunce, ale jsou vyrobeny kadmia, selenia a teluria. To samé platí pro větrné turbíny, které jsou vyrobeny z hromady kobaltu, mědi a vzácných oxidů.
Zorientování se v propojení zdrojů v těžebním průmyslu bude vyžadovat nové modely vládnutí, které dokáží vybalancovat těžební praktiky s rodícími se energetickými potřebami – jako ty představené v Udržitelných rozvojových cílech OSN (SDGs). Tvorba hodnoty, maximalizace profitu a konkurenceschopnost musí být také dány v poměr k většímu veřejnému blahu.  
Někteří v rámci globálního těžebního průmyslu poznaly, že dochází ke změnám. Podle nedávného průzkumu průmyslových praktik od CDP, neziskové energetické a ekologické konzultační firmy, začínají těžební společnosti od Austrálie po Brazílii těžit zdroje a zároveň zmenšovat svoji ekologickou stopu.
Nicméně pokud mají být ochráněny zájmy veřejnosti a planety, nemůže se svět spoléhat pouze na obchodní rozhodnutí těžebních společností. Je zapotřebí čtyř klíčových změn, které zajistí pokračování zeleného trendu tohoto průmyslu.
Zaprvé, těžba potřebuje přepracovat inovace. Klesající třídy rudy vyžadují, aby se těžařství stalo efektivnější v otázce energie a zdrojů a zůstalo tak ziskové. A vzhledem k tomu, že nedostatek vody je mezi hlavními výzvami, kterým těmto průmysl čelí, jsou ekologická řešení mnohdy použitelnější než ta konvenční. Kupříkladu v Chile byly měděné doly donuceny začít používat pro těžbu odsolenou vodu, a švédská firma Boliden pokrývá 42% svých energetických potřeb z obnovitelných zdrojů. Těžařské firmy různě po světě se z těchto příkladů učí.
Za druhé, musí začít diverzifikace produktů. Rok po Pařížské klimatické úmluvě je transformace globálních trhů s fosilním palivem pouze otázkou času. Firmy s velkým portfoliem fosilních paliv, jako je uhlí, budou brzy čelit veliké nejistotě vztažené k opuštěným aktivům, a investoři možná podle toho pozmění svá hodnocení rizik.
Velké těžební společnosti se na tento posun mohou připravit posunem od fosilních paliv k jiným materiálům, jako je železná ruda, měď, bauxit, kobalt, vzácné prvky a lithium, stejně jako minerální hnojiva, kterých bude zapotřebí ve velkých množstvích, aby se naplnil SGD o globálním vymýcení hladu. Postupný odklon od uhlí během fáze latentní nadprodukce by mohl dokonce být proveden se ziskem.
Za třetí, svět potřebuje lepší způsob zhodnocení ekologických rizik důlního průmyslu. Ačkoliv je ekologická stopa tohoto průmyslu menší než je tomu u zemědělství a urbanizace, může těžení materiálů ze země stále trvale poškodit ekosystémy a vést ke ztrátě biodiversity. Pro ochranu citlivých oblastí je zapotřebí větší globální koordinace pro volbu vhodných těžebních lokací. Integrovaná zhodnocení půdního podloží, spodní vody a integrity biosféry by také pomohla, stejně jako směrnice pro udržitelnou spotřebu zdrojů.
No a konečně, těžební průmysl musí lépe integrovat své hodnotové řetězce k vytvoření většího množství ekonomických příležitostí navazujících na trh. Založení modelů materiálního toku – jako těch, co existují pro hliník and ocel – a jejich propojení se strategiemi "kruhové ekonomiky" jako je redukce odpadu a recyklace, by byl dobrý začátek. Radikálnější krok by mohl přijít skrze vážné zapojení v trzích pro druhotné materiály. "Městská těžba" – záchrana, zpracování a doručení recyklovatelných materiálů z demolic – by také mohla být do současných klíčových aktivit lépe integrována.
Globální důlní průmysl je na pokraji transformace z extrakce fosilních paliv do poskytování materiálů pro zelenější energetickou budoucnost. Toto "zelenání" je výsledkem tvrdé práce, inovací, a komplexního porozumění propojení zdrojů. Ať již věří pro uhlí nadšený prezident USA čemukoliv, není to výsledek otřepaných politických frází.