A futura revolução do hidrogénio verde
WASHINGTON, DC – As alterações climáticas antropogénicas estão a causar perturbações ambientais perigosas e generalizadas e a afectar as vidas de milhares de milhões de pessoas em todo o mundo. Segundo o Painel Intergovernamental para as Alterações Climáticas, o mundo enfrentará riscos climáticos inevitáveis durante as próximas duas décadas. Mas, com as emissões globais de gases com efeito de estufa médias anuais a atingir os seus níveis mais elevados na história humana entre 2010 e 2019, é visível que não estamos a fazer o suficiente para limitar o aquecimento global a 1,5° Celsius.
O relatório do PIAC divulgado em Abril recomendou que o mundo reduzisse rapidamente a oferta e procura de combustíveis fósseis entre a actualidade e 2050: em 95% no caso do carvão, em 60% para o petróleo e em 45% para o gás natural. Mas como poderemos alcançar objectivos tão ambiciosos?
A resposta está na mudança para o hidrogénio verde, que pode ser produzido por todas as formas de energia renovável, como a solar, a eólica, a hidroeléctrica e a geotérmica. O hidrogénio verde é um combustível com emissões nulas; quando produzido, através da electrólise, a única "emissão" é água. É uma solução prática e implementável que, ao democratizar a energia, descarbonizar a indústria pesada e criar empregos por todo o mundo, ajudaria a revolucionar a forma como energizamos o nosso planeta.
Uma aceleração rápida da transição para a energia verde pode também alterar fundamentalmente o panorama geopolítico, já que os países deixarão de ser poderosos apenas devido aos combustíveis fósseis que produzem. Em 2021, a Rússia forneceu 34% do petróleo bruto usado pela Alemanha e 53% do carvão fóssil usado pelas centrais térmicas e siderurgias alemãs. O gás natural russo foi a maior origem de importações de gás alemãs em Dezembro de 2021, sendo responsável por 32% da oferta. Desde que o presidente russo Vladimir Putin iniciou a sua guerra horrível e injusta na Ucrânia em Fevereiro, as exportações de combustíveis fósseis para a Europa têm feito a Rússia ganhar cerca de mil milhões de dólares por dia.
Mas desde o início da invasão em Fevereiro, os países da União Europeia, em particular, têm rapidamente tomado medidas para reduzir a sua dependência energética da Rússia, e acordaram recentemente em banir todas as importações por via marítima de petróleo russo. Estas novas sanções contra a máquina de guerra de Putin poderiam diminuir a quantidade de petróleo que a UE adquire à Rússia em 90% ainda este ano. Os Estados Unidos declararam uma interdição total das importações de petróleo, gás e carvão russos, enquanto o Reino Unido eliminará progressivamente as importações de petróleo russo até ao fim de 2022.
Estas políticas fizeram disparar os preços dos combustíveis. Mas a acentuada subida dos preços também salientou a oportunidade de fazer descer os custos com energia, através do investimento nas renováveis e da produção de hidrogénio verde.
Secure your copy of PS Quarterly: The Year Ahead 2023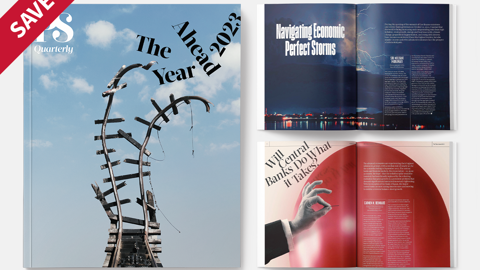 Secure your copy of PS Quarterly: The Year Ahead 2023
Our annual fourth-quarter magazine is here, and available only to Digital Plus and Premium subscribers. Subscribe to Digital Plus today, and save $15.

Investigações recentes sugerem que o hidrogénio verde fará concorrência aos combustíveis fósseis durante a próxima década. O custo do hidrogénio verde deverá decrescer significativamente até 2025 e chegar a 1 dólar por quilograma até 2030, em localizações favoráveis como a Austrália. Comparativamente, o hidrogénio cinzento, fabricado a partir do poluente gás natural liquefeito, custa hoje cerca de 2 dólares por quilograma.
Há quem defenda a utilização do GNL para "resolver" a actual crise de segurança energética, mas o "gás natural" contém metano, e o PIAC afirma que temos de reduzir a utilização do gás natural em quase 45% até 2050; acrescentar mais ao cabaz energético neste momento seria um erro catastrófico.
Portanto, existe hoje uma corrida global para a energia verde, e especificamente para o hidrogénio verde. Dúzias de países que dispõem de fontes abundantes de energias renováveis podem desenvolver a independência energética, através da produção em escala do hidrogénio verde. E os importadores de energia não terão de depender somente dos poucos países (como a Rússia) que dispõem de uma dotação natural de combustíveis fósseis.
Num relatório recente, a Agência Internacional para as Energias Renováveis afirmou que o hidrogénio (verde) pode consolidar a segurança energética de três formas importantes: pela redução da dependência das importações, pela atenuação da volatilidade dos preços e pelo reforço da flexibilidade e da resiliência dos sistemas energéticos através da diversificação. À medida que as tecnologias evoluírem, o custo do hidrogénio verde cairá. Temos de fazer tudo ao nosso alcance para acelerar este processo.
Empresas como a Fortescue, da qual sou administradora, estão a investir significativamente no hidrogénio verde e ajudarão a substituir os combustíveis fósseis russos por energia verde. A Fortescue anunciou recentemente um acordo com o maior distribuidor de energia da Alemanha, a E.ON, para fornecer à Europa cinco milhões de toneladas de hidrogénio verde por ano até 2030 – o equivalente a um terço do valor calorífico da energia que a Alemanha importa actualmente da Rússia.
Mas apesar de as rápidas alterações do panorama energético e geopolítico representarem uma oportunidade evidente para enfrentar simultaneamente as crises energética e climática através do investimento em energias verdes, existe uma clara percepção de injustiça quando os países desenvolvidos afirmam que as economias em desenvolvimento e com um nível de emissões relativamente reduzido terão de abandonar a utilização de combustíveis fósseis. Porque deveriam esses países arriscar um abrandamento do seu desenvolvimento para resolver um problema para o qual não contribuíram?
Esta questão é pertinente. Os decisores políticos terão de considerar os interesses dos países em desenvolvimento durante a transição verde e de reforçar o financiamento e incentivos para que esses países passem a considerar energias limpas para a base da sua industrialização.
O mundo está claramente numa encruzilhada. Podemos permanecer presos a um futuro dispendioso e poluidor, horrivelmente ineficiente e que só dá poder a um punhado de países ricos em combustíveis fósseis. Em alternativa, podemos optar por uma revolução verde de energia barata para todos e que mantenha o nosso futuro livre de poluição, de aquecimento global e de ditadores. Como essa energia verde terá o poder de democratizar a oferta global à medida que mais países alcançarem a independência energética, a escolha não será difícil.