De aanstaande groene waterstofrevolutie
WASHINGTON, DC – De door de mens veroorzaakte klimaatverandering leidt tot gevaarlijke en wijdverspreide ontwrichtingen van het milieu en beïnvloedt het leven van miljarden mensen over de hele wereld. Volgens het Intergovernmental Panel on Climate Change staat de wereld de komende twee decennia voor onvermijdelijke klimaatgevaren. Maar aangezien de gemiddelde jaarlijkse uitstoot van broeikasgassen tussen 2010 en 2019 het hoogste niveau in de geschiedenis van de mensheid heeft bereikt, doen we gewoon niet genoeg om de opwarming van de aarde tot 1,5° Celsius te beperken.
In het in april gepubliceerde IPCC-rapport wordt aanbevolen dat de wereld het aanbod van en de vraag naar fossiele brandstoffen tussen nu en 2050 snel terugdringt: met 95 procent in het geval van steenkool, met zestig procent voor olie en met 45 procent voor aardgas. Maar hoe kunnen we zulke ambitieuze doelstellingen bereiken?
Het antwoord is door over te schakelen op groene waterstof, die kan worden geproduceerd uit alle vormen van hernieuwbare energie, met inbegrip van zonne-, wind-, waterkracht- en geothermische energie. Groene waterstof is een brandstof zonder uitstoot; bij de productie door elektrolyse is de enige ʻuitstoot' water. Het is een praktische en implementeerbare oplossing die, door energie te democratiseren, de zware industrie koolstofvrij te maken en wereldwijd banen te creëren, zou bijdragen aan een revolutie in de manier waarop we onze planeet van energie voorzien.
Een versnelling van de transitie naar groene energie kan ook het geopolitieke landschap fundamenteel veranderen, aangezien landen niet langer machtig zullen zijn louter omwille van de fossiele brandstoffen die ze produceren. In 2021 leverde Rusland 34 procent van Duitslands ruwe olie, en 53 procent van de steenkool die door Duitse elektriciteitscentrales en staalfabrikanten wordt gebruikt. Aardgas uit Russische pijpleidingen was in december 2021 Duitslands grootste bron van importgas, goed voor 32 procent van het aanbod. Sinds de Russische president Vladimir Poetin in februari zijn gruwelijke, onrechtvaardige oorlog in Oekraïne is begonnen, levert de export van fossiele brandstoffen naar Europa Rusland ruwweg één miljard dollar per dag op.
Maar sinds het begin van de invasie in februari hebben met name de landen van de Europese Unie snel actie ondernomen om hun energieafhankelijkheid van Rusland te verminderen, waarbij zij onlangs overeenkwamen om alle invoer van Russische olie overzee te verbieden. Deze nieuwe sancties tegen de oorlogsmachine van Poetin kunnen de hoeveelheid olie die de EU dit jaar van Rusland koopt met negentig procent verminderen. De Verenigde Staten hebben een volledig verbod afgekondigd op de invoer van Russische olie, gas en steenkool, terwijl het Verenigd Koninkrijk de invoer van Russische olie tegen eind 2022 geleidelijk stopzet.
Dit beleid heeft de brandstofprijzen de hoogte in gejaagd. Maar de sterk gestegen prijzen hebben ook duidelijk gemaakt dat de energiekosten kunnen worden gedrukt door te investeren in hernieuwbare energiebronnen en de productie van groene waterstof.
Secure your copy of PS Quarterly: The Year Ahead 2023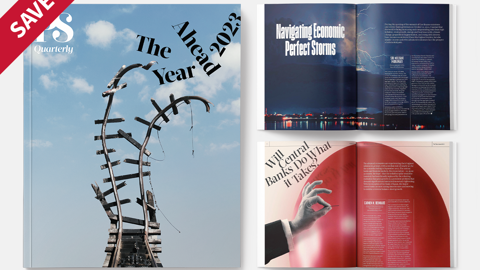 Secure your copy of PS Quarterly: The Year Ahead 2023
Our annual fourth-quarter magazine is here, and available only to Digital Plus and Premium subscribers. Subscribe to Digital Plus today, and save $15.

Uit nieuw onderzoek blijkt dat groene waterstof in de komende tien jaar zal kunnen concurreren met fossiele brandstoffen. Verwacht wordt dat de kosten van groene waterstof tegen 2025 aanzienlijk zullen afnemen en in gunstige locaties zoals Australië tegen 2030 zullen dalen tot één dollar per kilo. Ter vergelijking: grijze waterstof, die wordt gemaakt met vervuilend vloeibaar aardgas (LNG), kost momenteel ongeveer twee dollar per kilo.
Sommigen pleiten voor het gebruik van LNG om de huidige energiecrisis ʻop te lossen,' maar aardgas bevat methaan, en het IPCC zegt dat we het gebruik van aardgas tegen 2050 met bijna 45 procent moeten hebben verminderd; nu nog meer aardgas aan de energiemix toevoegen zou een catastrofale vergissing zijn.
Er is nu dus een wereldwijde wedloop op gang gekomen voor groene energie, en specifiek voor groene waterstof. Tientallen landen met overvloedige hernieuwbare energiebronnen kunnen energieonafhankelijkheid ontwikkelen door op grote schaal groene waterstof te produceren. En energie-importeurs zullen niet alleen hoeven te vertrouwen op de weinige landen (zoals Rusland) die een natuurlijke voorraad fossiele brandstoffen hebben.
In een recent rapport stelt het International Renewable Energy Agency dat (groene) waterstof de energiezekerheid op drie belangrijke manieren kan versterken: door de afhankelijkheid van ingevoerde energie te verminderen, de prijsvolatiliteit te matigen, en de flexibiliteit en veerkracht van energiesystemen te verhogen door diversificatie. Naarmate de technologieën verbeteren, zullen de kosten van groene waterstof dalen. We moeten alles in het werk stellen om dit proces te versnellen.
Bedrijven als Fortescue, waar ik lid ben van de raad van bestuur, investeren aanzienlijk in groene waterstof en zullen helpen Russische fossiele brandstoffen te vervangen door groene energie. Fortescue heeft onlangs een overeenkomst aangekondigd met de grootste energiedistributeur van Duitsland, E.ON, om Europa tegen 2030 te voorzien van vijf miljoen ton groene waterstof per jaar – het equivalent van een derde van de calorische waarde van de energie die Duitsland momenteel uit Rusland invoert.
Maar terwijl de snelle veranderingen in het energie- en geopolitieke landschap een duidelijke kans bieden om de energie- en klimaatcrisis gelijktijdig aan te pakken, door te investeren in groene energie, is er een duidelijke perceptie van oneerlijkheid wanneer ontwikkelde landen beweren dat ontwikkelingslanden met een relatief lage uitstoot het gebruik van fossiele brandstoffen moeten stopzetten. Waarom zouden zij het risico lopen hun ontwikkeling te vertragen om een probleem aan te pakken dat zij niet mede hebben veroorzaakt?
Het is een terechte vraag. Beleidsmakers zullen rekening moeten houden met de belangen van ontwikkelingslanden tijdens de groene transitie, en de financiering en prikkels voor deze landen om over te schakelen op schone energie als basis voor industrialisatie, moeten versterken.
De wereld staat duidelijk op een tweesprong. We kunnen blijven vasthouden aan een kostbare, vervuilende toekomst die afschuwelijk inefficiënt is en slechts een handvol landen met veel fossiele brandstoffen macht geeft. Of we kunnen kiezen voor een groene revolutie van goedkope energie voor iedereen, die onze toekomst vrijwaart van vervuiling, opwarming van de aarde en dictators. Gezien het feit dat groene energie het vermogen heeft om het wereldwijde energie-aanbod te democratiseren, naarmate meer landen energie-onafhankelijk worden, is de keuze niet moeilijk.
Vertaling: Menno Grootveld