Fazer a tecnologia trabalhar para os trabalhadores
NOVA IORQUE – À medida que a inovação tecnológica transforma as nossas economias, trabalhadores de todo o mundo fazem o que for preciso – quer seja mudar de país, de emprego, ou criar empresas – por uma oportunidade para prosperarem. No entanto, as redes de segurança social têm sido mais lentas a mudar, o que frequentemente aumenta a vulnerabilidade dos trabalhadores em transição. O que será necessário para proteger os trabalhadores no mercado de trabalho do futuro?
Num passado não muito distante, a maioria dos trabalhadores permanecia empregada no mesmo sector – e frequentemente na mesma empresa – durante grande parte das suas carreiras. Mas hoje perto de 40% das pessoas empregadas na União Europeia têm um emprego atípico (não possuem um contrato a tempo inteiro e sem termo) ou são trabalhadores independentes. O actual americano médio em idade activa terá 11 empregos durante a sua vida, e muitos terão acumulado vários empregos em simultâneo.
Globalmente, o Instituto Global McKinsey estima que 375 milhões de trabalhadores (14% da mão-de-obra) necessitarão de mudar de categoria ocupacional até 2030, para satisfazer as necessidades de um mercado laboral em mudança. Além disso, todos os trabalhadores precisarão de se adaptar, adquirindo novos conhecimentos e competências, à medida que as suas funções evoluem paralelamente a máquinas cada vez mais competentes. Se o futuro do trabalho for moldado pela automação, a aprendizagem ao longo da vida determinará o futuro dos trabalhadores, especialmente à medida que as vidas dos trabalhadores se tornam mais longas.
Para lidarmos com estas alterações, e sem sacrificarmos a dignidade, a autonomia, ou a ambição, necessitaremos de uma combinação de mobilidade económica e de segurança financeira que pode ser proporcionada por um novo tipo de rede de segurança social – um tipo que atribua directamente os benefícios ao indivíduo. Os trabalhadores não deveriam ter de escolher entre enfrentar um período de vulnerabilidade extrema por mudarem de ocupação e apegar-se ao mesmo emprego até se tornar obsoleto, só par não perderem os seus benefícios. Do mesmo modo que a tecnologia interfere nas suas vidas profissionais, também pode garantir a sua protecção, permitindo a distribuição de benefícios acumulados durante a vida profissional de uma pessoa, independente do tipo de trabalho que realiza ou do local no mundo onde o faz.
Alguns governos já estão a dar resposta a este imperativo. Em 2015, França criou contas individuais de formação para todos os trabalhadores do sector privado, acessíveis desde quando entram no mercado de trabalho até quando se reformam. Cada empregado recebe 24 horas de formação por ano de trabalho a tempo inteiro até atingirem um limiar de 120 horas, altura em que recebem 12 horas de formação por ano.
Mais recentemente, Singapura criou "contas individuais de aprendizagem" para todos os cidadãos com mais de 24 anos. Os saldos destas contas podem ser gastos em formação de competências ministrada por prestadores aprovados. Foram propostos modelos semelhantes no Canadá, na China e no Egipto. Nos Estados Unidos, legisladores de alguns estados e cidades estão a elaborar projectos de lei para testar e financiar a portabilidade de benefícios.
Subscribe to PS Digital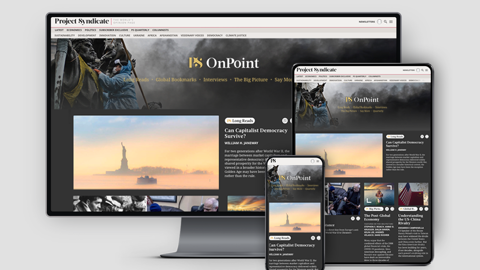 Subscribe to PS Digital
Access every new PS commentary, our entire On Point suite of subscriber-exclusive content – including Longer Reads, Insider Interviews, Big Picture/Big Question, and Say More – and the full PS archive.
Mas a responsabilidade do desenvolvimento da portabilidade universal de benefícios não pode recair apenas sobre os governos. O sector privado também tem de ajudar a garantir que todos os trabalhadores – do migrante ao mineiro e ao profissional de marketing – conseguem aceder às ferramentas e serviços de que necessitam para alcançarem a segurança financeira no presente e permanecerem ágeis e produtivos durante as suas vidas.
Felizmente, também aqui estão a ser feitos progressos, com algumas start-ups a oferecerem o tipo de tecnologia centrada nas pessoas que sustentará as redes de segurança social do futuro. Por exemplo, a Trezeo desenvolveu uma conta bancária que, utilizando inteligência artificial, disponibiliza empréstimos sem juros e garante o pagamento consistente a trabalhadores independentes, mesmo durante os períodos de baixa actividade. Em França, a Bob Emploi usa IA e dados do governo para fornecer aos candidatos a emprego avaliações personalizadas das suas perspectivas.
Para encorajar a continuidade desta evolução, a Mastercard juntou-se ao Future Work Centre da Royal Society for the Encouragement of Arts, Manufactures and Commerce para criar o Acelerador de Impacto de Segurança Económica. A parceria – que visa facilitar o desenvolvimento e implementação de iniciativas inovadoras que promovam directamente o trabalho de qualidade e a inclusão cívica, garantindo rendimentos familiares seguros e fiáveis – demonstra como os intervenientes do sector privada se podem reunir e descobrir novas maneiras de trabalhar, aproveitando a sua tecnologia e conhecimentos.
Vimos em primeira mão o impacto destes projectos conjuntos. O Jaza Duka – uma parceria entre a Mastercard, a Unilever e o Kenya Commercial Bank – é uma plataforma digital que, desde a sua criação em 2017, ajuda a garantir que os pequenos comerciantes tenham acesso ao capital circulante de que necessitam para competir e crescer.
Mas o desenvolvimento de um tal programa num mercado é apenas o primeiro passo. Também tem de ser criado um enquadramento comum, para que estes programas possam ser expandidos e implementados em contextos diferentes. Por exemplo, a distribuição de "pontos" de benefício, em vez de numerário denominado numa moeda específica, permitiria que os regimes funcionassem internacionalmente, num momento em que os trabalhadores cada vez mais precisam de fazer o mesmo. E as credenciais académicas normalizadas conservariam o seu valor, à medida que se movimentassem com as pessoas que as tivessem recebido.
Com a mudança da natureza do trabalho, a natureza dos sistemas de benefícios também tem de mudar. Para distribuir as oportunidades e a protecção por todos, em toda a parte, num momento de perturbação tecnológica generalizada, os governos e os intervenientes no sector privado têm de colaborar no desenvolvimento de soluções inovadoras que cumpram as necessidades urgentes e em evolução dos trabalhadores. O melhor modo de se conseguir isto é aproveitar as mesmas tecnologias que estão a causar a perturbação.