Ať technologie pracují pro zaměstnance
NEW YORK – V době, kdy technologické inovace transformují naše ekonomiky, dělají zaměstnanci z celého světa všechno možné – překračují hranice, mění zaměstnání nebo zakládají firmy –, aby měli šanci prosperovat. Záchranné sociální sítě se však mění mnohem pomaleji, což znamená, že zaměstnanci procházející proměnou jsou často nesmírně zranitelní. Co je třeba udělat pro zabezpečení zaměstnanců na budoucím trhu práce?
V nepříliš vzdálené minulosti byla většina zaměstnanců zaměstnaná po většinu kariéry ve stejném oboru – často u téže firmy. Dnes je však téměř 40% zaměstnaných lidí v Evropské unii v atypickém pracovním poměru (nepracují na plný úvazek a na smlouvu na dobu neurčitou) nebo jsou samostatně výdělečně činní. Průměrný Američan v produktivním věku dnes během života vystřídá 11 pracovních míst, přičemž mnozí z nich mají více zaměstnání současně.
Celosvětově společnost McKinsey Global Institute odhaduje, že do roku 2030 bude muset až 375 milionů zaměstnanců (14% pracovní síly) změnit profesní kategorii, aby naplnilo potřeby měnícího se trhu práce. Všichni zaměstnanci se navíc budou muset adaptovat – získat nové znalosti a kvalifikaci –, jak se jejich pracovní místa budou vyvíjet spolu se stále dokonalejšími stroji. Bude-li práci budoucnosti určovat automatizace, pak o budoucnosti zaměstnanců rozhodne celoživotní učení, zvláště když se jim prodlužují životy.
Vyrovnat se s těmito změnami bez obětování důstojnosti, samostatnosti či ambicí bude vyžadovat kombinaci ekonomické mobility a finanční bezpečnosti, kterou dokáže zajistit nový typ sociální záchranné sítě – sítě, která vloží benefity přímo do rukou jednotlivce. Zaměstnanci by neměli být nuceni rozhodovat se mezi obdobím těžké zranitelnosti, když změní povolání, a lpěním na stejné práci až do doby, kdy zastará, jen aby nepřišli o benefity. Technologie nejen narušují jejich profesní životy, ale mohou na druhé straně zajišťovat i jejich ochranu, pokud umožní poskytování benefitů, jež se budou během profesního života jednotlivce zvyšovat bez ohledu na typ práce, kterou daný člověk vykonává, a bez ohledu na otázku, kde ji vykonává.
Některé vlády na tento úkol reagují už dnes. V roce 2015 založila Francie pro všechny zaměstnance v soukromém sektoru individuální výcvikové účty přístupné od chvíle, kdy poprvé vstoupí na trh práce, až do odchodu do důchodu. Každý zaměstnanec obdrží 24 hodin výcviku za jeden rok práce na plný úvazek, a jakmile dosáhne hranice 120 hodin, získává 12 hodin výcviku za rok.
Singapur nedávno založil "individuální účty učení" pro každého občana ve věku nad 24 let. Prostředky na účtu lze utratit za kvalifikační kurzy u předem schválených poskytovatelů. Podobné modely byly navrženy i v Kanadě, Číně a Egyptě. Také zákonodárci v několika státech USA sepisují návrhy zákona, jenž by testoval a financoval přenosné benefity.
Subscribe to PS Digital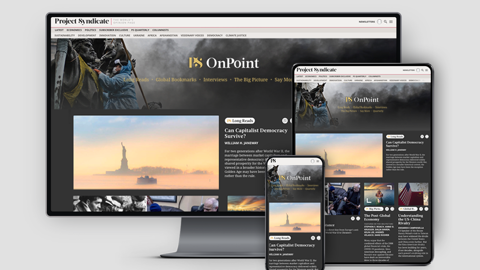 Subscribe to PS Digital
Access every new PS commentary, our entire On Point suite of subscriber-exclusive content – including Longer Reads, Insider Interviews, Big Picture/Big Question, and Say More – and the full PS archive.
Zodpovědnost za vývoj všeobecných přenosných benefitů však nemohou mít výlučně vlády. Také soukromý sektor musí přispět k zajištění, aby všichni zaměstnanci – od migranta přes mlékaře až po marketingového specialistu – měli přístup k nástrojům a službám potřebným k co nejrychlejšímu dosažení finanční bezpečnosti a aby zůstali po celý život činorodí a produktivní.
Naštěstí i zde dochází k pokroku, kdy některé startupové firmy nabízejí technologie zaměřené na lidi, které vyztuží záchranné sociální sítě budoucnosti. Například firma Trezeo vyvinula bankovní účet, jenž s využitím umělé inteligence poskytuje bezúročné půjčky a zajišťuje stálé platby nezávislým pracovníkům i v obdobích, kdy nemají mnoho zakázek. Francouzský Bob Emploi zase využívá umělou inteligenci a vládní data k tomu, aby uchazečům o práci poskytoval personalizovaná hodnocení jejich vyhlídek.
Ve snaze podpořit setrvalý pokrok se firma Mastercard spojila s Centrem pro práci budoucnosti při Královské společnosti pro podporu umění, výrobců a obchodu a společně vytvořily Urychlovač dopadů na ekonomickou bezpečnost. Toto partnerství – které si klade za cíl usnadnit vývoj a rozšíření novátorských iniciativ, jež přímo podporují dobrou práci a začleňování občanů, a současně zajišťuje bezpečné a spolehlivé příjmy domácností – ukazuje, jak se aktéři ze soukromého sektoru mohou spojovat a objevovat nové způsoby spolupráce tím, že rozšíří záběr svých technologií a know-how.
Dopad takových společných projektů jsme viděli na vlastní oči. Jaza Duka – partnerství firem Mastercard, Unilever a Kenya Commercial Bank – je digitální platforma, jež od svého zavedení v roce 2017 pomáhá zajišťovat drobným obchodníkům přístup k provoznímu kapitálu, který potřebují, aby mohli konkurovat a růst.
Vývoj takového programu na jednom trhu je však jen první krok. Je nutné vytvořit také společný rámec, aby se podobné programy daly rozšiřovat a zavádět v různých kontextech. Například poskytování benefitových "bodů" namísto peněz v jedné konkrétní měně by umožnilo přeshraniční fungování systémů v době, kdy se přes hranice stále více přesouvají i samotní zaměstnanci. A standardizované edukační hodnocení by si zachovávalo hodnotu i po přesunu těch, kdo si ho vysloužili.
Se změnou povahy práce se musí měnit i povaha benefitů a jejich systémů. Chceme-li v době rozsáhlých technologických disrupcí zajišťovat příležitosti a bezpečnost všem a všude, musí vlády i soukromí aktéři spolupracovat na vývoji novátorských řešení, která naplní naléhavé a neustále se vyvíjející potřeby zaměstnanců. Nejlepším způsobem, jak toho dosáhnout, je využívat právě těch technologií, které převratné změny způsobují.
Z angličtiny přeložil Jiří Kobělka.