Poner la tecnología al servicio de los trabajadores
NUEVA YORK – A la par de la transformación tecnológica de las economías, trabajadores de todo el mundo están haciendo lo que sea necesario (cruzar fronteras, cambiar de trabajo o empezar una empresa) para tener una chance de prosperar. Pero las redes de seguridad social no han cambiado al mismo ritmo, y esto a menudo deja sumamente vulnerables a los trabajadores en transición. ¿Qué hay que hacer para proteger a los trabajadores en el mercado laboral del futuro?
En un pasado no tan distante, la mayoría de los trabajadores estaban empleados en una misma industria (a menudo en una misma empresa) durante la mayor parte de sus carreras. Pero hoy, casi el 40% de las personas empleadas en la Unión Europea se encuentran en una situación laboral atípica (no cubiertas por un contrato a tiempo completo de duración indeterminada) o están autoempleadas. El estadounidense promedio en edad de trabajar tendrá 11 empleos a lo largo de su vida, y muchos trabajarán en más de un puesto a la vez.
En el nivel mundial, el McKinsey Global Institute calcula que en 2030, hasta 375 millones de trabajadores (el 14% de la fuerza laboral) tendrán que pasarse a otra categoría ocupacional para satisfacer las necesidades de un mercado laboral cambiante. Además, conforme las máquinas se vuelvan cada vez más capaces, todos los trabajadores tendrán que adaptarse a la evolución de sus trabajos (adquirir nuevos conocimientos y habilidades). Si la automatización definirá el futuro del trabajo, el aprendizaje continuo determinará el futuro de los trabajadores, especialmente con el aumento de la expectativa de vida.
Para lidiar con estos cambios sin sacrificar dignidad, autonomía o ambición, los trabajadores necesitarán una combinación de movilidad económica y seguridad financiera, que puede proveerse mediante una nueva clase de red de seguridad social que ponga las prestaciones directamente en sus manos. Los trabajadores no deberían tener que elegir entre exponerse a un período de alta vulnerabilidad durante la transición entre ocupaciones o aferrarse a un mismo trabajo hasta que se vuelva obsoleto sólo para no perder las prestaciones. Así como la tecnología está alterando la experiencia laboral, también puede garantizar la protección de los trabajadores, al permitirles recibir las prestaciones acumuladas a lo largo de su carrera sin importar el tipo de trabajo que hagan o el lugar del mundo donde lo hagan.
Algunos gobiernos ya están respondiendo a este imperativo. En 2015, Francia instituyó cuentas de capacitación individuales para todos los trabajadores del sector privado, disponibles desde el ingreso al mercado laboral hasta el retiro. Cada empleado recibe 24 horas de capacitación por cada año de trabajo a tiempo completo, hasta alcanzar las 120 horas, momento a partir del cual el programa entrega 12 horas anuales.
Más cerca en el tiempo, Singapur creó "cuentas individuales de aprendizaje" para cada ciudadano a partir de los 24 años de edad. El saldo de la cuenta se puede usar para recibir capacitación de proveedores aprobados. Modelos similares se han propuesto en Canadá, China y Egipto. En Estados Unidos, las legislaturas de varios estados y ciudades analizan proyectos de ley para poner a prueba y financiar sistemas de prestaciones portables.
Subscribe to PS Digital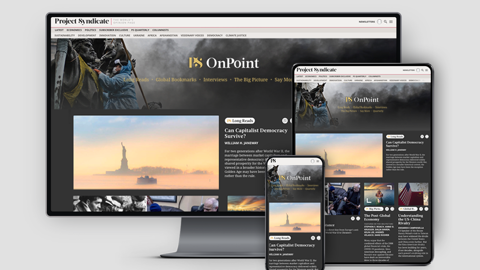 Subscribe to PS Digital
Access every new PS commentary, our entire On Point suite of subscriber-exclusive content – including Longer Reads, Insider Interviews, Big Picture/Big Question, and Say More – and the full PS archive.
Pero la responsabilidad de desarrollar prestaciones universales portables no puede ser sólo de los gobiernos. El sector privado también debe ayudar a garantizar que todos los trabajadores (inmigrantes, mineros o profesionales de márketing por igual) tengan acceso a las herramientas y servicios que necesitan para obtener seguridad financiera hoy y mantenerse ágiles y productivos toda la vida.
Felizmente, también aquí se están haciendo avances; algunas empresas innovadoras ya están dando ejemplos del uso de tecnología centrado en la gente que será el sostén de las redes de seguridad social del futuro. Por ejemplo, Trezeo creó una cuenta bancaria que por medio de la inteligencia artificial ofrece préstamos sin interés y garantiza una remuneración uniforme a trabajadores independientes, incluso en períodos de poca actividad. En Francia, Bob Emploi usa IA y datos provistos por el gobierno para ofrecer a los buscadores de empleo una evaluación personalizada de sus posibilidades.
Para alentar avances continuos, Mastercard se unió al Centro para el Trabajo del Futuro de la Royal Society of Arts en la creación de un programa acelerador de impacto para proyectos referidos a la seguridad económica. Esta alianza (cuyo objetivo es facilitar el desarrollo y la implementación de iniciativas innovadoras que promuevan directamente el trabajo de calidad y la inclusión cívica garantizando ingresos seguros y confiables a los hogares) es un ejemplo de colaboración entre actores del sector privado que reúnen sus tecnologías y conocimientos para la exploración de nuevas modalidades de trabajo.
Hemos sido testigos del impacto de estos proyectos conjuntos. Un ejemplo es Jaza Duka (una alianza entre Mastercard, Unilever y el Kenya Commercial Bank), una plataforma digital que desde su lanzamiento en 2017, ayudó a garantizar a pequeños comerciantes el acceso a capital de trabajo que les permita competir y crecer.
Pero el desarrollo de un programa de esas características en un único mercado es sólo el primer paso. También hay que crear un marco común que permita la extensión de esos programas y su implementación en otros contextos. Por ejemplo, la entrega de prestaciones en forma de "puntos", en vez de importes denominados en una moneda determinada, serviría para que estos esquemas puedan cruzar fronteras, en un momento en que los trabajadores se ven cada vez más necesitados de hacer lo mismo. Y la estandarización de credenciales educativas permitiría a sus poseedores conservar su valor dondequiera que vayan.
Conforme cambia la naturaleza del trabajo, lo mismo deben hacer los sistemas de prestaciones. Para ofrecer oportunidades y seguridad a todos y en cualquier lugar, en un tiempo de amplia disrupción tecnológica, los gobiernos y los actores del sector privado deben trabajar juntos para promover soluciones innovadoras que satisfagan las necesidades urgentes y cambiantes de los trabajadores. ¿Qué mejor modo de hacerlo que sacar provecho de las mismas tecnologías que están causando la conmoción?
Traducción: Esteban Flamini