A COVID-19 e o Relógio do Juízo Final
OSLO – No passado mês de Janeiro, os meus confrades EldersMary Robinson e Ban Ki-moon participaram no desvendar do Relógio do Juízo Final, o indicador anual de risco catastrófico global publicado pelo Boletim dos Cientistas Atómicos. Em 2020, os ponteiros do relógio aproximaram-se como nunca da "meia-noite" (estão apenas a 100 segundos de distância) e aí permanecerão durante 2021.
Não será propriamente tranquilizador o facto de, este ano, não nos termos aproximado ainda mais da meia-noite. A pandemia da COVID-19 demonstrou de forma crua e mortífera a precariedade do nosso modo de vida. Fizemos progressos notáveis nas vacinas, e a nova administração dos EUA traz a esperança de uma cooperação multilateral renovada. Mas não existem dúvidas de que o futuro estará pejado de ameaças existenciais: novas pandemias, a crise climática, conflito nuclear e outros riscos que não podemos ignorar.
A liderança política no pós-pandemia será um teste crucial à capacidade do mundo para estar à altura destes desafios. Comprovaram-se as deficiências de demasiados dos nossos líderes. O vírus ceifou dois milhões de vidas e causou devastação económica por todo o mundo. Embora a vacinação em massa proporcione uma réstia de esperança a algumas pessoas, a maior parte da população mundial permanecerá desprotegida durante algum tempo.
É certo que a decisão do presidente dos EUA, Joe Biden, de voltar a colaborar com a Organização Mundial de Saúde constitui um sinal positivo do renovado compromisso da América com o multilateralismo, assim como a sua adesão ao programa COVAX, destinado à distribuição equitativa de vacinas. Mas o Director-Geral da OMS, Tedros Adhanom Ghebreyesus, avisou que, a menos que façamos mais para garantir que as vacinas contra a COVID-19 são produzidas e distribuídas em conformidade com os princípios da cobertura universal de saúde (CUS), o resultado será "um falhanço moral catastrófico".
Como demonstra um novo relatório dos Elders, para superarmos completamente a COVID-19 e nos prepararmos para emergências sanitárias futuras, precisaremos de reformar a política global para a saúde pública em torno de três pilares: preparação para pandemias futuras, garantir a CUS ao nível nacional e ao nível global, e promover sociedades mais saudáveis através de políticas holísticas e do desenvolvimento social.
Nenhum ponto desta agenda será revolucionário ou demasiado complicado para implementar de forma rápida e alargada. Alguns dos países que tiveram uma boa prestação durante a pandemia (nomeadamente, a Tailândia e o Vietname, que notificaram apenas 100 mortes por COVID-19 entre ambos) já estão a implementar este tipo de estratégia. Como sempre, o desafio consiste em secundar as palavras com acções, e em garantir que os nossos esforços são adequadamente financiados e concebidos de forma a não negligenciarem as necessidades dos desfavorecidos e dos marginalizados.
Subscribe to PS Digital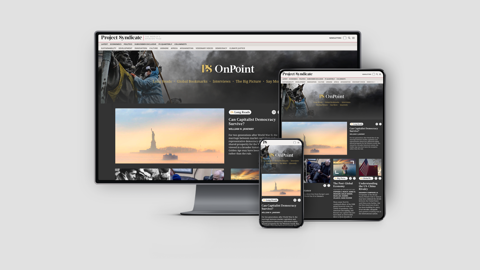 Subscribe to PS Digital
Access every new PS commentary, our entire On Point suite of subscriber-exclusive content – including Longer Reads, Insider Interviews, Big Picture/Big Question, and Say More – and the full PS archive.
Em nenhuma área é isto mais essencial que na política de vacinação. O rápido desenvolvimento de não apenas uma, mas de várias vacinas em menos de um ano, é uma realização incrível e um triunfo do engenho humano, da inovação e da cooperação. Mas seria imperdoável se estas preciosas vacinas não fossem equitativamente distribuídas por todo o mundo. Numa pandemia, não podemos esperar reconstituir completamente ou consertar o nosso tecido social, a menos que afirmemos e apliquemos os princípios do multilateralismo e da solidariedade.
Uma das lições mais importantes retirada da crise da COVID-19 é que a ênfase no curto prazo e o nacionalismo enfraqueceram a política sanitária global. É hoje evidente que as acções nacionais no sentido da CUS têm de ser acompanhadas por esforços multilaterais para fortalecer globalmente os sistemas públicos de saúde.
Para preparar estes sistemas para pandemias futuras, todas as partes interessadas deveriam definir a prontidão e a resposta a pandemias como um "bem público global" que necessita de uma abordagem multilateral, com os estados e as instituições globais a reunirem recursos, capacidade e experiência. Igualmente importante será o apoio (e o respeito) ao trabalho contínuo da OMS e de outros organismos especificamente encarregados da responsabilidade pela prontidão face a pandemias, nomeadamente o Conselho Global para a Monitorização da Prontidão (ao qual co-presido) e o Painel Independente para a Prontidão e Resposta a Pandemias.
Em termos económicos, o investimento na prontidão para fortalecer a segurança sanitária apresenta uma excelente relação custo-benefício. No caso do Conselho Global para a Monitorização da Prontidão, uma despesa anual global de cerca de 5 dólares por pessoa poderia evitar uma repetição do desastre da COVID-19, que já custou mais de 11 biliões de dólares à economia mundial. E podemos encontrar taxas de retorno igualmente elevadas nas reformas no sentido da CUS, que já demonstraram trazer rápidos benefícios sanitários, económicos e sociais a países de todos os níveis de rendimento.
Temos de agir baseados nas lições da COVID-19 para criarmos um novo "momento de Bretton Woods" de inovação e criatividade ao serviço da governação global. Este é o único modo de protegermos o planeta que partilhamos e a sua população no olongo prazo.
Não há dúvida de que temos capacidade para resolver os desafios colectivos que enfrentamos. Mas agora precisamos que Biden e outros líderes globais aproveitem esta oportunidade e se comprometam plenamente com uma cooperação multilateral sustentada. Hoje, como sempre, movimentar os ponteiros do Relógio do Juízo Final é uma questão de vontade política.