Membayangkan Kembali Konsep Kantor
BOSTON – Bulan kemarin, CEO Twitter Jack Dorsey mengumumkan bahwa perusahaannya akan membiarkan para pegawainya, yang saat ini bekerja dari rumah sesuai dengan protokol penjarakan sosial, untuk seterusnya bekerja dari rumah. Beberapa perusahaan besar lainnya – mulai dari Facebook sampai produsen otomotif Perancis PSA – sudah mempersiapkan rencana agar lebih banyak pekerja yang bisa bekerja dari rumah setelah krisis COVID-19 berakhir. Apakah perkantoran akan menjadi korban berikutnya dari pandemi ini?    
Bisa dikatakan bahwa memudarnya konsep perkantoran sudah mulai terjadi sejak lama. Pada tahun 1960an, futuris AS Melvin Webber memperkirakan bahwa dunia akan mencapai masa "pascaperkotaan," yaitu masa ketika kita bisa tinggal di pegunungan dan tetap mempertahankan hubungan yang dekat, real time, dan realistis dengan perusahaan dan rekan-rekan kerja.
Selama masa jaya dot-com pada akhir tahun 1990an, populernya perusahaan-perusahaan berbasis internet menjadikan masa depan seperti itu tampak sangat dekat. Seperti perkataan wartawan Inggris Frances Cairncross pada tahun 1997, Internet membawa "akhir dari jarak." Ketika jarak sudah tidak lagi penting, secara logis, maka perkantoran, dan juga perkotaan – menjadi tidak relevan.
Sepertinya kita akan mencapai masa tersebut. Mulai dari pembaca berita sampai pekerja kantoran, pekerjaan yang dulunya dianggap memerlukan tempat kerja sekarang dilakukan di rumah masing-masing selama pandemi ini. Dan siapa pun yang pernah menggunakan Zoom tahu bahwa, meskipun terdapat kemajuan dalam teknologi komunikasi, bekerja sama dengan rekan-rekan dari lokasi yang berjauhan masih lebih sulit dilakukan jika dibandingkan dengan pertemuan tatap muka.   
Permasalahan yang ada jauh melebihi jeda waktu atau gangguan dari anak kecil. Seperti argumentasi sosiolog Mark Granovetter pada tahun 1972, masyarakat yang berfungsi tidak hanya dilandasi oleh "hubungan yang kuat" (hubungan yang dekat), tapi juga dengan "hubungan yang lemah" (perkenalan biasa). Hubungan yang kuat cenderung membentuk jaringan yang padat dan saling berhubungan – teman-teman dekat kita biasanya saling berteman dekat satu sama lain – hubungan yang lemah menghubungkan kita dengan kelompok orang yang lebih besar dan beragam.
Dengan menjembatani lingkaran sosial yang berbeda-beda, hubungan yang lemah lebih mungkin menghubungkan kita dengan ide-ide dan perspektif baru, menentang prasangka dan menumbuhkan inovasi dan difusi. Dan meskipun video-chat atau media sosial mungkin membantu kita mempertahankan hubungan yang kuat, hal ini sepertinya tidak memungkinkan kita mempunyai hubungan kuat yang baru, apalagi menghubungkan kita dengan banyak orang di luar lingkaran sosial kita: barista, sesama penumpang kereta, rekan kerja yang tidak secara langsung bekerja dengan kita, serta banyak lagi.             
Subscribe to PS Digital Now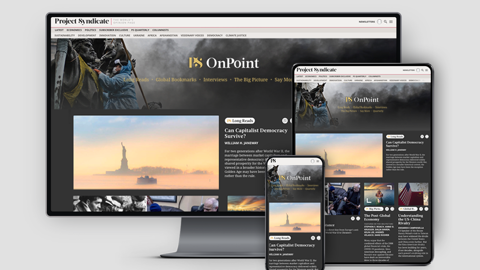 Subscribe to PS Digital Now
Access every new PS commentary, our entire On Point suite of subscriber-exclusive content – including Longer Reads, Insider Interviews, Big Picture/Big Question, and Say More – and the full PS archive.
Sebuah analisis data dari para mahasiswa, profesor, dan administrator MIT selama pandemi sepertinya mendukung kesimpulan di atas. Saya dan rekan-rekan saya membuat dua model dari sebuah jaringan komunikasi yang sama – sebuah model menunjukkan interaksi sebelum kampus ditutup, dan yang satu lagi menunjukkan interaksi selama kampus di tutup.
Hasil awal – yang masih memerlukan validasi tambahan dan penilaian sejawat – mengindikasikan bahwa interaksi menyempit, dengan orang-orang berkomunikasi dengan jumlah orang yang lebih kecil. Sederhananya, hubungan kuat yang sudah ada menjadi semakin kuat, sementara hubungan yang lemah menghilang.
Mungkin di masa depan, kita bisa menyerupai pertemuan yang tidak disengaja dan membangun hubungan lemah secara daring. Tapi, untuk saat ini, platform daring sepertinya tidak memungkinkan hal ini terjadi. Sebaliknya, platform daring sering kali secara aktif menyaring individu yang tidak dikenal atau ide-ide yang berbeda – sebuah fungsi yang mendorong polarisasi politik bahkan sebelum pandemi terjadi. Sebagai dampaknya, lingkaran sosial yang ada karena lockdown semakin tidak jelas.                 
Ruang bersama sepertinya adalah satu-satunya obat dari keretakan ini. Perkantoran, yang memfasilitasi interaksi lebih mendalam di antara berbagai orang-orang yang saling mengenal, bisa menjadi obat yang baik.
Namun permintaan terhadap ruang bersama sepertinya tidak akan kembali ke tingkat sebelum pandemi terjadi. Perusahaan-perusahaan seperti Twitter yang tidak melihat berkurangnya produktivitas akan ingin mengurangi biaya tetap. Sedangkan bagi para karyawan, tidak diperlukan waktu lama agar terbiasa dengan hidup tanpa perjalanan ke dan dari tempat kerja, jadwal perusahaan yang ketat, serta baju kerja yang tidak nyaman.   
Hal ini akan membawa dampak yang sangat besar. Bahkan pengurangan 10% permintaan atas ruang perkantoran akan menyebabkan anjloknya harga properti. Meskipun ini adalah berita buruk bagi para pengembang, desainer, dan agen properti, hal ini akan meringankan tekanan ekonomi di balik gentrifikasi perkotaan.
Bagaimanapun, perusahaan-perusahaan sebaiknya tidak menghindari perkantoran sama sekali, demi kebaikan mereka sendiri – ide yang baru, inovatif dan kolaboratif sangat penting untuk mencapai kesuksesan – dan bagi kesejahteraan masyarakat tempat mereka berada. Sebaliknya, perusahaan bisa membolehkan para pekerja lebih sering berada di rumah, sambil mengambil langkah-langkah untuk memastikan waktu yang dihabiskan di kantor lebih kondusif untuk membuat hubungan yang tidak dekat.
Hal ini berarti, misalnya, mentransformasikan rancangan lantai tradisional, yang biasanya dirancang untuk memfasilitas penyelesaian pekerjaan individu, menjadi ruang yang lebih terbuka dan dinamis, yang mendorong apa yang disebut dengan efek kantin. (Kantin adalah tempat yang paling mudah untuk menciptakan hubungan lemah yang baru). Perancangan ulang yang lebih radikal juga akan terjadi, dengan para desainer menemukan cara menciptakan pertemuan yang tidak disengaja, misalnya melalui ruang "berbasis acara" yang direncanakan dengan baik.
Krisis COVID-19 telah menunjukkan bahwa kita mempunyai alat-alat yang diperlukan untuk terus terhubung bahkan ketika kita berada di pegunungan – atau misalnya, meja dapur. Tantangan yang ada saat ini adalah bagaimana memanfaatkan ruang fisik sehingga kita bisa dengan rutin keluar dari tempat tinggal kita. Hal ini berarti melakukan pemikiran ulang mengenai perkantoran yang meningkatkan aset terbesarnya: kemampuan memupuk semua jenis hubungan mengikat yang terjadi di dalamnya.