Het kantoor heruitgevonden
BOSTON – Vorige maand kondigde Twitter-CEO Jack Dorsey aan dat het bedrijf zijn werknemers, die momenteel vanuit huis werken in overeenstemming met social-distancing protocollen, zou toestaan om dit voor altijd te blijven doen. Verschillende andere grote bedrijven – van Facebook tot het Franse autoconcern PSA – volgden dit voorbeeld met plannen om na het einde van de COVID-19-crisis veel meer werknemers thuis te laten werken. Wordt het kantoor het zoveelste slachtoffer van de pandemie?
In zekere zin is de dood van het kantoor al lange tijd aangekondigd. In de jaren zestig voorspelde de Amerikaanse futurist Melvin Webber dat de wereld een 'poststedelijk tijdperk' tegemoet ging, waarin 'het mogelijk zou zijn om op een bergtop te gaan wonen en toch een persoonlijk, real-time en praktisch contact met de zaak of andere partners te onderhouden'.
Tijdens de dot.com-hausse eind jaren negentig leek deze toekomst door de opkomst van op internet gebaseerde bedrijven dichterbij dan ooit. Zoals de Britse journalist Frances Cairncross het in 1997 stelde betekende het Internet 'de dood van de afstand'. Wanneer afstand er niet meer toe doet niet was het volgens haar logisch dat kantoren en in het verlengde daarvan steden irrelevant worden.
Het lijkt er wellicht op dat we dit punt nu bereikt hebben. Van presentatoren tot kantoormedewerkers, banen waarvan men ooit dacht die een gedeelde werkruimte eisten worden tijdens de pandemie vanuit huis vervuld. En toch weet iedereen die al aan een Zoom-meeting heeft deelgenomen dat gesprekken met collega's op afstand ondanks de gevorderde communicatietechnologie vaak veel moeizamer verlopen dan op de werkvloer.
Het probleem gaat dieper dan vertraging op de lijn of storende kleuters. Zoals socioloog Mark Granovetter in 1973 betoogde zijn goed functionerende samenlevingen niet alleen gefundeerd op 'sterke banden' (nauwe relaties) maar ook op 'zwakke banden' (terloopse contacten). Terwijl sterke banden doorgaans zorgen voor compacte, elkaar overlappende netwerken – onze goede vrienden zijn meestal ook weer goed met elkaar bevriend – verbinden zwakke banden ons met een grotere, meer diverse groep mensen.
Door verschillende sociale kringen te verbinden zullen zwakke banden ons eerder aan nieuwe ideeën en invalshoeken blootstellen, onze vooropgezette meningen uitdagen en innovatie en de verspreiding daarvan voeden. En alhoewel videobellen en sociale media ons kunnen helpen onze sterke banden te onderhouden zullen die waarschijnlijk geen nieuwe banden opleveren, laat staan ons in contact brengen met al die mensen buiten onze sociale kring: cafébediening, medepassagiers in de trein, collega's waarmee we niet direct samenwerken, enzovoort.
Subscribe to PS Digital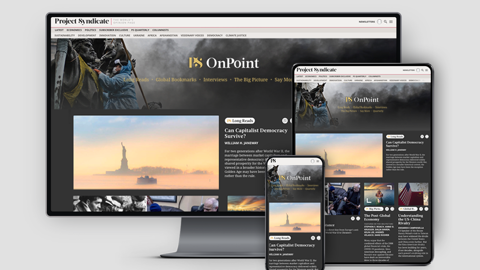 Subscribe to PS Digital
Access every new PS commentary, our entire On Point suite of subscriber-exclusive content – including Longer Reads, Insider Interviews, Big Picture/Big Question, and Say More – and the full PS archive.
Een analyse van data van studenten, professoren en administratief medewerkers van het MIT tijdens de pandemie lijkt dit te bevestigen. Mijn collega's en ik bouwden twee modellen van hetzelfde communicatienetwerk – een toonde de interacties voordat de campus gesloten werd, en het andere de interacties tijdens de lockdown. 
De eerste resultaten – die nog nadere validatie en peer review vergen – wijzen erop dat de interactie verengt, waarbij mensen meer berichten uitwisselen binnen een kleinere groep contacten. Kort samengevat verdiepen bestaande sterke banden zich, terwijl zwakke banden verslappen. 
Misschien zal het in de toekomst mogelijk zijn om toevallige fysieke ontmoetingen na te bootsen en online zwakke banden te ontwikkelen. Maar tot nu toe lijken onlineplatforms hiervoor niet goed toegerust. Integendeel, ze filteren vaak actief onbekende personen of tegengestelde meningen uit – een functie die zelfs voor de pandemie al politieke polarisatie aanwakkerde. Als gevolg hiervan worden onze door de lockdown geforceerde sociale bubbels steeds ontoegankelijker.
Gedeelde fysieke ruimtes lijken tegen deze versplintering het enige tegengif. Kantoren, waar diepere interactie tussen verschillende soorten bekenden gefaciliteerd wordt, kunnen hier in het bijzonder krachtig corrigerend werken.
En toch is het onwaarschijnlijk dat de behoefte aan gedeelde ruimtes zal terugkeren naar het niveau van voor de pandemie. Bedrijven als Twitter die de productiviteit niet zien dalen zullen de overheadkosten maar al te graag drukken. En wat de werknemers betreft was het bepaald niet lastig te wennen aan een leven zonder lange reistijden, strakke werkschema's en oncomfortabele kantoorkleding. 
Dit zal verstrekkende gevolgen hebben. Zelfs een daling van 10 procent in de vraag naar kantoorruimte kan de vastgoedprijzen al doen instorten. Maar terwijl dit slecht nieuws is voor projectontwikkelaars, ontwerpers en makelaars kan het daarnaast de economische druk die urbane gentrificatie drijft verlichten.
Hoe het ook zij, bedrijven zouden er verstandig aan doen hun kantoren niet geheel af te danken, zowel uit eigenbelang – nieuwe, innovatieve en gezamenlijk uitgewerkte ideeën zijn voor succes essentieel – als voor het welzijn van de samenlevingen waarin zij opereren. In plaats daarvan kunnen ze hun werknemers in staat stellen om vaker thuis te werken en ondertussen stappen zetten om te garanderen dat de tijd die mensen wel op kantoor doorbrengen het vormen van zwakke banden begeleidt.
Dit kan bijvoorbeeld inhouden dat de traditionele werkvloer, ontworpen om solitair taken te verrichten, getransformeerd wordt tot een opener en dynamischer ruimte, die het zogeheten cafetaria-effect bevorderen. (Het is nergens makkelijker om zwakke banden aan te knopen dan tijdens de lunch in een cafetaria). Er zijn nog radicalere herinrichtingen denkbaar, waarin ontwerpers manieren vinden om serendipiteit te genereren, zoals via 'event-based' geregisseerde ruimtes.
De COVID-19-crisis heeft aangetoond dat we over de middelen beschikken om met elkaar in contact te blijven vanaf een bergtop – of in dit geval de keukentafel. Onze uitdaging nu is om de fysieke ruimte te optimaliseren zodat we regelmatig vanaf onze geïsoleerde toppen zullen afdalen. Dat betekent dat we wedergeboorte van het kantoor moeten nastreven in een vorm die de grootste toegevoegde waarde ervan verhoogt: het vermogen om alle banden te voeden die ons verbinden.