We moeten de netto-nultoezeggingen werkelijk laten tellen
OTTAWA – Toen ik onlangs door een straat in Toronto liep, zag ik een advertentie waarin een fossielebrandstoffenbedrijf beweerde dat het een netto-nulproductie heeft. Maar om zulke het geloof tartende beweringen te zien, hoef ik mijn huis niet eens uit.
Volgens een onderzoek van de Guardian en InfluenceMap zijn dergelijke advertenties overal op Google te vinden. Advertenties voor oliegigant Shell verschenen bijvoorbeeld bij 86 procent van de zoekopdrachten naar ʻnetto nul,' waarbij veel advertenties de belofte van het bedrijf promoten om netto-nulemissies te bereiken tegen 2050. Worden bedrijven zich eindelijk bewust van de urgentie van de klimaatcrisis, of is dit gewoon weer nog meer greenwashing?
Eén ding is zeker: de klimaatcrisis escaleert snel. Californië beleeft record-hittegolven. Een derde van Pakistan staat onder water. China lijdt onder een verpletterende droogte, die wereldwijde gevolgen kan hebben. En dit is alleen maar wat er op dit moment gebeurt. Van koudegolven in Texas tot bosbranden in Europa, de klimaatverandering is onmogelijk te negeren.
De klimaatactie heeft een lange weg afgelegd sinds de ondertekening van het klimaatverdrag van Parijs in 2015. Met name netto-nul is mainstream geworden: ongeveer negentig procent van het mondiale bbp valt nu onder netto-nuldoelstellingen. En het zijn niet alleen regeringen die ze hebben aangenomen; veel van 's werelds grootste bedrijven hebben dat ook gedaan, gemotiveerd door een combinatie van zakelijke belangen, verwachtingen van beleggers en de druk van consumenten.
Maar als bedrijven – waaronder zelfs fossielebrandstoffenbedrijven – nu ʻklimaatleiders' zijn, die zich volledig en luidkeels inzetten voor de netto-nulzaak, waarom stijgt de uitstoot dan nog steeds? Een blik op de geschiedenis van de klimaatactie onthult het antwoord.
De afgelopen twintig jaar heeft een hele reeks klimaatinitiatieven getracht bedrijven en beleggers te overtuigen van het idee om klimaatdoelstellingen vast te stellen, de uitstoot te verminderen en vervolgens nóg ambitieuzere doelstellingen vast te stellen. Deze initiatieven hadden één ding gemeen: ze waren allemaal vrijwillig van aard.
Introductory Offer: Save 30% on PS Digital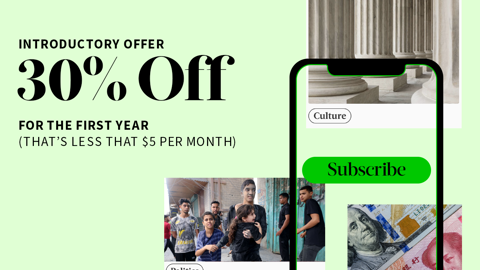 Introductory Offer: Save 30% on PS Digital
Subscribe now to gain greater access to Project Syndicate – including every commentary and our entire On Point suite of subscriber-exclusive content – starting at less than $5 per month.
Iedereen die ooit een nieuwjaarsvoornemen heeft gebroken, weet uit de eerste hand dat een gedane belofte niet altijd nagekomen wordt. Als iemand zegt dat hij netto-nul zal bereiken, hoe kunnen we er dan zeker van zijn dat hij de stappen neemt die nodig zijn om die belofte na te komen? Op dit moment kunnen we dat niet.
Dit heeft geleid tot ʻclimate coasting,' waarbij bedrijven zich als milieubewust profileren terwijl ze gewoon doorgaan met hun vervuilende activiteiten, of daar dicht bij in de buurt komen. In feite dekt slechts één op de drie netto-nulplannen van bedrijven de volledige koolstofvoetafdruk van die bedrijven, inclusief die van de toeleveringsketen. En niet één van 's werelds grootste vervuilers heeft volledig uitgelegd hoe hij de netto-nuluitstoot wil bereiken.
Zoals secretaris-generaal van de Verenigde Naties António Guterres onlangs zei: ʻDe wereld bevindt zich in een race tegen de klok en we kunnen ons geen slow movers, fake movers of enige vorm van greenwashing veroorloven.' Dit zijn de problemen die de High-Level Expert Group inzake de toezeggingen om de emissies tot nul terug te brengen, waarvan ik voorzitter ben, moet oplossen. Wij zijn een onafhankelijke, diverse groep deskundigen die vastbesloten is wetenschappelijk onderbouwde aanbevelingen te doen om het doel te bereiken dat zoveel regeringen en bedrijven hebben omarmd.
Ons werk is nog maar net begonnen, maar drie dingen zijn nu al duidelijk. In de eerste plaats is een belofte zonder plan zinloos. Bedrijven moeten hun bedrijfsstrategieën afstemmen op hun toezeggingen, ambitieuze maatregelen nemen en onmiddellijk beginnen met het boeken van vooruitgang. En dit betekent niet het vervalsen van de cijfers met twijfelachtige compensaties; de enige geloofwaardige manier om netto-nul te bereiken is door de uitstoot te verminderen.
Ter ondersteuning van deze inspanning zal de High-Level Expert Group bepalen wat nodig is om netto-nulemissies te bereiken. Daartoe moeten onder meer duidelijke criteria voor geloofwaardige netto-nulplannen worden vastgesteld die rekening houden met kwesties van billijkheid en klimaatrechtvaardigheid. Regionale en sectorale normstellers kunnen dan onze criteria overnemen, waardoor consistentie en vergelijkbaarheid gewaarborgd zijn.
In de tweede plaats volstaan vrijwillige regelingen niet. We hebben geen ʻnieuwjaarsvoornemens' nodig; we hebben nieuwe bedrijfsplannen nodig. Toezicht zal hier essentieel zijn, zowel om ervoor te zorgen dat vrijwillige klimaatstappenplannen worden vervangen door verplichte strategieën als om het speelveld gelijk te trekken. Een centrale doelstelling van de High-Level Expert Group is het in kaart brengen van de benodigde regelgeving.
Ten slotte is verantwoordingsplicht essentieel. Wanneer bedrijven, banken, beleggers, steden en regio's netto-nultoezeggingen doen, moeten we hen kunnen vertrouwen. Eerlijke spelregels helpen daarbij. Maar regeringen, bedrijven en financiers moeten ook kiezen voor radicale transparantie. Vooruitgang zal makkelijk te zien zijn: investeringen in schone energie zullen de investeringen in fossiele brandstoffen verdringen en de emissies zullen dalen.
Onze deskundigengroep heeft al ruim achthonderd groepen gesproken, duizenden mensen ontmoet en bijna driehonderd reacties ontvangen, waarin wordt uiteengezet hoe de toezeggingen inzake netto-nul kunnen worden verbeterd. Succes zou ons niet alleen een kans geven om het klimaat te stabiliseren; het zou ook enorme economische kansen bieden. Volgens McKinsey zou de groeiende vraag naar netto nul-aanbiedingen tegen 2030 jaarlijks meer dan twaalf biljoen dollar aan omzet kunnen genereren.
Vorig jaar verliet ik de politiek om me te wijden aan de twee dingen die me het meest dierbaar zijn: mijn kinderen en de klimaatverandering. Deze twee prioriteiten zijn nauw met elkaar verbonden. Als we een toekomst willen vermijden waarin onze kinderen ʻnetto-nul'-spek kopen te midden van overstromingen en bosbranden, moeten we de kloof dichten tussen de beloften die we horen en de actie die we nodig hebben.
Vertaling: Menno Grootveld