Jak zajistit věrohodnost závazků čisté nuly
OTTAWA – Když jsem nedávno kráčela po ulici v Torontu, viděla jsem reklamu, v níž se jistá firma podnikající v oboru fosilních paliv vychloubala čistou nulou. Pokud jsem ovšem chtěla vidět podobná neuvěřitelná tvrzení, nemusela jsem ani vycházet z domu.
Podle společné studieGuardian a InfluenceMap je totiž takových inzerátů plný Google. Zadáte-li například do vyhledávače "čistá nula", objeví se vám v 86% vyhledávání reklamy na ropný gigant Shell, přičemž mnohé z těchto reklam propagují firemní závazek dosáhnout do roku 2050 nulových čistých emisí oxidu uhličitého. Začínají si korporace konečně uvědomovat naléhavost klimatické krize, nebo je to jen další lakování nazeleno?
Jedna věc je jistá: klimatická krize rychle eskaluje. Kalifornie trpí rekordními vlnami veder. Třetina Pákistánu je pod vodou. Čínu sužuje ničivé sucho, které může mít globální následky. A to je jen výčet jevů, které se dějí právě teď. Klimatické změny – od holomrazů v Texasu po lesní požáry v Evropě – už nemůžeme ignorovat.
Boj proti změnám klimatu urazil od podpisu pařížské klimatické dohody v roce 2015 dlouhou cestu. Z čisté nuly se stal hlavní proud a cíle čisté nuly dnes pokrývají přibližně 90% globálního HDP. Nestanovují si je přitom pouze vlády; učinila to i řada největších světových společností, které k tomu motivuje kombinace obchodních zájmů, očekávání investorů a tlaku spotřebitelů.
Jsou-li však dnes korporace – včetně firem podnikajících v oboru fosilních paliv – "klimatickými lídry", kteří jsou plně a halasně oddáni metě čisté nuly, proč emise stále stoupají? Pohled do historie klimatické akce nám odhalí odpověď.
V posledních 20 letech se pestrá řada klimatických iniciativ snažila a snaží přesvědčit firmy a investory, aby přijali myšlenku vytyčování klimatických cílů, omezování emisí a poté vytyčování ještě ambicióznějších cílů. Tyto iniciativy mají jedno společné: všechny jsou dobrovolné.
Introductory Offer: Save 30% on PS Digital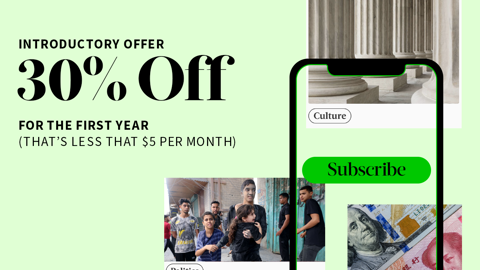 Introductory Offer: Save 30% on PS Digital
Subscribe now to gain greater access to Project Syndicate – including every commentary and our entire On Point suite of subscriber-exclusive content – starting at less than $5 per month.
Každý, kdo někdy porušil novoroční předsevzetí, přitom z vlastní zkušenosti ví, že dát slib je něco jiného než ho dodržet. Pokud někdo prohlásí, že dosáhne čisté nuly, jak si můžeme být jistí, že skutečně podniká potřebné kroky, aby jí dosáhl? Momentálně to vědět nemůžeme.
To umožnilo "klimatickou jízdu na neutrál", kdy se firmy prezentují jako ekologicky uvědomělé, a přitom se dál chovají stejně jako dřív nebo téměř stejně jako dřív. Současná situace je přitom taková, že pouze každý třetí firemní plán čisté nuly zahrnuje celou uhlíkovou stopu dané firmy, včetně uhlíkové stopy jejího nabídkového řetězce. A ani jeden z největších firemních znečišťovatelů na světě plně nevysvětlil, jak hodlá nulových čistých emisí dosáhnout.
Generální tajemník Organizace spojených národů António Guterres to nedávno shrnul takto: "Svět svádí závod s časem a my si v něm nemůžeme dovolit ty, kdo dělají pomalé kroky, kdo dělají falešné kroky nebo kdo lakují věci nazeleno." Právě tyto problémy má řešit vysoká expertní skupina pro závazky nulových čistých emisí, jíž předsedám. Jsme nezávislé a rozmanité uskupení expertů odhodlaných poskytovat vědecky podložená doporučení ke skutečnému dosažení cíle, k němuž se přihlásilo tolik vlád a firem.
Naše práce teprve začíná, ale už nyní jsou zřejmé tři věci. Za prvé je závazek bez plánu bezcenný. Firmy musí uvést své obchodní strategie do souladu se svými závazky, podnikat ambiciózní kroky a okamžitě začít vykazovat pokrok. To neznamená vylepšit čísla pochybnými ofsety; jedinou důvěryhodnou cestou k dosažení čisté nuly je snižování emisí.
Aby naše vysoká expertní skupina toto úsilí podpořila, definuje, co bude k dosažení čistých nulových emisí zapotřebí. Znamená to zavést jasná kritéria pro důvěryhodné plány čisté nuly, které budou zohledňovat otázky rovnosti a klimatické spravedlnosti. Regionální a sektoroví tvůrci standardů pak mohou přijmout vlastní kritéria, čímž zajistí konzistentnost a porovnatelnost.
Za druhé je zřejmé, že dobrovolné plány nestačí. Nepotřebujeme novoroční předsevzetí; potřebujeme nové podnikatelské plány. Zde bude nezbytná regulace, jednak kvůli zajištění, že dobrovolné klimatické "cestovní mapy" budou nahrazeny povinnými strategiemi, jednak kvůli nastolení rovných podmínek pro všechny. Stěžejním cílem vysoké expertní skupiny je zmapování potřebných regulací.
A konečně je nezbytná i zodpovědnost. Když firmy, banky, investoři, města a regiony přijdou se závazkem čisté nuly, musíme být schopni jim důvěřovat. Zde pomohou férová pravidla. Vlády, korporace a financovatelé však zároveň musí přijmout za svou radikální transparentnost. Pokrok bude jasně vidět: investice do čisté energie nahradí investice do fosilních paliv a emise klesnou.
Naše expertní skupina už zapojila více než 800 organizací, sešla se s tisícovkami lidí a obdržela téměř 300 podání, která detailně popisují, jak by se závazky čisté nuly daly zlepšit – to je jasný náznak, že aktivní protagonisté chtějí dát tyto věci do pořádku. Úspěch by pro nás neznamenal jen šanci stabilizovat klima, ale přinesl by i obrovské ekonomické příležitosti. Podle společnosti McKinsey by rostoucí poptávka po projektech čisté nuly mohla do roku 2030 generovat tržby přesahující 12 bilionů dolarů ročně.
Loni jsem odešla z politiky, abych se mohla věnovat dvěma věcem, které pro mě znamenají nejvíce: svým dětem a klimatickým změnám. Obě tyto priority jsou hluboce provázané. Chceme-li se vyhnout budoucnosti, ve které si budou naše děti kupovat "čistě nulovou" slaninu uprostřed záplav a požárů, pak musíme zacelit propast mezi sliby, které slýcháme, a skutečnými kroky, jež potřebujeme.
Z angličtiny přeložil Jiří Kobělka