COP Do Działania
ADDIS ABABA - Listopadowa Konferencja Narodów Zjednoczonych w sprawie Zmian Klimatu (COP27) odbędzie się w czasie zawirowań gospodarczych i geopolitycznych, które wpłyną między innymi na bezpieczeństwo żywnościowe oraz zdrowie publiczne. Jednak bezpośrednie wyzwania, przed którymi stoimy, nie mogą odwrócić naszej uwagi od niepodważalnej prawdy: najważniejszą bitwą, przed jaką staje nasze pokolenie, jest walka ze zmianami klimatu.
Na początku tego roku ekstremalne opady deszczu spowodowały jedną z najbardziej śmiertelnych katastrof w RPA w tym stuleciu. Najgorsze powodzie w historii Pakistanu sprawiły, że jedna trzecia kraju znalazła się obecnie pod wodą. Takie ekstremalne zjawiska pogodowe nie są już niczym niezwykłym, ale stają się nową normą. Eksperci uważają, że prawdopodobieństwo wystąpienia ekstremalnych opadów jest obecnie dwukrotnie większe ze względu na zmiany klimatyczne, które doprowadziły również do innych rodzajów zniszczeń, takich jak susze i pożary.
Afryka jest szczególnie narażona na te skutki. Według głównego ekonomisty z Afrykańskiego Banku Rozwoju (AfDB), zmiany klimatyczne kosztują kontynent od 5% do 15% wzrostu PKB per capita. W miarę upływu czasu straty te mogą się znacznie zwiększyć, przy czym najbardziej ucierpi na tym rolnictwo. Miałoby to katastrofalne skutki nie tylko dla rozwoju gospodarczego, ale także dla bezpieczeństwa żywnościowego.
Wielu nazywa COP27 - odbywający się w Sharm El-Sheikh w Egipcie - "afrykańskim COP." Ale my w Afryce wolimy widzieć to spotkanie jako "COP do działania" - spotkanie, które wykroczy poza wzniosłe aspiracje i mgliste obietnice, aby dostarczyć kompleksowy program zorientowany na wyniki. Agenda ta powinna obejmować zapewnienie większego wsparcia - finansowego oraz innego - Afryce, która w najmniejszym stopniu przyczyniła się do zmian klimatycznych.
Powtarzając za prezesem AfDB Akinwumi Adesina: my, Afrykańczycy, nie przychodzimy żebrać; przychodzimy z zasobami i rozwiązaniami. Już teraz podejmujemy konkretne działania w celu przyspieszenia zielonej transformacji i ochrony przed najgorszymi skutkami zmian klimatycznych.
Na początek, kraje afrykańskie przyjmują zieloną energię. W ostatnich latach moc energii odnawialnej na kontynencie gwałtownie wzrosła, z dwucyfrowym rocznym wzrostem energii słonecznej, wiatrowej i wodnej. W Afryce realizowane są dwa z największych na świecie projektów solarnych (w Egipcie i Maroku), a dwie z 20 najszybciej rozwijających się firm w Afryce w 2022 roku zajmują się energią słoneczną. Od Nigerii po Namibię, kraje przyjmują technologie przyjazne dla klimatu, takie jak zielony wodór.
Subscribe to PS Digital Now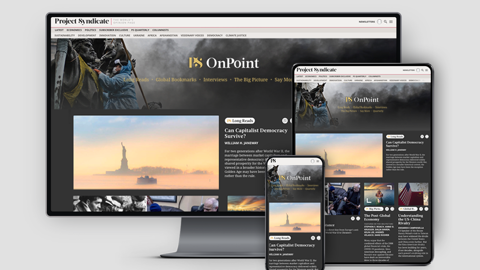 Subscribe to PS Digital Now
Access every new PS commentary, our entire On Point suite of subscriber-exclusive content – including Longer Reads, Insider Interviews, Big Picture/Big Question, and Say More – and the full PS archive.
​​Komisja Unii Afrykańskiej jest w pełni zaangażowana w przeciwdziałanie zmianie klimatu na wielu frontach. Komisja do spraw Rolnictwa, Rozwoju Obszarów Wiejskich, Gospodarki Błękitnej i Zrównoważonego Środowiska (ARBE) została poszerzona, aby odzwierciedlić znaczenie budowania odporności, adaptacji i łagodzenia skutków. Komisja ARBE pracuje nad szeregiem konkretnych projektów wraz z organizacjami partnerskimi, w tym nad opracowaniem strategii Unii Afrykańskiej w zakresie zmian klimatu. Ostatnio przyczyniła się również do opracowania zintegrowanej strategii mającej na celu kierowanie rozwojem i stosowaniem usług meteorologicznych i klimatycznych w Afryce.
Tymczasem wyspecjalizowane agencje UA, takie jak African Risk Capacity (ARC) Group, pomagają krajom afrykańskim wykorzystać oparte na technologii systemy wczesnego ostrzegania i gotowości, aby zwiększyć ich odporność. Organizacja ta ściśle współpracuje z rządami w celu wzmocnienia ich zdolności do ochrony życia i wspierania odbudowy zniszczonej infrastruktury w następstwie klęsk żywiołowych. Poprzez ARC Limited, ubezpieczeniową spółkę zależną tej Grupy, zapewnia parametryczne ubezpieczenia od ekstremalnych zjawisk pogodowych.
Ze swojej strony AfDB przesunął swoją uwagę - oraz zasoby - w kierunku zmian klimatu. W 2020 roku 63% funduszy AfDB zostało przeznaczonych na projekty związane z adaptacją do zmian klimatu, co stanowi największy udział wśród wszystkich instytucji finansujących rozwój. W tym roku Bank przeznaczył kolejne 12,5 miliarda dolarów na finansowanie adaptacji do klimatu poprzez Africa Adaptation Acceleration Program (AAAP) - wielostronny organ kierowany przez Afrykę, utworzony w 2021 roku.
Potrzeby Afryki w zakresie finansowania adaptacji szacuje się na 52,7 mld dolarów rocznie do 2030 roku. Cel finansowy AAAP został ustalony na 25 miliardów dolarów, a resztę mają pokryć kraje bogate. Jednak nawet gdy Afryka podejmuje działania na rzecz klimatu i finansuje je, zobowiązania społeczności międzynarodowej są nadal niewystarczające.
Ale zobowiązania to tylko pierwszy krok. Pochwalamy sukces rządu brytyjskiego, który podczas COP26 w Glasgow w zeszłym roku zmobilizował nie tylko społeczność międzynarodową, ale także sektor prywatny i społeczeństwo obywatelskie, co pozwoliło na złożenie rekordowych obietnic dotyczących finansowania działań na rzecz klimatu. Jednak po roku wiele z tych obietnic pozostaje tylko obietnicami.
Być może nie powinniśmy być zaskoczeni. Przecież podczas COP w Kopenhadze w 2009 r. bogate kraje zobowiązały się do zapewnienia 100 mld dolarów rocznego finansowania, aby pomóc krajom rozwijającym się w realizacji celów w zakresie łagodzenia skutków zmian klimatu i dostosowania do 2020 r. Dwa lata po wyznaczonym terminie zobowiązania bogatych krajów pozostają w dużej mierze niespełnione.
Dlatego też wzywamy do wprowadzenia ulepszonych mechanizmów monitorowania i śledzenia zobowiązań w zakresie finansowania działań związanych z klimatem. Dołączenie do zobowiązań jasnych harmonogramów i wskaźników realizacji nie powinno być trudne. Należy również uprościć procesy dostępu do tych funduszy.
Na COP27 konieczne będzie przeniesienie punktu ciężkości z decyzji na działania. Nie potrzebujemy kolejnych porozumień w sprawie przyszłych postępów. Musimy raczej przełożyć osiągnięcia poprzednich szczytów na globalną współpracę w zakresie kompleksowych działań na rzecz klimatu. Na przykład inicjatywy mające na celu wzmocnienie zarządzania ryzykiem związanym z klęskami żywiołowymi muszą przyjąć podejście holistyczne, obejmujące wszystko: od mobilizacji zasobów i systemów wczesnego ostrzegania po transfer technologii i budowanie potencjału.
Bardziej całościowe podejście jest również potrzebne w Afryce, która nie tylko jest bardzo wrażliwa na zmiany klimatyczne, ale również ma znaczne potrzeby rozwojowe. Takie podejście będzie wymagało znacznych nakładów kapitałowych, których nie można sfinansować poprzez zaciąganie pożyczek bez doprowadzenia już i tak zadłużonych krajów afrykańskich do kryzysu.
Poza wypełnieniem zobowiązań finansowych, podmioty międzynarodowe muszą zapewnić szerszy wybór opcji finansowania dla wszystkich krajów afrykańskich, niezależnie od ich sytuacji finansowej. Wysiłki te powinny obejmować sektor prywatny. Aby wspierać wdrażanie, kraje afrykańskie będą potrzebowały dostępu do odpowiedniego wsparcia technicznego.
Skala wyzwania związanego z klimatem jest nie do przecenienia. Stawienie czoła temu wyzwaniu będzie wymagało połączenia działań łagodzących, budujących odporność i dostosowawczych, co będzie możliwe dzięki strategicznym partnerstwom, skutecznemu dzieleniu się wiedzą oraz zapewnieniu odpowiedniego wsparcia finansowego i wiedzy technicznej.
Afryka robi swoje. Reszta świata musi zrobić to samo - począwszy od COP27.
Z angielskiego przetłumaczyła Marz McNamer