Een jaarlijkse check-up voor de klimaatbeweging
BERKELEY – Dit jaar was in veel opzichten een tumultueus jaar. Terwijl klimaatgerelateerde schokken nóg talrijker en ernstiger werden, veroorzaakte de inval van Rusland in Oekraïne een wereldwijde energiecrisis die het leven en de bestaansmiddelen van miljoenen mensen blijft beïnvloeden. Na die schok maakten ongekende hittegolven in Europa, Azië en Noord-Amerika, en vervolgens verwoestende overstromingen in Pakistan duidelijk hoe urgent het is om onze afhankelijkheid van fossiele brandstoffen te verminderen en onze energiesystemen te hervormen.
Gelukkig gaven andere belangrijke ontwikkelingen in 2022 redenen tot hoop. De goedkeuring van de Inflation Reduction Act (IRA) – de grootste investering in emissiereductie in de geschiedenis van de VS – is een mijlpaal. Historisch gezien zijn de Verenigde Staten 's werelds grootste koolstofvervuiler en een van de grootste achterblijvers in internationale fora. Maar nu zou de IRA het land op koers moeten zetten om de eigen uitstoot sterk te verminderen, wat de prijzen van hernieuwbare energie over de hele wereld zal helpen drukken. Veel opkomende markten en ontwikkelingslanden zullen de kans krijgen om de stap naar kolencentrales over te slaan.
Ja, lobbyisten van de fossielebrandstofsector sporen regeringen in Afrika en elders aan om te investeren in de ontwikkeling van aardgas als reactie op de energiecrisis. Veel nieuw geplande projecten zouden ʻkoolstofbommen' zijn die gedurende hun levensduur ruim een miljard ton kooldioxide zouden uitstoten. Maar de klimaatbeweging heeft geen tijd verloren om deze inspanningen en de ʻrush naar gas' in Afrika aan de kaak te stellen.
Als gevolg daarvan heeft de East African Crude Oil Pipeline (EACOP) tegenslag na tegenslag te verduren gekregen. Doordat 22 commerciële banken en verzekeraars zich uit het project terugtrokken, won de StopEACOP-campagne aan kracht in de aanloop naar de VN-conferentie over klimaatverandering (COP27) in november, waar de boodschap luid en duidelijk werd overgebracht.
COP27 was in 2022 een belangrijk moment voor de klimaatbeweging. Hoewel het gastland Egypte weinig ruimte bood om te mobiliseren, pasten organisaties zich aan door te werken via bestaande mondiale netwerken en coalities om aan te dringen op meer betekenisvolle toezeggingen op het gebied van decarbonisatie, bescherming van de mensenrechten en financiering.
Uiteindelijk leidde de conferentie tot een akkoord over de oprichting van een afzonderlijk mondiaal fonds om kwetsbare landen te compenseren voor klimaatgerelateerde ʻverliezen en schade.' Aangezien de geavanceerde economieën lange tijd geweigerd hadden deze kwestie zelfs maar te bespreken, is dit een enorme overwinning – die te danken is aan frontlijnactivisten en woordvoerders uit het hele Mondiale Zuiden. Maar het slotakkoord van de top bevatte geen specifieke bepalingen over de noodzaak om fossiele brandstoffen uit te faseren.
Subscribe to PS Digital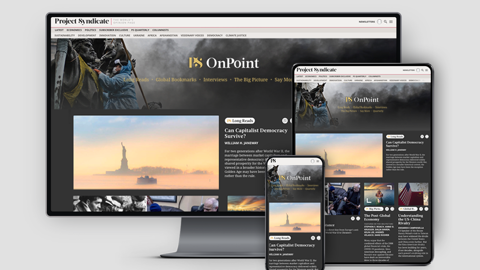 Subscribe to PS Digital
Access every new PS commentary, our entire On Point suite of subscriber-exclusive content – including Longer Reads, Insider Interviews, Big Picture/Big Question, and Say More – and the full PS archive.
Een andere positieve ontwikkeling op het gebied van klimaatbeleid in 2022 was de lancering van Just Energy Transition Partnerships (JETP's) in Indonesië, Zuid-Afrika en Vietnam. Met het doel landen te helpen fossiele brandstoffen links te laten liggen, kunnen JETP's – indien goed toegepast – de wereldwijde transitie naar hernieuwbare energie ingrijpend veranderen.
De internationale gemeenschap heeft in 2022 ook meer gedaan om de natuur te beschermen. Toen het jaar ten einde liep, namen de regeringen op de VN-biodiversiteitsconferentie (COP15) het Kunming-Montreal Post-2020 Global Biodiversity Framework aan – een overeenkomst die veel waarnemers vergelijken met het baanbrekende klimaatverdrag van Parijs uit 2015. Met een verbintenis om tegen 2030 dertig procent van alle land- en zeegebieden te beschermen, opent dit raamwerk een nieuw hoofdstuk na het collectieve falen om de Aichi-biodiversiteitsdoelstellingen voor 2020 te halen.
Regeringen en andere belanghebbenden erkennen eindelijk dat klimaatverandering en biodiversiteitsverlies onlosmakelijk met elkaar verbonden zijn. Regenwouden en mangrovebossen zijn niet alleen habitats voor miljoenen soorten. Ze zijn ook cruciaal voor het afremmen van de opwarming van de aarde, omdat ze enorme hoeveelheden CO2 absorberen en opslaan. Wetenschappers hebben aangetoond dat behoud en herstel van ecosystemen en beter beheer van natuurgebieden voor ruim een derde van de emissiereducties kunnen zorgen die we tegen 2030 nodig hebben. Er is eenvoudigweg geen manier om de opwarming van de aarde onder de 1,5° Celsius te houden zonder de achteruitgang van de natuur te keren.
De COP15-overeenkomst erkent ook uitdrukkelijk dat inheemse volkeren een centrale rol spelen bij de bescherming van de natuur, en roept de rijke landen op om tegen 2030 jaarlijks dertig miljard dollar vrij te maken voor biodiversiteitsfinanciering ten behoeve van de ontwikkelingslanden.
Maar het vaststellen van doelstellingen is slechts de eerste stap. We moeten een ongekend tempo aanhouden om de biodiversiteit te herstellen en de opwarming van de aarde een halt toe te roepen. Dat betekent dat we alert moeten blijven op pogingen van gevestigde belangen om de vooruitgang tegen te houden en dat we ons moeten verzetten tegen schijnoplossingen, zoals koolstofcompensatie, kernenergie en hydraulische fracking. Het herstel van de natuur mag niet ten koste gaan van lokale gemeenschappen. Om een gezondere relatie met het milieu te creëren en te koesteren, moeten we ons laten inspireren door inheemse volkeren.
Buiten de VN-conferenties en de directiekamers van het bedrijfsleven komt een stille revolutie op gang. Degenen die meer financiering eisen voor duurzame energiesystemen in lokale handen, doorbreken de aloude barrières en weigeren zich te laten marginaliseren. Zij bouwen aan een nieuwe consensus en maken duidelijk dat over kwesties van klimaatrechtvaardigheid niet te onderhandelen valt.
Ik beschouw deze stille revolutie als een van de spannendste dingen die de afgelopen tien jaar zijn gebeurd. Het cyclische samenspel van vooruitgang en achteruitgang is een blijvend kenmerk van beleidsvorming – en van de natuur zelf. De onvermijdelijke inzinkingen moeten niet worden beantwoord met wanhoop, maar met hoop op de volgende opleving. Terwijl de energiecrisis van 2022 een nieuw voorwendsel heeft gecreëerd voor degenen die pleiten voor meer investeringen in fossiele brandstoffen, worden dergelijke investeringen snel financiële verliezers, omdat hernieuwbare energiebronnen goedkoper worden dan fossiele brandstoffen.
Overal ter wereld experimenteren gemeenschappen, steden en regio's met creatieve klimaatoplossingen. We moeten uitzoeken welke oplossingen werken, steun ervoor mobiliseren en ze opschalen. Dat is hoe we de beslissende volgende fase van de decennialange strijd tegen de klimaatverandering en de milieuvernietiging zullen lanceren.
Vertaling: Menno Grootveld