Výroční prověrka klimatického hnutí
BERKELEY – Letošní rok byl v mnoha ohledech bouřlivý. Zatímco šoky související s klimatem zesílily na četnosti i intenzitě, invaze Ruska na Ukrajinu vyvolala globální energetickou krizi, která nadále postihuje životy a živobytí milionů lidí. Naléhavou nutnost snižovat naši závislost na fosilních palivech a přebudovat naše energetické soustavy po tomto šoku ještě zdůraznily bezprecedentní vlny veder napříč Evropou, Asií a Severní Amerikou a pak pustošivé záplavy v Pákistánu.
Jiné velké události roku 2022 naštěstí poskytly důvody k naději. Význačným úspěchem je schválení amerického zákona o snižování inflace (IRA) – největší investice do snižování emisí v dějinách země. Spojené státy jsou historicky největším uhlíkovým znečišťovatelem na světě a jedním z nejzdráhavějších opozdilců na mezinárodních fórech. Teď by je však IRA měl navést na trajektorii strmého snižování vlastních emisí, což pomůže srážet ceny obnovitelné energie po celém světě. Řada rozvíjejících se trhů a rozvojových zemí bude mít šanci přeskočit stadium uhelných elektráren.
Ano, lobbisté za fosilní paliva naléhají na vlády v Africe i jinde, aby v reakci na energetickou krizi investovaly do rozvoje zemního plynu. Mnohé nově plánované projekty by byly "uhlíkové bomby", které by za dobu své životnosti vypustily přes miliardu tun oxidu uhličitého. Klimatické hnutí však tyto snahy hbitě pojmenovalo a "honbu za plynem" v Africe odsoudilo.
Východoafrický ropovod (EACOP) v důsledku toho stíhá porážka za porážkou. Od projektu ustoupilo 22 komerčních bank a pojišťoven, což kampani StopEACOP dodalo elán před listopadovou Konferencí OSN o změně klimatu (COP27), kde předala své poselství.
COP27 byla pro klimatické hnutí v roce 2022 významným okamžikem. Přestože hostitelská země, Egypt, nabídla málo občanského prostoru k šikování sil, organizace se přizpůsobily a uplatnily se skrze stávající globální sítě a koalice s cílem prosadit smysluplnější dekarbonizační závazky, opatření na ochranu lidských práv a financování.
Konference nakonec přinesla dohodu na zřízení samostatného globálního fondu k odškodnění zranitelných zemí za "ztráty a škody" související s klimatem. Vyspělé ekonomiky se dlouho odmítaly o tomto tématu vůbec bavit, takže se jedná o velké vítězství – prosazené předními aktivisty a mluvčími ze zemí napříč globálním Jihem. Finální dohoda ze summitu ale nezahrnovala žádné konkrétní vyjádření ohledně nutnosti odklonit se od fosilních paliv.
Subscribe to PS Digital Now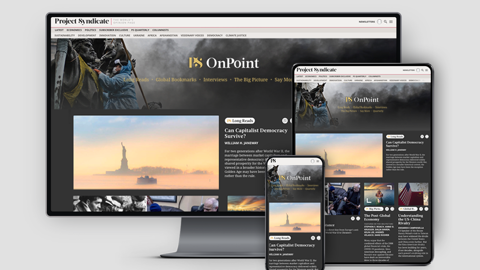 Subscribe to PS Digital Now
Access every new PS commentary, our entire On Point suite of subscriber-exclusive content – including Longer Reads, Insider Interviews, Big Picture/Big Question, and Say More – and the full PS archive.
Konečně k dalším pozitivním posunům v klimatické politice patřilo v roce 2022 zahájení partnerství pro spravedlivou transformaci energetiky v Indonésii, Jižní Africe a Vietnamu. Tato partnerství, jejichž cílem je přeskočit stadium fosilních paliv, by se mohla stát – pokud se uplatní správně – zásadním obratem v přechodu k obnovitelné energii.
Mezinárodní společenství udělalo v roce 2022 víc i pro ochranu přírody. Když se rok chýlil ke konci, vlády na Konferenci OSN o biologické rozmanitosti (COP15) přijaly celosvětový rámec pro biologickou rozmanitost z Kchun-mingu a Montrealu pro období po roce 2020 – dohodu, již mnozí pozorovatelé přirovnávají k přelomové Pařížské klimatické dohodě z roku 2015. Se závazkem do roku 2030 chránit 30 % veškerého suchozemského a mořského povrchu tento rámec zahajuje novou kapitolu, po kolektivnímu nezdaru splnit kterýkoli z Cílů z Aiči pro oblast biologické rozmanitosti do roku 2020.
Vlády a další zainteresované strany si konečně uvědomují, že změna klimatu a úbytek biologické rozmanitosti jsou neoddělitelně propojená témata. Deštné pralesy a mangrovy jsou nejen stanovišti pro miliony druhů. Zásadní význam mají i pro zpomalení tempa globálního ohřívání, protože pohlcují a ukládají obrovská množství CO2. Vědci doložili, že ochrana a ekosystémová obnova přírodních ploch a lepší nakládání s nimi by ke snížení emisí, které potřebujeme do roku 2030, mohly přispět víc než třetinou. Ještě podstatnější je, že bez otočení trendu úbytku přírody jednoduše nelze zachovat teploty do 1,5° Celsia.
Dohoda z COP15 také výslovně uznává, že pro ochranu přírody jsou stěžejní původní obyvatelé, a vyzývá bohaté země, aby na financování biologické rozmanitosti v období do roku 2030 našly pro rozvojové země 30 miliard dolarů ročně.
Stanovit si cíle je ale jen první krok. Musíme postupovat bezprecedentním tempem, abychom obnovili biologickou rozmanitost a zastavili globální oteplování. Je proto nutné si zachovat obezřetnost vůči snahám skrytých zájmů znemožňovat pokrok a vyvíjet tlak proti falešným řešením – například kompenzacím emisí CO2, jaderné energetice a hydraulickému frakování. Obnovování přírody nesmí být na úkor místních obyvatel. Abychom si vytvořili zdravější vztah k životnímu prostředí a tříbili jej, měli bychom přijímat podněty od původních obyvatel.
Za zdmi konferencí OSN a korporátních zasedání nabírá na tempu tichá revoluce. Ti, kdo požadují víc financování na lokálně vlastněné soustavy obnovitelné energetiky, prorážejí dlouhotrvající překážky a odmítají se nechat vytlačit na okraj. Vytvářejí nový konsenzus a dávají najevo, že o otázkách klimatické spravedlnosti se nevyjednává.
Tuto tichou revoluce považuji za jednu z nejvzrušivějších věcí za posledních deset let. Cyklická souhra pokroku a regrese je trvalým rysem vývoje politik – a samotné přírody. Nevyhnutelné propady v nás nesmějí vyvolávat zoufalství, ale naději na další odraz výš. Energetická krize roku 2022 se sice stala novou záminkou pro ty, kdo prosazují větší investice do fosilních paliv, ale takové investice se rychle stávají finančním propadákem, protože obnovitelné zdroje začínají být lacinější než fosilní paliva.
Komunity, obce, města a kraje po celém světě experimentují s kreativními klimatickými řešeními. Musíme rozpoznat ta funkční, shromáždit pro ně podporu a rozšířit je. Právě tak zahájíme další fázi desítky let trvajícího boje proti změně klimatu a ničení životního prostředí.
Z angličtiny přeložil David Daduč