Die Automatisierung der Segregation
WELLINGTON – An den Arbeitsbedingungen in der "Gig-Economy" gibt es viel berechtigte Kritik. Aber mit der Zeit dürften viele der dort stattfindenden Auftragsarbeiten automatisiert werden, wodurch für Einwanderer und weniger gut ausgebildete Arbeitskräfte eine bedeutende Erwerbsquelle wegfällt. Und mit diesem Stellenabbau werden auch soziale Kontakte zwischen verschiedenen sozioökonomischen Klassen und zwischen Einwanderern und Einheimischen verschwinden. Die Frage ist, welchen Effekt dieser Verlust an spontaner sozialer Durchmischung auf diverse, multiethnische Gesellschaften hat.
Nehmen wir die Firma Uber, die vielen Einwanderern Arbeit verschafft. Laut der Website des Unternehmens strebt es die Förderung von "Glück und Inklusivität" durch "globale kulturelle und gemeinschaftliche Ereignisse" an, um "kulturübergreifendes Lernen und Verständnis zu fördern und zu verbessern". Aber obwohl diese menschliche Botschaft sicherlich schön klingt, setzt Uber seine Hoffnungen – und seine zukünftige Profitabilität – auf selbstfahrende Fahrzeuge.
Vor seinem enttäuschenden Börsengang von 2019 meldete Uber für das Vorjahr Verluste in Höhe von 1,8 Milliarden Dollar. Mit schuld daran sind Ausgaben für Fahrerempfehlungen und andere Anreize für Auftragsarbeiter in Höhe von einer Milliarde Dollar. Seit dem Börsengang ist die Aktie des Unternehmens unter Druck, da es erst zeigen muss, ob sein Geschäftsmodell mit menschlichen Fahrern Gewinne abwerfen kann. Wie Travis Kalanick bereits 2013 vorausgesehen hat, ist eine offensichtliche Lösung für dieses Problem die Verwendung autonomer Fahrzeuge. Angesichts des fahrerlosen Prototyps von Google kam er zu dem Schluss: "In der Minute, in der euer Auto Wirklichkeit wird, kann ich den Typ aus dem Vordersitz entfernen … Dies nenne ich Vergrößerung der Gewinnspanne."
Dabei versteht sich von selbst, dass die frühen Erwartungen an die Auftragsarbeit in der "Sharing-Ökonomie", sie hätte eine Explosion von Mikrounternehmen zur Folge, enttäuscht wurden. Für Uber zu arbeiten ist für niemanden ein Traumjob, und die Fahrer des Unternehmens kämpfen ständig um bessere Bezahlung und Arbeitsbedingungen. Trotzdem sollten wir an die sozialen Interaktionen denken, die verloren gehen, wenn alle Uber-Fahrzeuge – und in der Tat alle Transportmittel – fahrerlos werden.
Ähnliches gilt auch für die Arbeit im Einzelhandel, die Amazon mit seinen kassiererlosen Nachbarschaftsläden namens Amazon Go abschaffen will. Auch dort ist die Arbeit kein Traumjob – allein schon deshalb nicht, weil sie nicht gut bezahlt wird. Aber wenn wir all diese Stellen abschaffen, welche Möglichkeiten haben wir dann noch, Menschen zu treffen, die nicht so sind wie wir?
Menschen sind natürliche Herdentiere. Unser Glück hängt davon ab, mit anderen zusammen zu sein. Aber diese grundlegende Eigenschaft lässt sich nur schlecht mit einer anderen Verhaltensweise unserer hochentwickelten Psyche in Einklang bringen: unserem Misstrauen gegenüber Fremden. Angesichts dessen, dass die Jagdverbände unserer Vorfahren im Pleistozän etwa 50-100 Mitglieder hatten, von denen viele miteinander verwandt waren, ist dies völlig plausibel.
Subscribe to PS Digital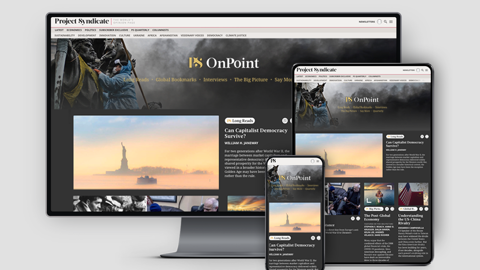 Subscribe to PS Digital
Access every new PS commentary, our entire On Point suite of subscriber-exclusive content – including Longer Reads, Insider Interviews, Big Picture/Big Question, and Say More – and the full PS archive.
Tatsächlich liegt die Glanzleistung der Menschheit nicht in der Mondlandung oder der Erfindung des Computers. Sie besteht darin, dass wir, die Nachkommen xenophober Jäger und Sammler, ausgedehnte, diverse Gesellschaften bilden, die zig Millionen Fremde umfassen. Obwohl viele Studenten unterschiedlicher Hochschulen sagen, sie träfen gern neue Personengruppen, zeigen Untersuchungen, dass sogar diese geselligen Menschen dazu neigen, unter sich zu bleiben. Erst wenn sie in die Arbeitswelt kommen, merken sie, dass sie mit Fremden auskommen müssen, die anders aussehen, reden und handeln als sie selbst.
Aber sogar dann werden sich unsere schüchternen und manchmal mörderischen inneren Affen in Zeiten von Stress oder politischer und wirtschaftlicher Unsicherheit durchsetzen. In den letzten Jahren konnten es sich einige von uns beunruhigend leicht vorstellen, dass alle Einwanderer Drogen, Verbrechen und Krankheiten in unsere Länder bringen. Und durch die voreingenommene Darstellung unserer Meinungen in den sozialen Medien wurde nicht nur dieses Problem verschärft, sondern auch die soziale, parteipolitische und sonstige gesellschaftliche Spaltung immer mehr vertieft.
Wie entwickeln wir soziale Verbindungen und Empathie in einer Volkswirtschaft, in der Lehrer, Barkeeper, Taxifahrer und Kassierer zu höchst effektiven Maschinen wurden? Sicherlich können wir uns dabei nicht auf "soziale" Plattformen wie Twitter verlassen, auf denen unsere mörderischen inneren Affen dominieren.
Kehren wir zu Uber zurück: Nimmt man den Fahrdienst in Anspruch, kann man sich beleidigend verhalten oder einfach mürrisch dasitzen, aber dies könnte die eigene Bewertung beeinträchtigen. Zukünftig könnten also die Fahrer weiterfahren, um statt dessen höher bewertete Passagiere mitzunehmen. Führt man mit dem Fahrer hingegen ein interessantes und höfliches Gespräch, bekommt man wahrscheinlich eine gute Bewertung. Und war noch besser ist: Diese Anreize führen allgemein zu erfreulichen Begegnungen. Vielleicht lernt man dabei etwas Interessantes von jemandem, den man sonst nicht getroffen hätte.
Zum Thema der Angestellten im Einzelhandel gab es viele Diskussionen über die wachsende soziale Spaltung zwischen den Mitarbeitern der blühenden Technologieunternehmen in San Francisco und denjenigen, die sie mit traditionellen Dienstleistungen versorgen. Ladenverkäufer, die Google-Programmierer bedienen, können ihre Kunden nicht bewerten. Aber wenn sie sich von Angesicht zu Angesicht begegnen, können sie immerhin einen Eindruck voneinander bekommen. Wird dann über höhere Mindestlöhne oder mehr Ausgaben für erschwingliche Mieten abgestimmt, setzen sich diese Programmierer vielleicht eher dafür ein, weil sie sich vorstellen können, wer davon profitiert. Verhindert Amazon Go (wovon es in San Francisco bereits vier Geschäfte gibt) solche Begegnungen, werden diese Google-Mitarbeiter dann immer noch Sozialmaßnahmen unterstützen, von denen sie selbst nicht direkt profitieren?
Wahrscheinlich werden Kommentatoren im Jahr 2030 in der Einführung von Amazon Go den Anfang vom Ende des menschlichen Ladenverkäufers sehen. Aber wenn wir als Bürger pluralistischer Demokratien Technologie dafür nutzen, wirtschaftliche Interaktionen überflüssig zu machen, sollten wir wissen, was dabei auf dem Spiel steht. Es mag eine Zeit kommen, in der wir teure, weniger "effiziente" Arbeit subventionieren müssen – so wie wir es jetzt bereits mit erneuerbaren Energien tun. Tatsache ist, dass wir andere Menschen in unserem Leben brauchen, um nicht zu verzweifeln, und wir brauchen Begegnungen mit völlig anderen Menschen, um unsere vielfältigen Demokratien aufrecht zu erhalten. Durch die Automatisierung von Dienstleistungsjobs werden sicherlich manche Probleme gelöst, aber auch viele neue geschaffen. Wird der Nutzen überwiegen?
Aus dem Englischen von Harald Eckhoff