L'automatisation de l'isolement
WELLINGTON – Bien des gens s'indignent à juste titre contre « l'économie des petits boulots. » Mais avec le temps, de nombreux petits boulots seront automatisés, ce qui va conduire à la disparition d'une source importante de main d'œuvre pour les immigrants et les personnes les moins instruites. À mesure que ces emplois disparaissent, il en va de même des relations sociales entre les différentes classes socio-économiques et entre les immigrants et les autochtones. La question plus générale porte sur l'incidence de la perte imminente de brassage social involontaire dans les sociétés diverses et multi-ethniques.
Il suffit de penser à Uber, qui fournit des emplois à de nombreux immigrants. Selon le site Internet de cette entreprise, Uber s'attache à favoriser « le bonheur et l'inclusion » par le biais « d'événements culturels et communautaires afin d'accroître et d'améliorer l'entente et l'enrichissement mutuel. » Mais bien que ce message centré sur l'humain semble sympathique, Uber appelle de ses vœux - et mise sur sa rentabilité future - en investissant dans des véhicules automatisés (VA).
En prévision de son introduction en bourse décevante en 2019, Uber a divulgué ses pertes de 1,8 milliard de dollars sur l'exercice précédent, en partie à cause de son versement de 1 milliard de dollars en parrainage de chauffeurs et autres mesures d'encouragement pour les travailleurs vivant de petits boulots. Depuis son introduction en bourse, l'action de cette entreprise traverse des difficultés, parce qu'elle doit encore prouver qu'elle peut réaliser des bénéfices avec son modèle de chauffeurs humains. Les véhicules automatisés s'imposent comme solution à ce problème, comme le fondateur de Uber Travis Kalanick le prévoyait en 2013. En regardant un prototype de voiture sans chauffeur de Google, il en a conclu que, « dès l'instant où cette voiture commencera d'exister, je pourrai retirer le type assis dans le siège avant. (...) J'appelle cela un accroissement des marges. »
Il va sans dire que les petits boulots de « l'économie du partage » ont déçu les attentes antérieures, qui prédisaient qu'elle produirait une explosion du micro-entrepreneuriat. Personne n'a jamais rêvé de devenir chauffeur Uber et les chauffeurs se retrouvent embrigadés dans une longue bataille pour de meilleurs salaires et de meilleures conditions de travail. Néanmoins il nous faut garder à l'esprit la quantité d'interactions sociales qui seront perdues si tous les Ubers - en fait, tous les modes de transport - devenaient sans conducteurs.
Les mêmes inquiétudes s'appliquent au commerce de détail, qu'Amazon prévoit d'éliminer par le biais de ses magasins de proximité Amazon Go sans caissiers. Là encore, personne ne rêve d'un emploi dans la vente au détail, notamment parce que les rémunérations n'y sont pas très bonnes. Mais si l'on supprime tous ces emplois, quelles occasions aurons-nous d'interagir avec d'autres personnes différentes de nous ?
Les humains sont par nature des animaux grégaires. Notre bonheur dépend de notre existence parmi nos semblables. Mais ce trait fondamental s'associe tant bien que mal avec une autre caractéristique de nos psychologies évoluées : notre suspicion à l'égard des étrangers. Ce phénomène est parfaitement logique si l'on considère que les bandes de nos ancêtres cueilleurs du Pléistocène comptaient de 50 à 150 membres, dont beaucoup étaient parents.
Subscribe to PS Digital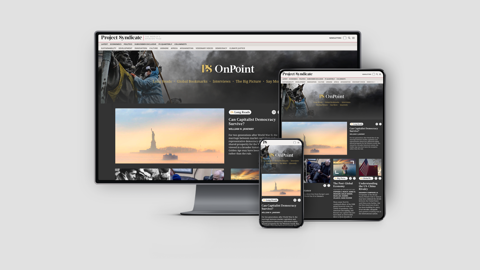 Subscribe to PS Digital
Access every new PS commentary, our entire On Point suite of subscriber-exclusive content – including Longer Reads, Insider Interviews, Big Picture/Big Question, and Say More – and the full PS archive.
En fait, la plus grande réussite de l'humanité n'est pas l'alunissage ni l'invention de l'ordinateur. C'est que nous, descendants de chasseurs-cueilleurs xénophobes, avons construit des sociétés vastes et diverses, comprenant des dizaines de millions d'étrangers. Bien que de nombreux étudiants de diverses facultés déclarent qu'ils aiment rencontrer de nouvelles sortes de gens, la recherche montre que même les papillons sociaux ont tendance à se maintenir au sein de leur propre espèce. Ce n'est que lorsqu'ils rejoignent le monde du travail qu'ils découvrent qu'ils n'ont pas d'autre choix que de s'entendre avec des étrangers qui ont la même apparence, les mêmes opinions et les mêmes comportements qu'eux.
Mais même alors, le primate fruste et meurtrier occasionnel qui dort en chacun de nous se réveillera de sa stupeur en période de stress ou d'incertitude politique et économique. Au cours des dernières années, certains d'entre nous, fait inquiétant, ont imaginé sans grande peine que tous les immigrants apportaient la drogue, la criminalité et la maladie dans nos pays. L'échantillonnage biaisé des médias sociaux de notre expression en ligne a aggravé ce problème, alors que se sont accentués de nouveaux clivages sociaux et partisans.
Comment allons-nous former des liens sociaux et développer de l'empathie dans une économie où les enseignants, les baristas, les chauffeurs de taxi, les employés de commerce sont tous devenus des machines hautement efficaces ? Nous ne pouvons certainement pas compter sur des plateformes « sociales » comme Twitter, où nos primates meurtriers intérieurs règnent en maîtres.
Revenons à l'exemple d'Uber. Lorsque vous appelez un VTC, vous pouvez vous montrer insultant ou simplement vous asseoir en silence, mais cela peut affecter votre notation : à l'avenir, les chauffeurs dans votre entourage pourront passer devant vous sans s'arrêter, pour vous préférer un passager mieux noté. Mais si vous engagez une conversation polie et intéressée avec vos chauffeurs, vous aurez plus de chances de maintenir une bonne notation. Mieux encore, ces incitations conduisent généralement à des échanges agréables. Vous pourriez bien apprendre quelque chose d'intéressant d'une personne que vous n'auriez pas rencontrée autrement.
Comme pour les vendeurs au détail, il a beaucoup été question de la fracture sociale grandissante entre les travailleurs de l'industrie technologique florissante de San Francisco et tous ceux qui effectuent des services traditionnels pour eux. Les employés de magasin ne notent pas les ingénieurs en informatique de Google en tant que clients. Mais au moins quand ils se retrouvent face à face, chacun a un aperçu de l'autre. Lorsqu'une initiative proposant un salaire minimum plus élevé ou davantage de dépenses pour le logement abordable figurent parmi les promesses électorales, les ingénieurs en informatique ont davantage de chances de soutenir ces mesures, parce qu'ils s'imaginent plus facilement qui en sera le bénéficiaire. Si Amazon Go élimine les rencontres de ce type (San Francisco possède déjà 4 magasins), vont-ils toujours soutenir des mesures sociales qui ne les aident pas directement ?
Sans aucun doute, les commentateurs en 2030 considèreront rétrospectivement les débuts d'Amazon Go comme le début de la fin de l'employé de magasin humain. Mais en tant que citoyens de démocraties diversifiées, nous devons reconnaître ce qui est en jeu lorsque nous utilisons la technologie en vue de la désintermédiation des interactions économiques. Une époque viendra bientôt où nous devrons subventionner un travail onéreux et moins « efficace », comme nous le faisons à présent pour l'énergie renouvelable. Le fait est que nous avons besoin d'autres êtres humains dans nos vies pour éviter le désespoir et que nous avons besoin de rencontres avec ceux qui sont différents de nous pour entretenir la diversité de nos démocraties. L'automatisation des emplois de service peut résoudre certains problèmes, mais va en créer bien d'autres. Reste à savoir si ce compromis en vaudra la peine.