Budzimy Się do Światowego Kryzysu Wodnego
NEW YORK CITY - Świat przyzwyczaił się do drastycznych nagłówków po każdej nowej katastrofie spowodowanej przez klimat. Coraz częstsze i poważniejsze fale upałów powodują pożary w Kalifornii i powszechne obumieranie koralowców w Australii. Bezprecedensowe powodzie spowodowały spustoszenie w Pakistanie, Niemczech, Chinach i Nowej Zelandii. Susza w Rogu Afryki powoduje głód u milionów ludzi. I tę listę można by kontynuować.
Wspólnym podmiotem u podstaw wszystkich tych kataklizmów jest woda. Od wymuszonego wyłączenia reaktorów jądrowych we Francji po obfite opady śniegu, które w grudniu pokryły duże połacie Ameryki Północnej, czy niedawny wybuch cholery w Libanie, jesteśmy świadkami symptomów narastającego globalnego kryzysu wodnego - albo za dużo, albo za mało, albo za brudno.
Jednak woda pozostaje w większości nieobecna w globalnych dyskusjach. Podczas gdy obawy dotyczące porządku geopolitycznego, zmian klimatycznych i pandemii COVID-19 znalazły się - co jest zrozumiałe - w centrum uwagi, o wodzie rzadko mówi się poza kontekstem reakcji humanitarnych na lokalne, krajowe lub transgraniczne powodzie i susze. Jest to poważnym problemem: W raporcie Światowego Forum Ekonomicznego "2023 Global Risks Report" dziewięć z dziesięciu największych zagrożeń w następnej dekadzie ma element związany z wodą.
Przez co najmniej pięć tysięcy lat społeczności ludzkie i cywilizacje świadomie regulowały wodę, aby przetrwać. Nawet dzisiaj wielu ludzi postrzega wodę jako dar od Boga - lub - w bardziej świeckich kategoriach - jako kluczową część uniwersalnego cyklu, który wymaga naszego szacunku i uznania. Jednak w większości miejsc, gdzie woda jest "kontrolowana" przez tamy i rury, a także bezpieczna i dostępna przez całą dobę, zaczęliśmy traktować ją jako coś oczywistego. A kiedy pojawiają się obawy dotyczące dostępu do bezpiecznej wody lub narażenia na ekstremalne zjawiska pogodowe, są one zazwyczaj ignorowane lub traktowane jako mało ważne.
Ta apatia nie jest już możliwa do utrzymania. Niesprawiedliwość związana z katastrofami spowodowanymi przez wodę jest coraz większa, a sam globalny cykl wodny ulega zmianie. Zużycie słodkiej wody przez człowieka przekroczyło pojemność wód niebieskich (rzek, jezior i warstw wodonośnych), co stwarza ogromne ryzyko dla wszystkich i dla ekosystemów planety. Około 20% światowego zużycia wody do nawadniania pochodzi obecnie z nadmiernego wykorzystania źródeł wód gruntowych, a około 10% światowego handlu żywnością pochodzi z nieodnawialnych wód gruntowych.
Zmiany klimatyczne potęgują te wyzwania. Globalne ocieplenie zwiększa zapotrzebowanie na wodę wraz ze wzrostem temperatury i wzrostem zapotrzebowania na wodę do celów spożywczych wraz ze spadkiem wilgotności względnej powietrza. Do 2070 r. dwie trzecie powierzchni lądów na świecie doświadczy ograniczenia magazynowania wody lądowej, a obszar lądowy narażony na ekstremalne susze hydrologiczne może wzrosnąć ponad dwukrotnie, do 8%. Przewiduje się, że do 2050 r. południowo-zachodnia część Ameryki Południowej, śródziemnomorska Europa i północna Afryka ucierpią z powodu bezprecedensowych i ekstremalnych warunków suszy.
Subscribe to PS Digital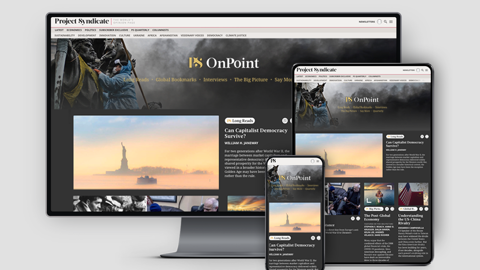 Subscribe to PS Digital
Access every new PS commentary, our entire On Point suite of subscriber-exclusive content – including Longer Reads, Insider Interviews, Big Picture/Big Question, and Say More – and the full PS archive.
Konferencja Wody ONZ 2023, która odbędzie się w marcu - pierwsze takie spotkanie od prawie pół wieku - musi stanowić punkt zwrotny w naszym stosunku do wody i cyklu wodnego. Tylko poprzez fundamentalne przeanalizowanie naszego stosunku do wody, ponowne docenienie jej wielu zastosowań i traktowanie jej jako lokalnego i globalnego wspólnego dobra możemy osiągnąć bezpieczną i sprawiedliwą przyszłość.
Jako główni eksperci Globalnej Komisji ds. Ekonomiki Wody dostrzegamy trzy obszary, które wymagają transformacji. Po pierwsze, musimy wziąć pod uwagę cały cykl wodny i to, jak jest on powiązany z różnorodnością biologiczną, klimatem, dobrobytem ludzi i zdrowiem ekosystemów - wszystkimi kluczowymi czynnikami dobrobytu społeczno-gospodarczego i ekologicznego. Oznacza to "połączenie kropek" i promowanie odpornych relacji pomiędzy wodą a żywnością, wodą a energią, oraz wodą a środowiskiem.
Po drugie, woda i cykl wodny muszą być zarządzane jako globalne dobra wspólne. Ciągłe mnożenie się kryzysów wodnych wymaga nowych ram ekonomicznych opartych na systemowym podejściu do obiegu wody, społeczeństw i gospodarek. Musimy lepiej zrozumieć istniejące "blokady" (w tym prawa własności, umowy dwustronne i korupcję) oraz inne wyzwania strukturalne, które utrudniają relokację wody dla wspólnego dobra.
Ponadto, aby zarządzać ryzykiem systemowym związanym z cyklem wodnym i jego zmianami dokonywanymi przez człowieka, potrzebne są całościowe, interdyscyplinarne ramy - wraz z portfolio nowych instrumentów i mierników. Tworzenie takich ram musi rozpocząć się od uznania centralnej roli wody w napędzaniu zmian gospodarczych, społeczno-kulturowych oraz środowiskowych.
Musimy także włączyć wszystkich w proces podejmowania decyzji - zaczynając od społeczności zmarginalizowanych - aby opracować nowe strategie właściwej wyceny wody. Kiedy przyroda i słodka woda nie są wyceniane na rynku, wciąż płacimy cenę za ich niewłaściwe wykorzystanie, która dramatycznie wzrasta, gdy przekraczamy granice planety.
Konferencja Wody ONZ 2023 oferuje światu wyjątkową okazję do skutecznej reakcji na krytycznie ważną, ale zaniedbaną kwestię. Stojąc w obliczu światowego kryzysu wodnego, możemy albo wejść na zrównoważoną i sprawiedliwą ścieżkę, albo kontynuować jak zwykle. Przetrwanie ludzkiej cywilizacji, jaką znamy, wymaga, abyśmy dokonali właściwego wyboru.
Z angielskiego przetłumaczyła Marz McNamer