Donald, der Zerstörer
WASHINGTON, DC – Donald Trump, der voraussichtliche offizielle Kandidat der republikanischen Partei bei der Präsidentschaftswahl im November, ist eindeutig kein typischer Republikaner. Die Parteiführung und die Mandatsträger der Partei haben ihn während des Vorwahlkampfes bekämpft, und viele zögern nach wie vor, eine Wahlempfehlung für ihn abzugeben. Trump ist nun dabei, einige seiner politischen Vorschläge mit den Vorstellungen des republikanischen Establishments abzustimmen, aber er ist zugleich eindeutig bemüht, sich seine unverwechselbare Identität zu bewahren.
Das daraus resultierende ideologische Mischmasch umfasst drei Hauptbestandteile: eine bösartige Feindseligkeit gegenüber Einwanderern, eine durch Unwissenheit gekennzeichnete handelsfeindliche Rhetorik und eine extreme staatsfeindliche Einstellung. Jede davon für sich wäre schädlich. Gemeinsam würden sie dem Wohlstand der USA und der Welt einen schweren Schlag versetzen und zugleich die nationale und internationale Sicherheit schwächen.
Trump ist ohne Frage der einwanderungsfeindlichste US-Präsidentschaftskandidat der modernen Geschichte. Eine erste Idee und sein maßgeblicher Slogan ist der "Bau einer Mauer" entlang der Südgrenze der USA, die angeblich mexikanische und andere lateinamerikanische Einwanderer abhalten soll. Er will zudem elf Millionen Menschen deportieren und keine Muslime mehr ins Land lassen.
Dies ist ein Rezept für einen Polizeistaat – mit Personenkontrollen, der Durchsuchung von Wohnungen und der Ermutigung der Menschen, ihre Nachbarn zu denunzieren. Es ist zugleich in grundlegender Weise antiamerikanisch insofern, als es alles untergräbt, was das Land bisher erreicht hat. Die USA sind ein Einwanderungsland – und weltweit führend bei der Integration von Neuankömmlingen. Nach einer Generation im Lande interessiert es keinen mehr, woher Ihre Familie kam.
Trump – und diejenigen, die ihn an die Macht bringen – würden all dies zum Fenster herauswerfen. Die damit verbundene gesellschaftliche Zerrüttung würde per se nicht nur einen wirtschaftlichen Abschwung bewirken, sondern einen nachhaltigen Rückgang von BIP und Einkommen.
Die handelsfeindliche Haltung des Trump-Wahlkampfes ist ähnlich schockierend, und zwar auch für die Wirtschaftsgemeinschaft. Trump will tatsächlich einen potenziellen Handelskrieg gegen China und andere Länder vom Zaun brechen und ignoriert dabei völlig die Auswirkungen auf die USA (wo etwa 14% der Gesamtwirtschaftsaktivität auf den Export entfallen). Die USA haben die letzten 70 Jahre damit zugebracht, zum Aufbau eines globalen Systems beizutragen, das Länder, trotz seiner Fehler, überwiegend in die Lage versetzt, friedlich und über große Entfernungen hinweg miteinander Handel zu treiben. Trumps Versprechen, die Regeln mit Füßen zu treten, ist ein Rezept für eine weitere Große Depression, mit massiver Arbeitslosigkeit und Millionen von Menschen, die ihre Hypotheken, Studentenkredite und sonstigen Schulden nicht mehr bezahlen können.
Subscribe to Project Syndicate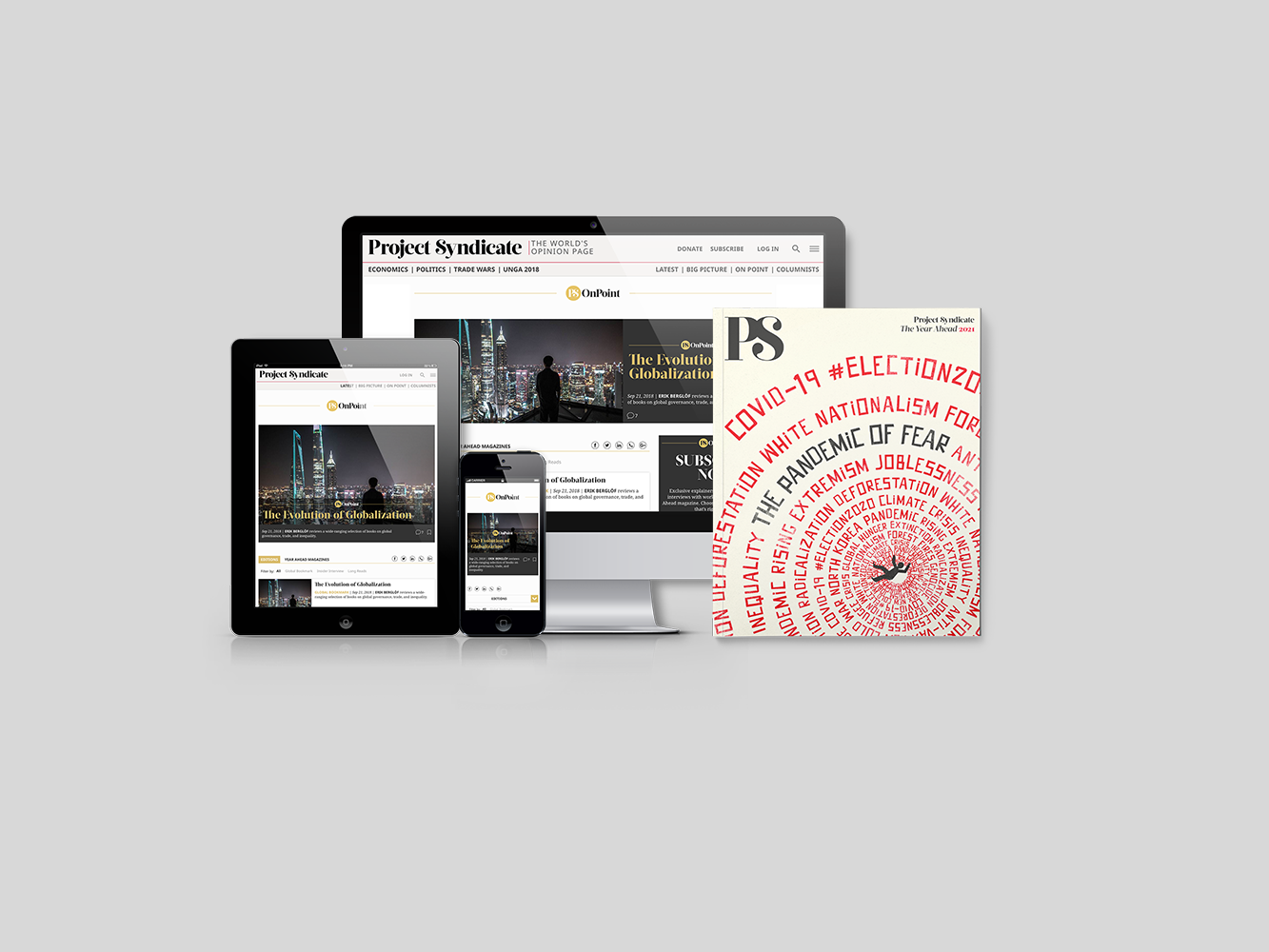 Subscribe to Project Syndicate
Enjoy unlimited access to the ideas and opinions of the world's leading thinkers, including weekly long reads, book reviews, and interviews; The Year Ahead annual print magazine; the complete PS archive; and more – All for less than $9 a month.
Trump hat einige Themen aus dem traditionellen regierungsfeindlichen Programm der Republikaner übernommen, aber mit seiner eigenen grandiosen Note. Die Finanzreform will er ungeachtet der Folgen komplett rückgängig machen. Die USA würden zu den Regeln zurückkehren, die das Weltfinanzsystem 2008 an den Rand des vollständigen Zusammenbruchs gebracht hatten – und die dazu geführt hatten, dass das Land das BIP mindestens eines ganzen Jahres (mehr als 20 Billionen Dollar) verlor.
Zudem wären die von Trump vorgeschlagenen Steuersenkungen sehr hoch und würden daher das Bundeshaushaltsdefizit erhöhen und die Staatsverschuldung deutlich in die Höhe treiben. Trump stützt sich dabei auf die gängige republikanische Behauptung, dass Steuersenkungen "sich selbst finanzieren" oder zu hohem Wachstum führen. Derartige Behauptungen stehen im absoluten Widerspruch zu den Erfahrungen des modernen Amerikas, unter anderem unter der Regierung von George W. Bush.
Dieser wirtschaftspolitische Ansatz ist klassischer Populismus: Man verspricht den Wählern das Unmögliche, insbesondere wenn die negativen Folgen dieser Versprechen erst in weiter Zukunft sichtbar werden. Bei einer Wahl Trumps können die Amerikaner dieselbe Art Wirtschaftszyklus erwarten, wie man sie in Ländern wie Argentinien im Verlauf der letzten 100 Jahre wiederholt erlebt hat. Die Ungleichheit würde sich vertiefen, mit großen Vermögen für eine kleine Minderheit und niedrigen Löhnen für die breite Mehrheit, gefolgt von einem traumatischen Zusammenbruch – bei dem die Reichen wieder einen Schnitt machen, die Mittelschicht verarmt und das soziale Netz in Fetzen gerissen wird.
In unserem Buch White House Burning haben James Kwak und ich herausgestellt, dass finanzielle Nachhaltigkeit nicht nur für den wirtschaftlichen Wohlstand wichtig ist, sondern auch für die nationale Sicherheit. Im Jahr 1814 waren die Briten im Stande, das Weiße Haus (und die meisten anderen Behördengebäude in Washington, D.C.) niederzubrennen, weil die amerikanischen Politiker die finanzielle Handlungsfähigkeit der Zentralregierung fast völlig untergraben hatten. Die USA hatten keine effektive Marine, eine schwache Armee und waren trotz eines offensichtlichen nationalen Notfalls nicht ausreichend zur Mobilmachung in der Lage.
Trumps Versprechen, "Amerika wieder groß zu machen", ist ein politischer Schwindel. Populisten versprechen einem das Blaue vom Himmel, auch eine Politik, die unhaltbar ist oder in die sichere Katastrophe führt. Die von Trump vorgeschlagene Politik macht da keinen Unterschied: Sie würde die Sicherheit Amerikas untergraben, seine Wirtschaft in die Depression stürzen und das Finanzsystem zerstören.
Der autoritäre Populismus, den Trump verkörpert, ist mindestens seit Ende der Römischen Republik eine Herausforderung für die Demokratien. Autoritäre Kräfte haben ihre Gegner schon immer aufgemischt – physisch, vor Gericht und heute auf Twitter –, um sie zum Schweigen zu bringen.
Trumps Gegner dürfen sich nicht einschüchtern lassen. Sein Aufstieg stellt die tiefgreifendste Herausforderung für die amerikanische Demokratie seit dem deutschen Einmarsch in Polen 1939 dar. Ein Nein gegenüber seiner Kandidatur ist nötig, um die Sicherheit Amerikas und der Welt zu bewahren.
Aus dem Englischen von Jan Doolan