دونالد المدمر
واشنطن العاصمة - من الواضح أن دونالد ترامب، مرشح الحزب الجمهوري المفترض لخوض الانتخابات الرئاسية في الولايات المتحدة في نوفمبر/ تشرين الثاني، ليس جمهوريا عاديا. فقد عارضه قادة الحزب والمسؤولون المنتخبون خلال الاٍنتخابات التمهيدية، ولا يزال الكثير منهم متردد في قبوله. ويحاول ترامب الآن أن يجد توافقا بين بعض مقترحاته السياسية والأفكار الجمهورية السائدة، لكنه مع ذلك قرر وبشكل واضح الاٍحتفاظ بهويته الخاصة.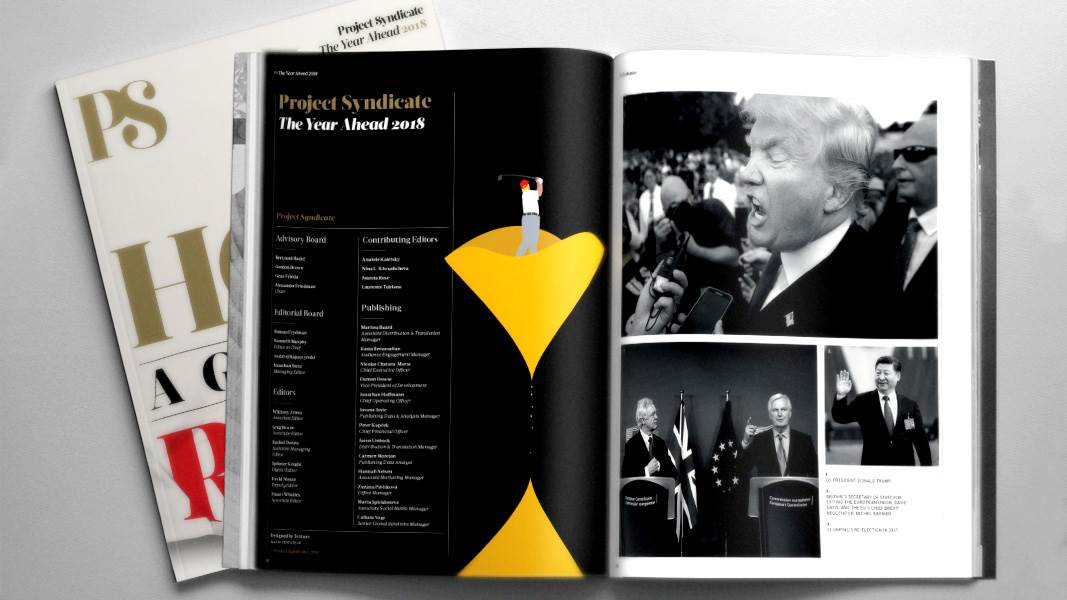 The Year Ahead 2018
The world's leading thinkers and policymakers examine what's come apart in the past year, and anticipate what will define the year ahead.
ويتكون هذا المزيج الأيديولوجي من ثلاثة عناصر رئيسية وهي: العداء القاسي للمهاجرين، خطاب جاهل حول مكافحة التجارة، والرأي المتطرف المناهض للحكومة. ومن المحتمل أن يكون أي واحد من هذه العناصر مدمرا. وكلها ستكون ضربة كبيرة للولايات المتحدة والرخاء العالمي، كما ستقوض الأمن الوطني والدولي.
ودون شك، يٌعد ترامب المرشح الرئاسي الأمريكي الأكثر معاداة للمهاجرين في العصر الحديث. كانت فكرته الأولى وشعاره الرئيسي هو "بناء الجدار" على طول الحدود الجنوبية للبلاد، والتي يفترض أن تٌبقى المكسيكيين وغيرهم من المهاجرين اللاتينيين خارجه. كما يريد ترحيل 11 مليون شخص واٍبعاد جميع المسلمين.
وهذه بمثابة وصفة لدولة بوليسية - فحص الهويات ومداهمة البيوت ، وتشجيع الجيران على الإبلاغ عن بعضهم البعض. وهذا السلوك أساسا مناهض للولايات المتحدة، بمعنى أنه سيقوض كل ما حققته البلاد. فالولايات المتحدة أمة من المهاجرين - تعد الأفضل في العالم من ناحية دمج الوافدين الجدد. بعد جيل واحد في البلاد، لا أحد يهتم من أين أتت عائلتك.
ترامب - وأولئك الذين يقربونه من السلطة - من شأنهم أن يلقوا كل هذه المكاسب من النافذة. إن الاٍضطرابات الاٍجتماعية المرتبطة في حد ذاتها ستؤدي ليس فقط إلى التباطؤ الاٍقتصادي، بل إلى الاٍنخفاض المستمر في الدخل والناتج المحلي الإجمالي.
وتشكل حملة ترامب التي تنطوي على مواقف مضادة للتجارة صدمة مماثلة تستهدف مجتمع الأعمال. فترامب يريد حقا مواجهة الصين وبلدان أخرى مع إشعال حرب تجارية محتملة، كما يتجاهل تماما تأثير ذلك على الولايات المتحدة (حيث تشكل الصادرات نحو 14٪ من إجمالي النشاط الاٍقتصادي). وقد أمضت الولايات المتحدة خلال 70 عاما الماضية اتفاقيات عدة في محاولة لبناء نظام عالمي، والذي على الرغم من عيوبه، فهو في أغلب الأحيان يمكن البلدان من التجارة بشكل سلمي وعبر مسافات كبيرة. اٍن تعهد ترامب على كسر القواعد هو بمثابة وصفة لكساد كبير آخر، مع بطالة واسعة للغاية والملايين من الناس الغير قادرين على سداد القروض العقارية، وقروض الطلاب، والديون الأخرى.
وأضاف ترامب في حملته بعض التوجهات السياسية المناهضة للحكومة والمحسوبة تقليديا على الجمهوريين، ولكن مع الاحتفاظ بالتقلبات الضخمة الخاصة به. كما ينوي إلغاء الإصلاح المالي تماما، بغض النظر عن النتائج. وبهذا ستعود الولايات المتحدة إلى الترتيبات التي وضعت النظام المالي العالمي على شفا الاٍنهيار التام في عام 2008 – والذي تسببت في فقدان البلاد الناتج المحلي الإجمالي لسنة واحدة على الأقل (أكثر من 20 تريليون دولار).
وعلاوة على ذلك، فإن التخفيضات الضريبية المقترحة من قبل ترامب ستكون ضخمة جدا - وبالتالي ستزيد من العجز في الميزانية الاٍتحادية وسترفع الدين الوطني بشكل كبير. وسوف يعتمد ترامب على ادعاءات الجمهوريين القياسية والتي تقول إن التخفيضات الضريبية سوف "تدفع نفسها" أو ستؤدي إلى النمو السريع. كل هذه الاٍدعاءات على خلاف تماما مع التجربة الأميركية الحديثة، بما في ذلك ما كانت عليه في عهد جورج دبليو بوش.
ويدخل هذا النهج الاٍقتصادي ضمن الشعبوية الكلاسيكية: وعد الناخبين بأشياء مستحيلة، لا سيما عندما تصبح التداعيات السلبية لهذه الوعود واضحة بشكل جيد. وإذا تم انتخاب ترامب، يمكن أن يتوقع الأميركيون دورة اٍقتصادية مماثلة لتلك التي رأينا مرارا وتكرارا في أماكن مثل الأرجنتين على مدى السنوات المائة الماضية. وسترتفع عدم المساواة ، مع ثروة كبيرة للأقلية القليلة  مقابل أجور منخفضة للكثيرين، تليها أزمة قوية - التي سيستعيد الأثرياء من خلالها  مكانتهم مرة أخرى، ونتيجة لذلك ستنزل الطبقة الوسطى إلى الفقر، وستٌكسر شبكة الأمان الاٍجتماعي إلى أشلاء.
وفي كتابنا الذي يحمل عنوان "احتراق البيت الأبيض"، أكدنا أنا وجيمس كواك أن الاٍستدامة المالية مهمة ليس فقط لتحقيق الاٍزدهار الاٍقتصادي ولكن أيضا للأمن الوطني. في عام 1814، استطاع البريطانيون تدمير البيت الأبيض (ومعظم المباني الرسمية الأخرى في واشنطن العاصمة) لأن السياسيين الأميركيين قوضوا بشكل شبه كامل القدرة المالية للحكومة المركزية. لم يكن لدى الولايات المتحدة قوات بحرية فعالة، وكان لديها جيش ضعيف، وقدرة غير كافية لمواجهة حالات الطوارئ الوطنية الواضحة.
اٍن وعد ترامب "بجعل أمريكا عظيمة مرة أخرى" هو مجرد احتيال سياسي. فالشعبويين يمكنهم أن يَعدوا بأي شيء، بما في ذلك السياسات التي لا يمكن الدفاع عنها أو التي من شأنها أن تؤدي إلى كارثة محققة. فالسياسات المقترحة من طرف ترامب مماثلة: ومن شأنها تقويض أمن أميركا، وخفض اقتصادها، وتدمير النظام المالي.
وللتذكير تٌشكل الشعوبية الاٍستبدادية التي يجسدها ترامب تَحد كبير للديمقراطيات على الأقل منذ نهاية الجمهورية الرومانية. وقد تعود السلطويين دائما على ضرب خصومهم - جسديا، في المحاكم، والآن على تويتر - وذلك لجعلهم يلزمون الصمت.
يجب أن لا يستخدم معارضو ترامب أسلوب الترهيب. لأن صعوده يمثل التحدي الأكثر خطرا على الديمقراطية الأمريكية منذ أن غزت ألمانيا بولندا في عام 1939. ولهذا سيكون رفض ترشيحه ضروريا للحفاظ على أمن أمريكا والعالم.