Donald le destructeur
WASHINGTON, DC – Probable futur candidat du Parti républicain à la présidentielle américaine de novembre prochain, Donald Trump n'a rien du républicain habituel. Les cadres et responsables élus du parti n'ont eu de cesse de le combattre pendant sa campagne, et sont encore nombreux à refuser de le soutenir. Et bien que Trump consente désormais à aligner certaines de ses propositions politiques avec les idées républicaines traditionnelles, le candidat a clairement l'intention de conserver cette identité qui fait de lui un être à part.
Le mélange idéologique qui en résulte consiste en trois axes : hostilité profonde à l'égard des immigrants, discours simpliste d'opposition au libre-échange, et sentiment d'extrême défiance vis-à-vis du gouvernement. Considéré isolément, n'importe lequel de ces aspects représente déjà un risque important. Mais pire encore, considérées de manière cumulée, ces conceptions menacent de porter un coup extrêmement violent à la prospérité américaine et mondiale, ainsi que d'affaiblir la sécurité nationale et internationale.
Trump est incontestablement l'aspirant président le plus hostile aux immigrants que l'Amérique ait jamais connu à l'époque moderne. Son idée première, sa principale formule d'accroche, consiste à « bâtir un mur » le long de la frontière sud des États-Unis, qui aurait pour effet de maintenir à l'écart les immigrants mexicains et latino-américains. Trump entend par ailleurs expulser 11 millions d'immigrés, et fermer la porte à tous les musulmans.
Telle est la recette du parfait État policier – contrôles d'identité, incursions policières chez l'habitant, incitation à la délation au sein des quartiers. Une recette qui s'avère par ailleurs fondamentalement contraire à l'esprit de l'Amérique, en ce sens qu'elle vient anéantir tout ce que le pays a accompli jusqu'à nos jours. Les États-Unis sont une nation d'immigrés – la meilleure au monde en termes d'intégration de nouveaux arrivants. Il suffit qu'une seule génération ait vécu dans le pays pour que plus personne ne s'interroge sur les origines de votre famille. 
C'est ce que sont prêts à jeter par la fenêtre Donald Trump et tous ceux qui souhaitent le voir élu au pouvoir. L'agitation sociale provoquée par une telle victoire engendrerait non seulement un ralentissement économique, mais également une régression durable du PIB et des revenus.
La posture anti-libre-échange mise en avant par la campagne de Trump est tout aussi choquante, notamment pour la communauté des affaires. Trump est prêt à mener une guerre économique contre la Chine et plusieurs autres pays, sans se soucier le moins du monde des conséquences pour les États-Unis (dont l'activité économique totale est composée à hauteur d'environ 14 % par les exportations). L'Amérique a consacré les 70 dernières années à la construction d'un système global qui, en dépit de certaines défaillances, permet dans l'ensemble aux États de commercer paisiblement et sur de longues distances. La volonté de Trump d'en finir avec ces règles pourrait engendrer une nouvelle Grande Dépression, caractérisée par un chômage de masse, et par l'incapacité pour des millions de personnes de rembourser leur emprunt immobilier, leur prêt étudiant, et autres dettes.
Subscribe to Project Syndicate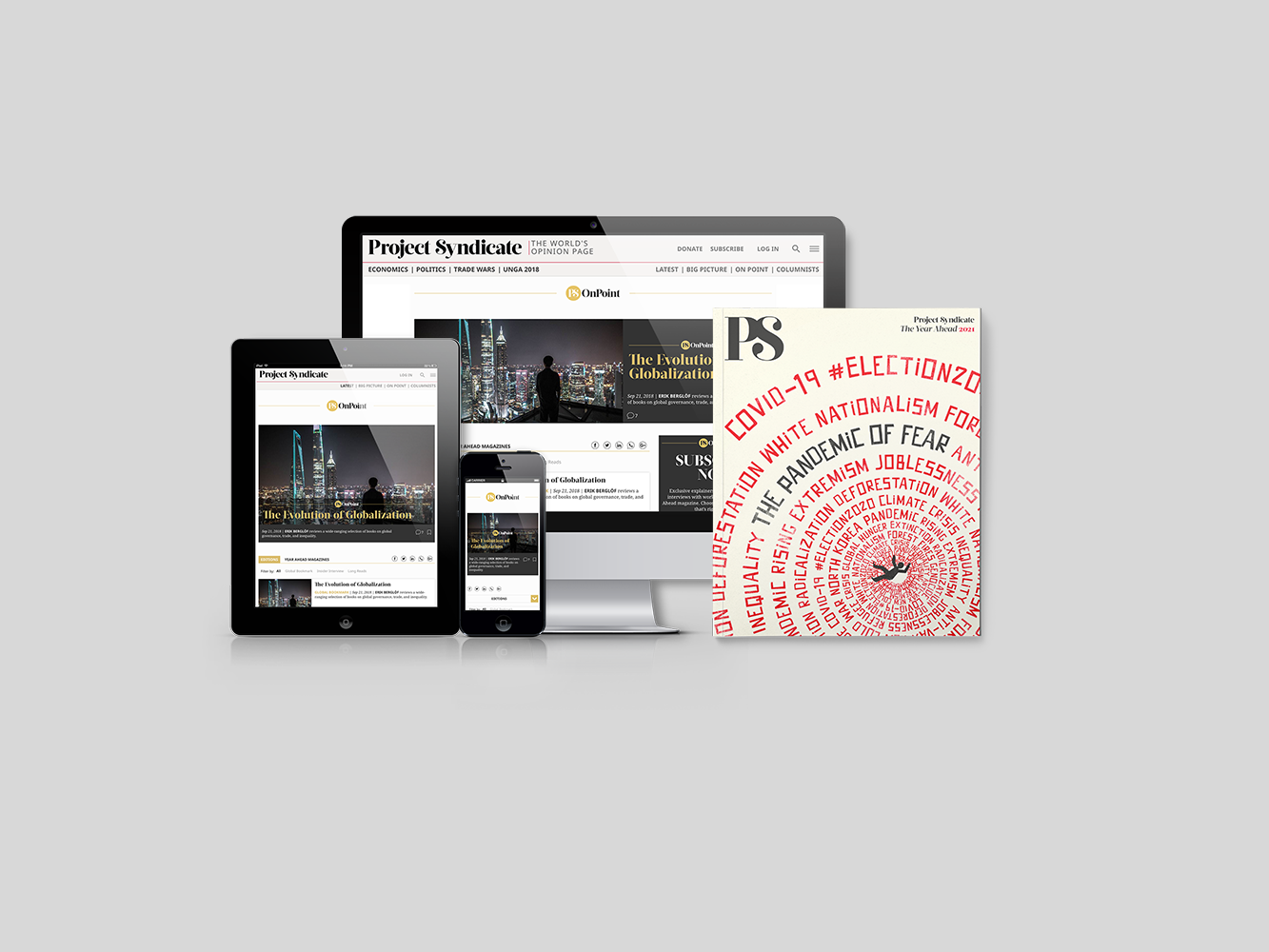 Subscribe to Project Syndicate
Enjoy unlimited access to the ideas and opinions of the world's leading thinkers, including weekly long reads, book reviews, and interviews; The Year Ahead annual print magazine; the complete PS archive; and more – All for less than $9 a month.
Trump intègre certes à son programme plusieurs des thèmes républicains traditionnellement anti-establishment, mais en y ajoutant sa propre sauce, beaucoup plus spectaculaire. Il y est question d'abroger intégralement la réforme financière, quelles qu'en soient les conséquences. Les États-Unis renoueraient alors avec une situation à l'origine du quasi-effondrement du système financier mondial en 2008 – qui a fait perdre au pays au moins une année de PIB (plus de 20 000 milliards $).        
Le candidat préconise par ailleurs des réductions d'impôt considérables – susceptibles de creuser significativement le déficit budgétaire fédéral et de faire s'envoler la dette publique. Trump se fonde la conception républicaine habituelle selon laquelle les réductions d'impôt « s'autofinanceront » dans la mesure où elles généreront une croissance rapide. Or, ces affirmations s'inscrivent en contrariété totale avec l'expérience américaine moderne, y compris sous George W. Bush.  
Cette manière d'aborder la politique économique est typiquement populiste : formuler auprès des électeurs des promesses impossibles à tenir, en particulier lorsque les retombées négatives de telles promesses sont vouées à n'apparaître qu'à long terme. Si Trump venait à remporter les élections, les Américains pourraient alors s'attendre à connaître le même type de cycle économique que celui observé à répétition dans des pays comme l'Argentine au cours du dernier siècle. Les inégalités seraient vouées à s'accentuer, une minorité concentrant d'immenses richesses et la majorité ne percevant que de faibles salaires, le tout aboutissant à une situation catastrophique dans laquelle tout irait bien pour les riches, dans laquelle la classe moyenne se retrouverait prisonnière de la précarité, et dans laquelle le filet de protection sociale volerait en éclat.
Dans notre ouvrage intitulé White House Burning, James Kwak et moi-même soulignons combien la viabilité budgétaire est essentielle non seulement pour la prospérité économique, mais également pour la sécurité nationale. En 1814, si les Britanniques parviennent à incendier la Maison Blanche (et la plupart des bâtiments publics de Washington), c'est parce que les dirigeants politiques américains ont quasiment totalement anéanti la capacité budgétaire du gouvernement central. L'Amérique n'a plus de flotte navale opérationnelle, ne dispose que d'une armée affaiblie, et n'est pas suffisamment en capacité de se mobiliser face à une urgence nationale manifeste.   
La promesse de Donald Trump consistant à « rendre à l'Amérique sa grandeur » ne constitue rien de plus qu'une escroquerie politique. Les populistes sont prêts à tout promettre, y compris des mesures intenables ou vouées à engendrer un désastre. Trump n'y fait pas exception, préconisant des politiques vouées à fragiliser la sécurité de l'Amérique, à affecter profondément son économie, ainsi qu'à anéantir le système financier tout entier.
Ce populisme autoritaire qu'incarne Donald Trump défie les démocraties au moins depuis l'effondrement de la République romaine. Les acteurs autoritaristes ont de tous temps malmené leurs opposants – physiquement, devant les tribunaux, et aujourd'hui sur Twitter – afin de les réduire au silence.
Il ne faut pas que les opposants à Donald Trump s'en trouvent intimidés, tant sa montée en puissance constitue une menace pour la démocratie américaine, la plus sérieuse depuis l'invasion de la Pologne en 1939. La défaite de Trump est aussi bien nécessaire à la sécurité de l'Amérique qu'à celle du monde entier.  
Traduit de l'anglais par Martin Morel