Donald Trumps historischer Fehler
PARIS – US-Präsident Donald Trump gab kürzlich bekannt, dass die Vereinigten Staaten nicht mehr am Pariser Klimaabkommen von 2015 teilnehmen werden – der bahnbrechenden Vereinbarung, an deren Verwirklichung viele von uns so hart gearbeitet haben. Damit macht Trump einen Fehler, der auf sein eigenes Land und die ganze Welt entscheidende Auswirkungen haben wird.
Trump behauptet, er wolle das Abkommen von Paris neu verhandeln oder eine ganz neue Vereinbarung abschließen. Aber bereits damals haben die weltweiten Politiker das Abkommen bereits als Durchbruch im Kampf gegen den Klimawandel gelobt, als Sieg für die internationale Zusammenarbeit und als Segen für die Weltwirtschaft. Dies ist auch heute noch der Fall.
Unter den vielen Problemen der heutigen Zeit ist der Klimawandel einzigartig, da er den ganzen Planeten betrifft. Er wirkt sich weltweit auf alle Lebensbereiche aus – von den Ökosystemen über die Lebensmittelproduktion bis hin zu den Städten und den industriellen Lieferketten. Den Klimawandel lediglich als "Umweltproblem" zu betrachten, geht völlig am Punkt vorbei.
Wir könnten zu dem wohlwollenden Schluss kommen, dass Trump die Auswirkungen seiner Entscheidung gar nicht versteht. Aber egal was er denkt: Bekannt ist, dass er von Beratern umgeben ist, die sehr wohl wissen, was auf dem Spiel steht.
Im Wahlkampf hat Trump versprochen, Jobs zu schaffen und die amerikanischen Arbeiter vor den weltweiten Veränderungen zu schützen. Und er hat seinen Tweet, in dem er seine Entscheidung über das Pariser Abkommen ankündigte, mit den Worten "MAKE AMERICA GREAT AGAIN!" unterschrieben.
Aber all dieser Ziele Trumps werden durch seine Entscheidung untergraben. Sie widerspricht dem Willen einer großen Mehrheit der Amerikaner, zu der auch viele seiner eigenen Unterstützer gehören. Durch den Ausstieg aus dem Abkommen von Paris setzt er die Amerikaner verstärkt den zerstörerischen Effekten des Klimawandels aus – denen sie bereits heute in vielerlei Hinsicht ausgesetzt sind. Darüber hinaus vernichtet er Arbeitsplätze in den boomenden Sektoren der erneuerbaren Energien und der Elektrofahrzeuge, die zunehmend genau jene Arbeiter einstellen, die er zu vertreten behauptet.
Subscribe to PS Digital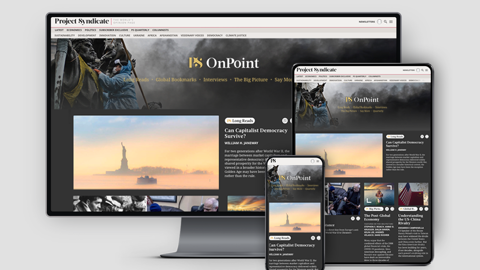 Subscribe to PS Digital
Access every new PS commentary, our entire On Point suite of subscriber-exclusive content – including Longer Reads, Insider Interviews, Big Picture/Big Question, and Say More – and the full PS archive.
Allgemeiner ausgedrückt: Trump hat Amerika kleiner gemacht und die globale Führungsrolle des Landes aufgegeben. Als ich Mitglied der französischen Regierung war und an einer weltweiten Tournee teilnahm, um für gemeinsamen Klimaschutz zu werben – was letztlich im Pariser Abkommen gipfelte – erfuhr ich aus erster Hand, was durch amerikanische Führungskraft erreicht werden kann. Sehen zu müssen, wie diese Kraft des Guten nun der Verleugnung und Kurzsichtigkeit zum Opfer fällt, ist tragisch.
Trump und seine Berater stecken ihre Köpfe in den Sand, offensichtlich in der Hoffnung, dass die Wirklichkeit schon wieder vorbeigehen wird. Irgendwie müssen sie auf die Idee gekommen sein, Amerika werde von den Dürren verschont, die bereits jetzt im kalifornischen Central Valley Bauernhöfe zerstören. Sie glauben wohl, das Land werde nicht unter den steigenden Meeresspiegeln leiden, die bereits jetzt manche Küstenstädte überfluten; den Stürmen und Waldbränden entgehen, die regelmäßig große Landesteile der USA heimsuchen; und nicht unter der Zerstörung der Wasser- und Nahrungsmittelreserven leiden, die uns alle bedrohen.
Andere Teilnehmer der Pariser Vereinbarung haben auf Trumps Entscheidung mit Stärke reagiert und damit die Widerstandskraft des Abkommens bewiesen. Der Rest der Welt wird mit traurigen Augen auf ein Amerika blicken, dass wegen Trumps Entscheidung in die Bedeutungslosigkeit abgedrängt wird. Aber wir werden nicht warten. Tatsächlich machen wir bereits weitere Schritte in die Zukunft.
Beim G20-Treffen in Deutschland wird die Antwort der Welt sehr klar ausfallen. Europa, China, Indien, Kanada, die pazifischen Anrainerstaaten und die Länder Südamerikas haben die Ziele des Pariser Abkommens bereits erneut bekräftigt. Diese Länder verstehen die Gefahren des Klimawandels, ebenso wie die weltweiten Aktionäre von ExxonMobil, die in dieser Woche die Versuche des Unternehmens, den Einfluss des Klimawandels auf seine Geschäfte zu ignorieren, ablehnten.
Trumps Entscheidung rückt Amerika in die Nähe der beiden einzigen Länder, die dem Pariser Abkommen bisher nicht beigetreten sind – Syrien und Nicaragua. Sie steht in völligem Widerspruch zur aktuellen weltweiten Atmosphäre der Zusammenarbeit. Jeden Tag treffen die großen Volkswirtschaften neue gemeinsame Abkommen, die die Industriepolitik, Forschung und Entwicklung sowie die Investitionen in Infrastruktur betreffen. Gemeinsam arbeiten sie an einer kohlenstoffarmen Wirtschaft und dem Ziel, 2020 den Höhepunkt der globalen Treibhausgasemissionen zu überschreiten.
Bereits heute treffen die europäischen Politiker ihre indischen und chinesischen Kollegen, um Bereiche zu finden, in denen sie gemeinsam die sauberen Energien und die grüne Infrastruktur fördern können. In diese Bereiche wird massiv investiert, und die Finanzierung wird über die Europäische Zentralbank, die Asiatische Investitionsbank für Infrastruktur und viele andere Einrichtungen erfolgen. Auch staatliche Fonds mit ihrem enormen Einfluss auf das globale Finanzsystem leiten ihre Geldanlagen in die grüne Wirtschaft um.
Sogar die größten Optimisten unter uns hätten nicht gedacht, dass die traditionelle Vorherrschaft der fossilen Energien so schnell vorübergehen würde. Aber Europa setzt zur Energieerzeugung immer weniger Kohle ein. Und auch Indien, China und Südkorea lenken ihre Investitionen immer stärker von der Kohle weg hin zu erneuerbaren Energiequellen.
Weltweit ist ein neues Wettrennen darum entstanden, wer seine Wirtschaft am schnellsten ökologisch umgestaltet. Von der Stromversorgung über Elektroautos hin zu grüner Bautechnik, Recycling und Biochemikalien – überall entstehen neue, große Industriebereiche. Die Revolution der erneuerbaren Energien verbreitet sich in nie dagewesenem Maße. Bereits heute verwandelt sie ganze Sektoren, darunter auch das Transportwesen. Und weltweit ist in all diesen Bereichen die Begeisterung und das Wachstumspotenzial spürbar.
Dass sich Trump vor seiner internationalen Verantwortung drückt und diesen Entwicklungen seinen Rücken zuwendet, ist eine Schande. Für so viele Menschen, die sich bemüht haben, erfolgreich an der neuen Wirtschaft teilzunehmen, ist seine Entscheidung ein Tiefschlag – darunter auch für viele Amerikaner.
Aber Trump kann nicht ganz Amerika mit sich reißen. Auf bundesstaatlicher und städtischer Ebene ist der US-Klimaschutz sehr lebendig und nimmt immer mehr zu. Trumps historischer Fehler mag für diese gemeinsame Arbeit ein Hindernis sein, kann sie aber nicht aufhalten. Ebenso wie chinesische Unternehmen nun ehemalige US-Kohlearbeiter für den Bau von Windanlagen ausbilden, wird auch der Rest der Welt weiter zusammenarbeiten, um die Märkte und die Arbeitsplätze der Zukunft neu zu gestalten.
Aus dem Englischen von Harald Eckhoff