L'erreur historique de Donald Trump
PARIS – Le président américain Donald Trump a annoncé que les États-Unis se retiraient de l'accord de Paris pour le climat conclu en 2015. En dénonçant ce traité historique des Nations unies, dont la signature avait demandé tant de travail à tant d'entre nous. Trump commet une erreur qui aura de graves répercussions sur son propre pays et sur le monde.
Trump prétend qu'il tentera de renégocier le compromis obtenu à Paris ou d'en élaborer un autre. Mais les dirigeants du monde entier saluent cet accord comme une avancée importante dans la lutte contre le changement climatique, une victoire de la coopération internationale et une chance pour l'économie mondiale. Ce qui n'est pas démenti.
Parmi les nombreux défis auxquels nous devons aujourd'hui faire face, le changement climatique, dans sa dimension globale, est un cas unique. Il touche à tous les aspects de la vie sur la planète – des écosystèmes et de la production alimentaire aux chaînes logistiques urbaines et industrielles. N'y voir qu'un problème d'« environnement » serait passer complètement à côté de ces réalités. 
Nous pourrions excuser Trump de ne pas comprendre, tout simplement, les conséquences de sa décision. Mais quoi qu'il puisse penser, nous savons qu'il est entouré de conseillers qui savent pertinemment ce qui est en jeu.
Durant la campagne, Trump a promis de créer des emplois et de protéger des désordres du monde les travailleurs américains. Et il a conclu son tweet annonçant la décision qu'il avait prise au sujet des accords de Paris par les mots « MAKE AMERICA GREAT AGAIN ! »
Mais cette décision compromet ces engagements, et elle va à l'encontre de ce que souhaitent une vaste majorité d'Américains, y compris nombre de ses propres partisans. En tournant le dos à l'accord de Paris, Trump aggrave l'exposition des Américains aux effets dévastateurs du changement climatique – dont beaucoup font déjà l'expérience. En outre, il menace la création d'emplois dans les secteurs en pleine expansion des énergies renouvelables et des véhicules électriques, qui embauchent de plus en plus les travailleurs qu'il prétend représenter.
Subscribe to PS Digital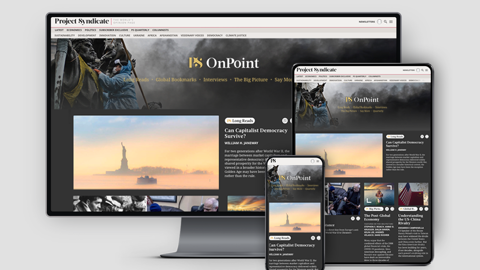 Subscribe to PS Digital
Access every new PS commentary, our entire On Point suite of subscriber-exclusive content – including Longer Reads, Insider Interviews, Big Picture/Big Question, and Say More – and the full PS archive.
Plus généralement, c'est l'Amérique que Trump affaiblit, qu'il soustrait à ses responsabilités et, partant, à son rôle moteur dans les affaires mondiales. Lorsque je représentais l'État français et participais aux négociations planétaires qui ont permis de construire le consensus sur notre action en faveur du climat – efforts qui se sont conclus plus tard par l'accord de Paris –, j'ai pu voir, aux premières loges, la puissance d'entraînement du moteur américain. Qu'une telle force positive soit réduite à néant par le déni et l'aveuglement est une tragédie.
En cachant leur tête dans le sable, Trump et ses conseillers espèrent sans doute que la réalité finira par s'évanouir. Ils en concluent que l'Amérique sera épargnée par les sécheresses qui détruisent déjà des exploitations agricoles dans la Vallée centrale de Californie, par l'élévation du niveau des mers, qui se traduit déjà par des inondations dans les villes côtières, par les tempêtes et les incendies de forêts, qui ravagent régulièrement de vastes portions du territoire américain, et par les perturbations qui affectent les approvisionnements en nourriture et en eau, dont la menace est omniprésente.
Les autres parties de l'accord de Paris ont répondu avec force à la décision de Trump, montrant ainsi la solidité de la mobilisation internationale. Le reste du monde sera triste de voir l'Amérique laissée en arrière de par la volonté de son président. Mais nous n'attendrons pas ; en réalité nous sommes déjà en train de passer à la suite.
La réponse du monde se fera clairement entendre à la réunion du G20 prévue en juillet en Allemagne. Déjà l'Europe, la Chine, l'Inde, le Canada, les pays d'Amérique du Sud et du pourtour pacifique réaffirment leur engagement en faveur des objectifs définis par l'accord de Paris. Ces pays comprennent les dangers du changement climatique, de même que les actionnaires d'ExxonMobil, qui, pas plus tard que cette semaine, ont refusé que le changement climatique soit tenu pour partie négligeable dans les activités de la compagnie.
En plaçant l'Amérique aux côtés des deux seuls pays n'ayant pas signé l'accord de Paris – la Syrie et le Nicaragua –, la décision de Trump va à l'encontre de l'atmosphère de coopération qui prévaut actuellement sur ce sujet à l'échelle mondiale. Les grandes puissances économiques mondiales concluent chaque jour de nouveaux accords de collaboration dans la recherche et le développement, dans les investissements pour leurs infrastructures et dans la définition de leurs stratégies industrielles. Elles travaillent ensemble à la construction d'une économie sobre en carbone et pour qu'en 2020 les émissions de gaz à effets de serre commencent à décroître.
Les dirigeant européens rencontrent déjà leurs homologues indiens et chinois pour trouver les domaines où ils peuvent coopérer au développement d'énergies propres et à la mise en place d'infrastructures vertes. D'énormes investissements vont y être réalisés, et la Banque centrale européenne, la Banque asiatique d'investissement pour les infrastructures, ainsi que nombre d'autres institutions, sont en train de mettre au point les mécanismes qui permettront leur financement. Des fonds souverains dont le poids est immense dans le système financier mondial réorientent aussi leurs investissements vers l'économie verte.
Même les plus optimistes d'entre nous n'auraient pu prévoir que le vieux modèle fondé sur les énergies fossiles changerait aussi rapidement. Mais l'Europe cesse progressivement de produire de l'énergie à base de charbon ; l'Inde, la Chine et la Corée du Sud dégagent rapidement leurs investissements des mines régionales pour les réallouer aux sources d'énergie renouvelables.
Dans le monde entier, la compétition est maintenant lancée pour savoir « qui deviendra vert le premier ». De nouvelles industries émergent, à grande échelle, dans des domaines qui vont de la distribution d'électricité et de la conception de réseaux intelligents aux véhicules électriques, de la construction de bâtiments durables aux technologies du recyclage et aux composés organiques. La révolution des énergies renouvelables se répand désormais à un rythme sans précédent, transformant déjà des secteurs entiers, notamment les transports. Partout, l'enthousiasme et le potentiel de croissance sont palpables.
Il est dommage que Trump ait décidé d'exonérer l'Amérique de ses responsabilités devant le monde et de tourner le dos à toutes ces innovations. Pour tous ceux – y compris de nombreux Américains – qui travaillent dur à l'avènement de la nouvelle économie, son choix est un coup terrible.
Trump ne peut pourtant pas emmener avec lui toute l'Amérique. Les actions en faveur du climat, de plus en plus ambitieuses et d'une portée toujours plus vaste, se multiplient dans toute l'Amérique, au niveau des États et des villes. L'erreur historique de Trump constitue un obstacle pour cette mobilisation collective, mais elle ne pourra guère y mettre un terme. À l'instar des entreprises chinoises qui continuent à former d'anciens mineurs américains à la construction de fermes d'éoliennes, les autres pays du monde continueront à travailler ensemble, pour construire les marchés du futur et leur apporter la main-d'œuvre dont ils ont déjà besoin.
Traduction François Boisivon