Nowe Podejście do Odporności w Biznesie
LONDYN / GENEWA – COVID-19 to największy kryzys zdrowia publicznego od stulecia, który spowodował najgłębszą recesję gospodarczą współczesnej epoki. Pandemia ujawniła słabe punkty systemów zdrowia publicznego i sieci bezpieczeństwa socjalnego na całym świecie, ujawniła ogromne nierówności i zademonstrowała, jak wielkie zakłócenia mogą się rozprzestrzeniać lawinowo poprzez wzajemnie połączone systemy. Okazało się, że nasze społeczeństwa i gospodarki nie są tak odporne, jak sądziliśmy.
Jednym z powodów, dla których tak trudno nam zareagować na COVID-19 jest to, że usunęliśmy wszelki "luz" z naszych systemów. Firmy stały się uczniami ewangelii wydajności i produkcji na czas, fiskalnie obciążone rządy walczą o zapewnienie nawet najbardziej podstawowych usług, a my doprowadziliśmy naturalne systemy do granic ich możliwości. Teraz, gdy nadszedł kryzys, widzimy, że to, co było postrzegane jako nadmierny zastój, było koniecznością.
Czekają nas kolejne kryzysy, od efektów domina wynikających z COVID-19, po pełne skutki zmiany klimatu i innych zakłóceń w systemach naturalnych, na których polegamy. Niektóre kryzysy nieuchronnie pojawią się jako "czarne łabędzie" bez ostrzeżenia, ale wiele innych będzie tym, co MicheleWucker nazywa "szaryminosorożcami": wysoce prawdopodobne, potężne zagrożenia, z których zdajemy sobie sprawę, ale niestety zwykle ignorujemy.
Wszyscy dyrektorzy naczelni powinni przewidzieć przynajmniej jeden poważny szok podczas swojej kadencji i odpowiednio się do tego przygotować. Chociaż rośnie liczba analiz dotyczących wpływu COVID-19 na biznes, większość z nich nadal koncentruje się na natychmiastowej reakcji. Dlatego wniedawnymstreszczeniu nasze organizacje badają, w jaki sposób firmy mogą poprawić swoje długoterminowe myślenie i planowanie oraz lepiej przygotować się na podobne wydarzenia w przyszłości.
Nasza praca opiera się na dyskusjach z członkami Światowej Rady Biznesu na rzecz Zrównoważonego Rozwoju oraz serii wywiadów z firmami z siedzibą w Azji, Europie i obu Amerykach. Zawiera również spostrzeżenia dotyczące wpływu pandemii z ankiety 2020 GlobeScan / SustainAbilityLeadersSurvey, a ponadto czerpie z szerszego przeglądu długoterminowej odporności i reakcji biznesowych na COVID-19.
W skrócie podkreślono trzy kluczowe wnioski dla biznesu. Po pierwsze, nie możemy się ukryć przed szarymi nosorożcami czy czarnymi łabędziami. Firmy muszą lepiej przygotować się zarówno na znane, jak i nieznane zagrożenia - po części poprzez przywracanie luzu naszym systemom. Aby wytrzymać przyszłe wstrząsy, firmy muszą zmienić i rozszerzyć swoje spojrzenie na długoterminową odporność. Co najważniejsze, muszą zaakceptować fakt, że o odporności firmy decyduje nie tylko to, co znajduje się w jej czterech ścianach, ale także ekosystemy, społeczności, warunki ekonomiczne, praworządność, skuteczne zarządzanie, itd.
Subscribe to PS Digital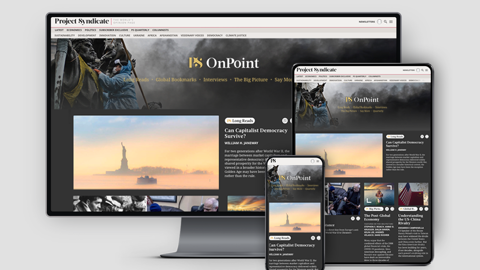 Subscribe to PS Digital
Access every new PS commentary, our entire On Point suite of subscriber-exclusive content – including Longer Reads, Insider Interviews, Big Picture/Big Question, and Say More – and the full PS archive.
Po drugie, firmy potrzebują większej odporności, w sposobie komunikowania i w praktyce. Firmy, które się na tym skupią, będą w stanie przewidzieć i przygotować się na wszystkie przyszłe scenariusze, zminimalizować wpływ uderzających wstrząsów i szybciej się po nich odbudować. Okazało się, że firmy, których wartości i cele są głęboko zakorzenione i szeroko rozumiane na wszystkich poziomach, mogą być szybsze i bardziej zdecydowane w sytuacjach kryzysowych. Dopasowanie kulturowe do celu i wizji w organizacji pomaga budować zaufanie i otwartość, które są niezbędne do skutecznej i autentycznej komunikacji wewnętrznej i zewnętrznej, a także współpracy.
Po trzecie, firmy mogą budować większą długoterminową odporność dzięki ulepszonemu podejściu do zarządzania ryzykiem korporacyjnym, kapitałem ludzkim i społecznym oraz informacji dotyczących środowiska, społeczeństwa i ładu korporacyjnego (ESG). W każdym przypadku firmy muszą położyć nacisk na określone kroki.
Lepsze zarządzanie ryzykiem wymaga przede wszystkim odejścia od tradycyjnego podejścia opartego na regułach do bardziej elastycznych, regularnych i zorientowanych na proces metod, które umożliwiają ciągłe uczenie się i odkrywanie. Wymaga to również od firm zastosowania narzędzi i podejść, które mogą pobudzić bardziej nieszablonowe myślenie i ujawnić trudniejsze do przewidzenia zagrożenia ("nieznane niewiadome").
Poprawa zarządzania kapitałem ludzkim i społecznym wymaga słuchania i reagowania na ludzi zarówno wewnątrz, jak i na zewnątrz organizacji, a także upewnienia się, że zebrane spostrzeżenia zostaną wykorzystane do zdefiniowania i podtrzymania wizji firmy. Ponadto firmy powinny rozważyć rozszerzenie środków ochrony siły roboczej pierwotnie zaprojektowanych dla ich pracowników na siłę roboczą dostawców i pracowników tymczasowych w całym łańcuchu wartości. Ponadto, starając się zrównoważyć zdrowotny i ekonomiczny wymiar pandemii w dłuższym okresie, musimy stale dostosowywać i ulepszać środki dla pracowników, którzy wchodzą w interakcje między sobą i społeczeństwem.
Wreszcie, firmy muszą nadal poprawiać ujawnianie informacji ESG, zwłaszcza poprzez przyspieszenie przyjmowania wspólnych standardów i wskaźników oraz dostarczanie większej ilości informacji na temat kwestii krytycznych dla odporności biznesowej podczas pandemii (takich jak dobrostan pracowników, różnorodność i integracja oraz bezpieczeństwo). Firmy muszą również poprawić swoje oceny zrównoważonego rozwoju poprzez uwzględnienie większej różnorodności perspektyw interesariuszy, dłuższych ram czasowych i szerszego planowania scenariuszy, a także nadanie większej wagi kwestiom społecznym w ujawnianiu informacji i strategii.
Odporność nie polega na utrzymaniu stabilnego stanu, ale na przyjmowaniu zwinnych, dynamicznych i transformacyjnych zachowań i działań w odpowiedzi na presję - innymi słowy, bycie zdolnym do adaptacji. To z kolei wymaga od firm podkreślenia celu i wartości w przywództwie, poprawy zaangażowania interesariuszy oraz zmiany łańcuchów dostaw. Przede wszystkim jednak firmy muszą przyjąć myślenie długoterminowe oraz nowe i zrównoważone modele biznesowe i zachowania.
Prawdziwa odporność nie polega na wytrzymaniu trudnych warunków, ale raczej na zrobieniu tego, co trzeba, aby odnieść sukces na poziomie organizacyjnym i systemowym. Odporność wynika nie tylko z niezawodnego dostępu do surowców i wydajności operacyjnej, ale także z rozpoznania i ochrony ogromnych inwestycji i wartości, jakie można znaleźć w wykwalifikowanej i zdrowej sile roboczej oraz tętniących życiem społecznościach. Wymaga ochrony i wzmocnienia żywotnych ekosystemów oraz zapewnienia silnych instytucji, przejrzystych rządów prawa oraz zdrowych budżetów krajowych i lokalnych. Oznacza to uznanie kluczowej roli innowacji w tworzeniu wartości w obliczu wyzwań i zakłóceń.
COVID-19 zmusza firmy do ponownego wyobrażenia sobie swojej odporności. Zamiast próbować wzmocnić swoją zdolność do opierania się zmianom, firmy muszą nauczyć się dostosowywać jako pracodawcy, twórcy wartości dla akcjonariuszy i zaufani członkowie (i służący) społeczności na całym świecie.
Z angielskiego przetłumaczyła Marz McNamer