De waterstof-oplossing
RHINECLIFF, NY – Over de hele wereld worden regeringen en bedrijven voortdurend opgeroepen grote investeringen te doen in wind- en zonne-energie, geothermische energie en biobrandstoffen. Maar in de Verenigde Staten, anders dan in Europa en Azië, wordt nauwelijks gediscussieerd over waterstofenergie en brandstofcellen als technologieën die het hele systeem zullen veranderen. Dat moet veranderen: deze schone, hernieuwbare energiebronnen beloven niet alleen de emissieloze opwekking van elektriciteit, maar ook emissieloze brandstof voor auto's en vrachtwagens, de grootste vervuilers van allemaal.
Ondertussen hebben velen gehoord van de plannen van de grote autoproducenten – waaronder Honda, Toyota en Hyundai – om rond 2015 op de markt te komen met auto's die op waterstofbrandstofcellen rijden. Daimler, Ford en Nissan willen in 2017 dat soort auto's introduceren. Duitsland wil vóór 2015 minstens vijftig waterstoftankstations bouwen als het begin van een nationaal netwerk, en Japan en Korea hebben soortgelijke plannen aangekondigd.
Maar de grotere en grotendeels onbelichte boodschap is dat sommige Europese landen, in het bijzonder Duitsland, projecten hebben gelanceerd die duurzame energiebronnen als zonlicht en wind combineren met waterstof voor de opslag van energie, waardoor schone, emissieloze en stabiele elektriciteitsnetwerken mogelijk zijn, die geen steenkool, olie of kernenergie vergen.
Uit een nieuw onderzoek van twee Amerikaanse wetenschappers, Willett Kempton en Cory Budischak, blijkt dat de combinatie van duurzame energiebronnen en waterstofopslag in 2030 een groot elektriciteitsnetwerk van stroom moet kunnen voorzien tegen kosten die vergelijkbaar zijn met die van vandaag de dag. Kempton en Budischak hebben een computermodel voor wind- en zonne-energie en de opslag daarvan ontworpen, dat in de vraag van een vijfde van het Amerikaanse netwerk kan voorzien. De resultaten van dit onderzoek weerspreken "de conventionele wijsheid dat duurzame energie te onbetrouwbaar en te duur is," zegt Kempton. "Als we bijvoorbeeld waterstof voor de opslag gebruiken," aldus Budischak, "kunnen we 99,9% van de tijd een elektriciteitsnetwerk laten draaien dat vandaag de dag zou voorzien in een behoefte van 72 gigawatt, met behulp van 17 gigawatt aan zonne-energie, 68 gigawatt aan wind van zee en 115 gigawatt aan wind op het vasteland."
Hun onderzoek biedt wetenschappelijke steun aan diverse projecten die nu in Europa worden ontwikkeld en bedoeld zijn om te bewijzen dat waterstofgas, via elektrolyse uit water gewonnen – zie het als aardgas zonder de vervuilende koolstof – en bijvoorbeeld in ondergrondse zoutkoepels opgeslagen, de schommelingen kan gladstrijken die zich voordoen bij het winnen van zonne- en windenergie. Daarbij wordt deels voortgeborduurd op twee recente onderzoeken van de Stanford Universiteit en het Carnegie Instituut die tot de conclusie komen dat – zoals atmosfeeronderzoeker Ken Caldeira van Carnegie het zegt – "er meer dan genoeg energie in wind aanwezig is om de hele beschaving van energie te voorzien."
De jongste poging, die volgens plan dit jaar net buiten Brussel van start moet gaan, wordt het "Don Quichote"-project genoemd ("Demonstration of New Qualitative Innovative Concept of Hydrogen Out of wind Turbine Electricity" – "Demonstratie van het Nieuwe, Kwalitatief Vernieuwende Concept van Waterstof uit de Elektriciteit van Windturbines"), ontworpen voor de opslag en transport van energie op grote schaal, en voor het leveren van energie aan vorkheftrucks die op brandstofcellen rijden. Partners in het project zijn een Belgische supermarktketen, de Europese Commissie en diverse Europese organisaties en bedrijven. Het Canadese Hydrogenics levert het elektrolyse-apparaat en een brandstofcel.
Introductory Offer: Save 30% on PS Digital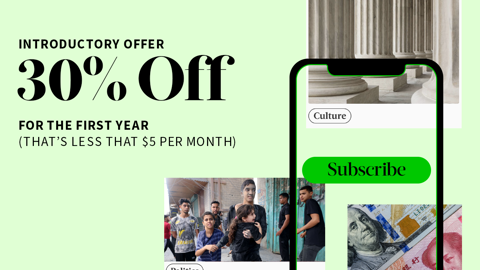 Introductory Offer: Save 30% on PS Digital
Subscribe now to gain greater access to Project Syndicate – including every commentary and our entire On Point suite of subscriber-exclusive content – starting at less than $5 per month.
Intussen hebben vijf bedrijven in december in de buurt van Berlijn een pilotproject van €10 mln gelanceerd bij de grootste Berlijnse luchthaven Schönefeld. Daarbij wordt een bestaand waterstoftankstation uitgebreid en CO2-neutraal gemaakt, door het aan te sluiten op een nabijgelegen windfarm. Eerder vorig jaar hebben twee Duitse nutsbedrijven, Thüga en E.ON, twee proeffabrieken voor waterstofgas aangekondigd. En 's werelds eerste fabriek waar zowel elektriciteit wordt geproduceerd als waterstof waarop auto's kunnen rijden, is in het najaar van 2011 opgestart.
Het jaar daarvoor had de Duitse bondskanselier Angela Merkel zelf de eerste steen gelegd voor deze fabriek, waarmee ze een krachtig signaal afgaf over de ernst van de Duitse koerswijziging in de richting van schone, duurzame energie. Deze opmerkelijke Energiewende, die zij in 2010 had aangekondigd, is waarschijnlijk een van de meest stoutmoedige stappen op dit terrein tot nu toe.
Volgens auteur en milieu-activist Bill McKibben staat Duitsland in de frontlinie van de strijd tegen de klimaatverandering: "Het heldere alternatief en het beste nieuws uit 2012 kwamen uit Duitsland, het enige grote land dat klimaatverandering serieus heeft genomen … Er zijn de afgelopen zomer dagen geweest waarop [de Duitsers] ruim de helft van de door hen gebruikte elektriciteit uit zonnepanelen hebben gehaald." Waterstoftechnologie zal een integraal onderdeel zijn van het zich ontwikkelende, op duurzame en alternatieve energie gebaseerde systeem van Duitsland.
De beweging van Duitsland in de richting van duurzame energie zal waarschijnlijk een veel bredere positieve invloed hebben. Een serie van zes artikelen, getiteld "The German Nuclear Exit" (De Duitse aftocht uit kernenergie) in het Bulletin of the Atomic Scientist betoogt dat het afscheid van kernenergie al "meetbare economische en ecologische voordelen oplevert."
In bredere zin betoogt Lutz Mez, politiek wetenschapper aan de Vrije Universiteit van Berlijn., dat de overstap van het land "de energietoevoer duidelijk heeft losgekoppeld van de economische groei" en dat de "zich ontvouwende Energiewende, méér dan de geleidelijke afbouw van kernenergie, aanhoudende hervormingen impliceert van het sociale, economische, technologische en culturele beleid in Duitsland."
Waar, zo vraag je je af, wachten de achterblijvende landen dan nog op?
Vertaling: Menno Grootveld