Vodíkové řešení
RHINECLIFF, NEW YORK – Vlády a firmy z celého světa jsou neustále vyzývány k velkým investicím do solární, větrné a geotermální energie a také do biopaliv. Ve Spojených státech však na rozdíl od Evropy a Asie prakticky chybí diskuse o vodíkové energii a palivových článcích jakožto systémových a převratných technologiích. To se musí změnit: tyto čisté a obnovitelné energetické zdroje slibují nejen energii základního zatížení s nulovými emisemi, ale i bezemisní palivo pro osobní a nákladní automobily, které jsou největšími znečišťovateli ze všech.
Mnoho lidí už slyšelo o plánech velkých automobilek, jako jsou Honda, Toyota nebo Hyundai, zahájit kolem roku 2015 komerční výrobu automobilů poháněných vodíkovými palivovými články. Daimler, Ford a Nissan se chystají přijít s těmito automobily zhruba v roce 2017. Německo má v plánu vybudovat do roku 2015 nejméně padesát vodíkových čerpacích stanic, které se stanou základem celostátní sítě. Japonsko a Korea ohlásily podobné záměry.
Ještě důležitějším, byť do značné míry nepovšimnutým poselstvím je zpráva, že některé evropské země, zejména Německo, zahájily projekty, které kombinují obnovitelné zdroje typu solární a větrné energie s vodíkem pro skladování energie, výsledkem čehož by byly čisté, bezemisní a stabilní energetické sítě, které by nepotřebovaly uhlí, ropu ani jadernou energii.
Podstatou nové studie dvou amerických vědců Willetta Kemptona a Coryho Budischaka je poznatek, že kombinace obnovitelných zdrojů a skladování vodíku by mohla do roku 2030 plně napájet velkou elektrickou síť při nákladech srovnatelných s dnešními. Kempton s Budischakem vyvinuli počítačový model větrné a solární energie kombinované se skladováním, který by dokázal uspokojit poptávku pro jednu pětinu americké sítě. Výsledek podle Kemptona nabourává "ustálený názor, že obnovitelná energie je příliš nespolehlivá a drahá". Budischak k tomu dodává, že "při využití vodíku ke skladování můžeme například provozovat elektrický systém, který by dnes po 99,9% času dokázal uspokojovat potřebu 72 gigawattů, přičemž by využíval 17 GW solární energie, 68 GW mořské větrné energie a 115 GW pevninské větrné energie".
Zmíněná studie poskytuje vědeckou oporu několika podobným projektům, které dnes probíhají v Evropě s cílem prokázat, že plynný vodík uvolněný při elektrolýze vody – můžeme si ho představit jako zemní plyn zbavený znečišťujícího uhlíku – a uskladněný například v podzemních solných jeskyních dokáže vyrovnávat kolísání výkonu, které je pro solární a větrnou energii charakteristické. Částečně se přitom opírá o dvě nedávné studie Stanfordovy univerzity a Carnegieho institutu, které dospěly k závěru, že – jak uvedl expert na atmosféru z Carnegieho institutu Ken Caldeira, "ve větru je obsaženo víc než dost energie na to, aby stačila pro celou civilizaci".
Zatím poslední iniciativa, která má letos proběhnout nedaleko od Bruselu, dostala roztomilý název "Projekt Don Quichote" ("Demonstrace nového, kvalitativně novátorského konceptu vodíku a elektřiny z větrných turbín"). Jejím cílem je zaměřit se na skladování a dopravu energie v průmyslovém měřítku a poskytnout energii pro vysokozdvižné vozíky s palivovými články. Partnery projektu jsou jeden belgický potravinářský řetězec, Evropská komise a různé evropské organizace a firmy. Elektrolyzér a palivový článek poskytne kanadská společnost Hydrogenics.
Introductory Offer: Save 30% on PS Digital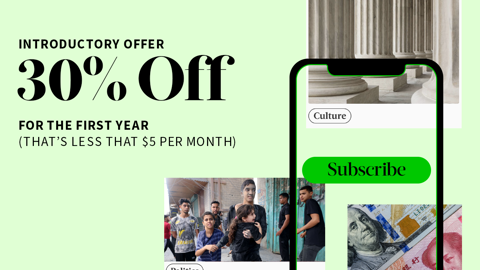 Introductory Offer: Save 30% on PS Digital
Subscribe now to gain greater access to Project Syndicate – including every commentary and our entire On Point suite of subscriber-exclusive content – starting at less than $5 per month.
Jiných pět firem zahájilo v prosinci na hlavním berlínském letišti Schönefeld pilotní projekt v objemu 10 milionů eur, který má rozšířit tamní vodíkovou čerpací stanici a učinit ji CO2 neutrální tím, že ji napojí na nedalekou větrnou farmu. A dvě německé energetické společnosti Thüga a E.ON zase počátkem loňského roku oznámily výstavbu dvou demonstračních plynových elektráren. Na podzim roku 2011 pak zahájila provoz první hybridní elektrárna na bázi obnovitelné energie a vodíku na světě, která vyrábí elektřinu a současně vodík jako palivo pro automobily.
Základní kámen elektrárny položila o rok dříve sama německá kancléřka Angela Merkelová, čímž dala velmi silně najevo, že to s přechodem Německa na čistou obnovitelnou energii myslí vážně. Tolik citovaný Energiewende neboli "energetický obrat", který v roce 2010 oznámila, je pravděpodobně jedním z nejsmělejších počinů ekologického státnictví v dějinách.
Podle spisovatele a ekologa Billa McKibbena stojí Německo v popředí mezinárodního boje proti klimatickým změnám: "Jasná alternativa a nejlepší zpráva za rok 2012 přišla z Německa, velké země, která bere klimatické změny vážně… Loni v létě [Němci] několik dní vyráběli více než polovinu spotřebované energie ze solárních panelů." Vodíková technologie přitom bude nedílnou součástí rozvíjejícího se německého systému založeného na obnovitelné a alternativní energii.
Příklon Německa k obnovitelné energii bude mít pravděpodobně mnohem širší pozitivní dopad. V sérii šesti článků s názvem "Německý odchod od jádra", která vyšla ve věstníku Bulletin of the Atomic Scientist, se tvrdí, že odklon od jaderné energie má už dnes "měřitelný ekonomický a ekologický přínos".
Lutz Mez, politolog Svobodné univerzity Berlín, nabízí obecnější pohled: změna směřování země podle něj "viditelně přerušila spojitost mezi nabídkou energie a hospodářským růstem" a "rozvíjející se Energiewende namísto pouhého jaderného útlumu" přinese "trvalé reformy sociální, hospodářské, technologické a kulturní politiky v Německu".
Na mysl se tak dere otázka: na co ještě zaostávající země čekají?
Z angličtiny přeložil Jiří Kobělka.