Le dangereux fantasme de l'indépendance énergétique
La tendance des pays importateurs de pétrole est aujourd'hui à la recherche de l'indépendance énergétique. C'est une stratégie paradoxale, car elle accroît en réalité l'insécurité de leur approvisionnement en énergie. Les hommes politiques qui appellent à l'indépendance énergétique préféreraient sans doute qu'il en soit autrement, mais c'est le marché qui a fait du pétrole une source d'énergie de première importance. Aussi, seraient-ils avisés de tenir compte tant des moyens à mettre en oeuvre pour parvenir à cette indépendance que de l'intérêt légitime des pays exportateurs de pétrole et de leur réaction à la rhétorique sur l'indépendance énergétique. Les dirigeants isolationnistes ne veulent peut-être pas en compte les autres pays, mais ils devraient y réfléchir à deux fois avant de se lancer sur une voie nuisible à leur propre pays.
Les plus grandes menaces qui pèsent sur la sécurité énergétique de la planète ne sont ni les attentats terroristes ni un embargo des pays producteurs - des événements à court terme auxquels il est possible de réagir rapidement et efficacement, notamment par le recours aux réserves stratégiques de pétrole, une augmentation de la production et une diversion des circuits d'approvisionnement. En réalité, la principale menace à long terme est le déséquilibre entre d'une part l'augmentation de la demande en énergie et d'autre part l'investissement en infrastructure et en capacité de production supplémentaire.
En réponse à la stratégie des pays importateurs pour réduire leur dépendance à l'égard du pétrole ou s'en affranchir, les principaux pays producteurs pourraient réagir d'une manière qui risque d'envenimer la situation de l'énergie au niveau international, en décidant d'une baisse relative des investissements en capacité de production.
Dans ce cas de figure, une crise de l'énergie est quasi inévitable si ceux qui en appellent à l'indépendance énergétique n'apportent pas une solution alternative applicable en temps et en heure. Mais les solutions de remplacement ne parviendront sans doute pas à se substituer au pétrole suffisamment tôt, car n'étant pas soutenues par le marché, elles devront être fortement subventionnées.
La rhétorique hostile des dirigeants politiques incite les pays exportateurs à augmenter leur production de manière à faire tomber les prix à un niveau qui réduira à néant la faisabilité économique des projets d'énergies alternatives - une politique interventionniste logique pour contrer la politique interventionniste des pays importateurs. Une chute des cours du pétrole serait une condamnation à mort pour nombre de technologies de remplacement et augmenterait la demande en or noir.
Même si les pays producteurs ne font pas chuter volontairement le cours du pétrole, ils pourraient à coût terme accroître au maximum la production, pendant que le pétrole a encore de la valeur. Mais une baisse des cours, couplée avec l'attente d'une baisse de la demande conduirait les pays producteurs à diminuer leurs investissements en capacité de production ou même à suspendre les projets les plus importants, comme ils l'ont fait dans le passé, ce qui conduira à une baisse de production. Aussi, si les sources d'énergie alternatives ne sont pas disponibles lorsque la production de pétrole baissera, la pénurie mondiale sera inévitable. Et combler le déficit en matière d'investissement prendra des années, même en cas de hausse des cours.
Subscribe to PS Digital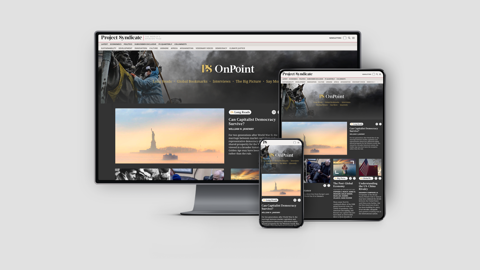 Subscribe to PS Digital
Access every new PS commentary, our entire On Point suite of subscriber-exclusive content – including Longer Reads, Insider Interviews, Big Picture/Big Question, and Say More – and the full PS archive.
Mettons de coté ces scénarios et plaçons nous dans le cas de la réussite de la politique d'indépendance énergétique, plusieurs pays européens, les USA, le Japon, la Chine et l'Inde devenant autosuffisants. Comme le pétrole aura perdu sa valeur, les principaux pays producteurs pourraient l'utiliser sur le plan intérieur pour accroître leur industrie lourde. Au lieu d'exporter directement leur pétrole, ils produiraient et exporteraient des métaux, des produits chimiques et des produits manufacturés, notamment vers l'Europe et les USA. Leur prix défierait toute concurrence en raison de la dépendance des pays importateurs à l'égard de sources d'énergie alternatives très coûteuses.
L'indépendance énergétique conduirait alors au démantèlement d'industries entières, dans le secteur de la pétrochimie, de l'aluminium et de l'acier. Le pétrole bon marché des pays producteurs pourrait rendre leurs nouvelles industries compétitives à l'égard de celles de la Chine, de l'Inde et de l'Asie du Sud-Est. Il en résultera une montée du chômage et des économies affaiblies. L'indépendance énergétique pourrait ouvrir la voie à la dépendance à l'égard de l'acier ou de la pétrochimie.
Que nous réserve l'avenir ? Les dirigeants politiques, avec leur fascination pour ampquot;l'indépendanceampquot;, vont-ils essayer d'éliminer la dépendance à l'égard de différentes matières premières, les unes à la suite des autres ? Autrement dit, la cause de ampquot;l'indépendance énergétiqueampquot; va-t-elle renverser le cours de la mondialisation ?
Le pétrole est une ressource finie. Seule une stratégie énergétique viable à long terme et appuyée sur le marché peut assurer la croissance à la fois dans les pays producteurs et dans les pays consommateurs. Les politiques isolationnistes conduisent toujours à la pénurie et au mécontentement. Quelle que soit la voie empruntée pour tenter de parvenir à l'indépendance énergétique, ce n'est jamais rien d'autre qu'un fantasme irréalisable et potentiellement dangereux.