Vrouwen in de groene economie
LAGOS/STOCKHOLM – In Ghana maakt een groep ondernemende vrouwen en jongeren fietsen uit een onwaarschijnlijk materiaal: bamboe. Tien boeren verbouwen de bamboe, en 25 arbeiders maken er milieuvriendelijke fietsen van die op Ghana's hobbelige wegen kunnen worden gebruikt of naar het buitenland kunnen worden geëxporteerd. Bernice Dapaah, de oprichter en CEO van Ghana Bamboo Bikes, is van plan binnenkort twee nieuwe fabrieken te openen, waardoor nog eens vijftig mensen in gemeenschappen met veel werkloosheid aan een baan worden geholpen.
Ghana Bamboo Bikes is slechts één voorbeeld van de doorslaggevende rol die vrouwen kunnen spelen bij het bewerkstelligen van de transitie naar duurzame economische groei en ontwikkeling. Maar dergelijke voorbeelden zullen wel steeds meer moeten samengaan als we een voorspoedige toekomst op een gezonde planeet willen bewerkstelligen. De wereld heeft behoefte aan meer vrouwelijke leiders op het gebied van het klimaat, of dat nu aan tafel is waar het beleid wordt uitgestippeld of aan het roer van bedrijven die naar duurzaamheid worden gestuurd
Als meer vrouwen werken, hebben economieën de neiging om te groeien. Volgens het World Economic Forum zorgt meer gender-gelijkheid, wat een beter gebruik van menselijk kapitaal inhoudt, voor een hoger bbp per hoofd van de bevolking, meer concurrentiekracht en een betere menselijke ontwikkeling. Het verkwisten van dit kapitaal heeft het omgekeerde effect: het United Nations Development Programme meldt dat de gender-ongelijkheid in het ten zuiden van de Sahara gelegen deel van Afrika, om maar één voorbeeld te noemen, jaarlijks gemiddeld $95 mrd (of 6% van het bbp) kost.
Toch worden vrouwen in de hele wereld nog steeds met een enorme gender-kloof op het gebied van werkgelegenheid en lonen geconfronteerd. Het percentage vrouwen dat participeert in de mondiale beroepsbevolking heeft sinds 1990 rond de 50% geschommeld, terwijl dat bij mannen ruim 75% is. En in de meeste landen verdienen de vrouwen die werken gemiddeld slechts 60 tot 75 cent van iedere dollar die mannen verdienen.
Om de economische groei en ontwikkeling te steunen moeten we het potentieel van alle werkers aanboren, en vrouwen mogelijkheden geven om niet alleen te verdienen, maar ook leiding te geven. Vrouwen moeten meer armslag krijgen, en hun rol in de economie moet worden veranderd. Wat is een beter moment om dit te bewerkstelligen dan het huidige, nu de wereld een nieuwe economische transformatie beleeft, in de richting van een groene economie?
In feite zou het transformeren van de rol van vrouwen in de economie zelfs nog urgenter kunnen zijn in de context van de klimaatverandering. Traditionele verschillen qua verantwoordelijkheid betekenen dat mannen en vrouwen dikwijls op verschillende manieren worden geraakt door klimaatverandering, met name in de ontwikkelingslanden.
Subscribe to PS Digital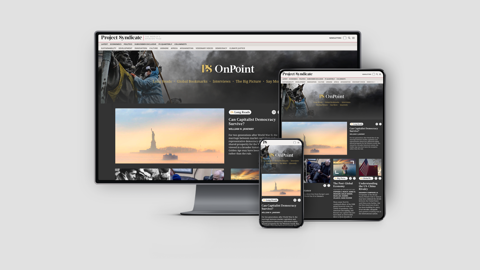 Subscribe to PS Digital
Access every new PS commentary, our entire On Point suite of subscriber-exclusive content – including Longer Reads, Insider Interviews, Big Picture/Big Question, and Say More – and the full PS archive.
Omdat het waarschijnlijker is dat mannen loonarbeid verrichten of commerciële gewassen verbouwen op boerderijen, kan een door de klimaatverandering veroorzaakte gebeurtenis als droogte hen hun inkomen kosten en hen dwingen naar de stad te verhuizen om werk te zoeken. Vrouwen, die vaak verantwoordelijk zijn voor het verbouwen van gewassen voor eigen gebruik en zorg dragen voor het gezin, hebben die mogelijkheid niet.
In plaats daarvan moeten vrouwen naar alternatieve manieren zoeken om plaatselijk voor voedsel te zorgen en inkomsten te genereren om hun gezin te ondersteunen, zoals de verkoop van kleine bezittingen of zelfs het van school halen van hun kinderen om te helpen. De problemen waarmee vrouwen worden geconfronteerd worden nog verscherpt in regio's waar vrouwen iedere dag al uren kwijt zijn aan het regelen van drinkwater, en waar veranderende patronen van regenval vrouwen kunnen dwingen daar zelfs nog verder voor te moeten reizen.
Tegen deze achtergrond is het van cruciaal belang dat vrouwen de kansen kunnen grijpen die hen door de transitie naar een duurzame economie worden geboden. Veranderingen op vier kerngebieden kunnen daarbij bijzonder waardevol blijken.
In de eerste plaats moeten vrouwen betere toegang krijgen tot het financiële systeem. In het beneden de Sahara gelegen deel van Afrika is het 30% waarschijnlijker dat mannen een bankrekening hebben dan vrouwen. Om deze kloof te sluiten, moeten we leen- en spaarinstrumenten ontwerpen met flexibeler voorwaarden, die werken voor vrouwen. Hiertoe behoort bijvoorbeeld de uitbreiding van microkredieten – een aanpak die vrouwen in veel landen al in staat heeft gesteld ondernemer te worden.
Voor het bewerkstelligen hiervan is het nodig dat nog immer sceptische crediteuren ervan worden overtuigd dat vrouwen betrouwbare – en inderdaad waardevolle – cliënten zijn, ook door het verwijzen naar gegevens over microkredieten, waaruit blijkt dat vrouwen leningen net zo stipt afbetalen als mannen, zo niet stipter. Als vrouwen eenmaal toegang verkrijgen tot het financiële systeem, kunnen ze kleine bedrijfjes oprichten en daarin investeren, terwijl ze zich zekerder voelen om hun spaargeld aan te spreken als ze met noodgevallen worden geconfronteerd.
In de tweede plaats moeten vrouwen gelijke rechten krijgen om land te bezitten. Eigendom van land – of dat nu mede-eigendom is, in het geval van getrouwde vrouwen, of individueel eigendom, in het geval van alleenstaande vrouwen – betekent niet alleen een verbetering van de economische zekerheid en productiviteit, maar vergroot ook de toegang tot traditionele financiering. Met een formele claim op het land dat zij bebouwen zullen vrouwen ook eerder investeren in de vruchtbaarheid van de bodem, waardoor ze bijdragen aan productievere en duurzamere patronen van grondgebruik.
In de derde plaats hebben vrouwen behoefte aan beleid dat hun actieve participatie in de opkomende groene economie ondersteunt, zoals beter onderwijs, training van specifieke vaardigheden en bescherming tegen discriminatie op de werkvloer. Omdat de schone energie-sector zo nieuw is, kan deze ertoe bijdragen vrouwen naar niet-traditionele, beter betaalde banen te trekken in bijvoorbeeld de technologie.
Tenslotte moeten vrouwen ook meer politieke macht krijgen. Als de halve bevolking niets te zeggen heeft over politieke beslissingen, lijdt de legitimiteit van de beleidsvorming daaronder. Vrouwen kunnen een belangrijke rol spelen nu regeringen prikkels en regels introduceren om de overgang naar een duurzame, inclusieve economie te ondersteunen.
Zelfs zonder die steun grijpen vrouwen al de kansen die door deze transitie worden geboden. Solar Sister is een sociale onderneming, die banen heeft geschapen voor 2500 vrouwen die betaalbare verlichting op zonne-energie verkopen in Nigeria, Tanzania en Oeganda. Lumos, een ander bedrijf dat in zonne-energie handelt, helpt vrouwelijke ondernemers in Nigeria zich te ontplooien.
Maar vrouwen vormen nog steeds niet een omvangrijk genoeg deel van de werkers in de schone technologiesector. En de vrouwen die al wél in die sector werkzaam zijn, staan doorgaans laag op de banenladder. Voor het veranderen daarvan – zodat alle burgers in staat worden gesteld hun economische potentieel te verwezenlijken – zullen actieve inspanningen nodig zijn om de sociale en politieke participatie van vrouwen te bevorderen.
Het sluiten van de gender-kloof is het juiste ding om te doen voor vrouwen en de planeet. Ook economisch gezien is het verstandig. Laten we die kans niet voorbij laten gaan.
Vertaling: Menno Grootveld