Ženy v zelené ekonomice
LAGOS/STOCKHOLM – V Ghaně vyrábí skupina podnikajících žen a mladých lidí kola z nezvyklého materiálu: bambusu. Deset farmářů pěstuje bambus a 25 stavitelů ho mění na ekologická jízdní kola, která mohou být použita na hrbolatých cestách Ghany, či exportována do světa. Bernice Dapaah, zakladatelka a CEO Ghana Bamboo Bikes, plánuje brzy otevřít dvě nové továrny a přidat 50 dalších pracovních míst do společenství, ve kterém je vysoká nezaměstnanost.
Ghana Bamboo Bikes je pouze jedním příkladem toho, jak mohou ženy hrát významnou roli při řízení přechodu směrem k udržitelnému ekonomickému růstu a rozvoji. Takové příklady se hodí, pokud chceme zajistit prosperující budoucnost na zdravé planetě. Svět potřebuje více žen zabývajících se klimatem, ať již za stoly, na kterých se tvoří politika, či u kormidla businessů, které povedou k udržitelnosti.
Když je v práci více žen, ekonomika roste. Podle Světového ekonomického fóra pozitivně koreluje větší rovnost pohlaví s per capita HDP, soutěživostí a lidským rozvojem. Prohýření tohoto kapitálu má opačný efekt: Rozvojový program OSN uvádí, že rovnost pohlaví v subsaharské Africe, například, stojí v průměru 95 miliard dolarů (nebo 6% HDP) ročně.
Ženy na celém světě však stále čelí masivnímu genderovému rozdílu v zaměstnání a platech. Podíl žen, které participují v globální pracovní síle, balancuje od roku 1990 okolo 50%, v porovnání s více než 75% u mužů. A ve většině zemí vydělávají pracující ženy v průměru pouze 60-75 centů na každý dolar, který vydělá muž.
K podpoře ekonomického růstu a rozvoje potřebujeme zajistit využití potenciálu všech pracovníků, a dát ženám příležitosti nejen vydělávat, ale také vést. Postavení žen musí být posíleno a jejich role v ekonomice změněna. Není lepšího momentu, jak toho dosáhnout, než nyní, kdy se svět snaží o další ekonomickou transformaci směrem k zelené ekonomice.
Transformace ženské role v ekonomice by mohla být dokonce mnohem naléhavější a to díky klimatické změně. Tradiční rozdělení odpovědnosti znamená, že jsou muži a ženy často klimatickou změnou zasaženi rozdílně, zejména v rozvojových zemích.
Subscribe to PS Digital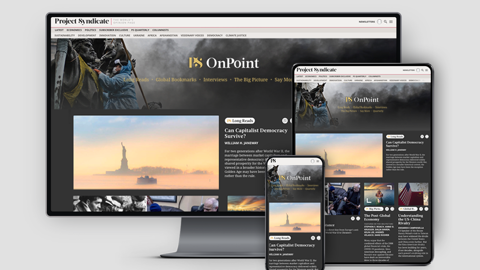 Subscribe to PS Digital
Access every new PS commentary, our entire On Point suite of subscriber-exclusive content – including Longer Reads, Insider Interviews, Big Picture/Big Question, and Say More – and the full PS archive.
Vzhledem k tomu, že pro muže je pravděpodobnější odvádět vedoucí práci či farmařit pro zisk, klimatická událost jako sucho je může připravit o příjmy a donutit odejít za prací do měst. Ženy, které jsou často odpovědné za pěstování místních živočišných plodin a péči o rodinu, jinou možnost nemají.
Namísto toho musí ženy najít alternativní způsoby obživy a příjmu pro rodinu lokálně, například prodejem menší části majetku či uvolnění dětí ze škol, aby mohly pomáhat doma. Výzvy, kterým ženy čelí, jsou horší v regionech, kde ženy tráví hodiny denně tím, že se snaží zajistit pitnou vodu a měnící se srážkové vzorce mohou ženy přinutit za ní cestovat ještě dále.
Ve světle toho je klíčové umožnit ženám chopit se příležitosti, kterou reprezentuje přechod k udržitelné ekonomice. Jako mimořádně cenné by se mohly ukázat změny v následujících čtyřech oblastech.
Za prvé, ženy potřebují lepší přístup k finančním systémům. V subsaharské Africe mají muži o 30% větší pravděpodobnost, že budou mít bankovní účet. Abychom tento rozdíl zmenšili, musíme vytvořit úvěrové a spořící mechanismy, které budou mít flexibilnější požadavky a budou tak fungovat i pro ženy. To zahrnuje kupříkladu i expanzi mikroúvěrů – přístup, který již ženám v mnoha zemích umožnil podnikání.
Aby se toho dosáhlo, je třeba přesvědčit věčně skeptické věřitele, že ženy jsou spolehlivými – a také cennými – klienty, včetně uvedení údajů o mikroúvěru, který prokáže, že ženy splácejí půjčky stejně spolehlivě jako muži, ne-li spolehlivěji. Jakmile ženy získají přístup k finančním systémům, mohou vytvořit či investovat do malých businessů, zatímco se budou cítit bezpečněji při čerpání úspor, když budou vystaveny mimořádným událostem.
Za druhé, ženy potřebují stejná práva na půdu. Vlastnictví půdy – ať již společné v případě vdané ženy, či výhradní vlastnictví svobodné ženy v čele domácnosti – nejenom že zlepšuje ekonomickou bezpečnost a produktivitu, ale také zlepšuje přístup k tradičním financím. S formálním nárokem na půdu, na které farmaří, je pravděpodobnější i jejich investice do úrodnosti půdy, čímž přispějí k produktivnějším a udržitelnějším vzorcům užívání půdy.
Za třetí, ženy potřebují politická opatření, která podporují jejich aktivní podíl v rodící se zelené ekonomice, včetně lepšího vzdělávání, výcviku dovedností a ochraně proti diskriminaci na pracovišti. Vzhledem k tomu, že je čistý průmysl tak nový, mohlo by to ženám pomoci dostat se do méně tradičních a lépe placených pracovních pozic, jako je inženýrství.
No a konečně, postavení žen musí být posíleno na politické úrovni. Pokud polovina populace nemá žádné slovo v politických rozhodnutích, trpí tím legitimita tvorby politiky. Ženy mohou hrát podstatnou roli při vládní implementaci pobídek a regulací, které podporují přechod k udržitelnější a inkluzivnější ekonomice.
I bez této podpory si již ženy chopily příležitosti, kterou tato přeměna nabízí. Solar Sister je sociální obchod, který vytvořil pracovní pozice pro 2500 žen, které prodávají dostupné osvětlení napříč Nigérií, Tanzanií a Ugandou. Lumos, další solární varianta, podporuje ženy v podnikání v Nigérii.
Ženy však stále netvoří dostatečně velký podíl pracovnic v "čistém" průmyslu a ty, co v něm pracují, jsou obecně nízko na pracovním žebříčku. Změna – umožnění všem občanům naplnit svůj ekonomický potenciál – bude vyžadovat aktivní snahu o prosazení sociální a politické inkluze žen.
Uzavření genderové mezery je správná věc jak pro ženy, tak pro planetu. Je to také chytrý ekonomický tah. Nenechme si tuto příležitost ujít.