Paradoks Cula Badak di Afrika Selatan
JOHANNESBURG – Pada awal tahun ini, Mahkamah Konstitusi Afrika Selatan membatalkan moratorium perdagangan cula badak yang mulai diterapkan pada tahun 2009. Ini merupakan sebuah pukulan bagi kelompok konservasi hewan, yang telah menyerukan agar Afrika Selatan menyelaraskan kebijakan mereka dengan larangan perdagangan cula badak global yang telah diterapkan sejak tahun 1977.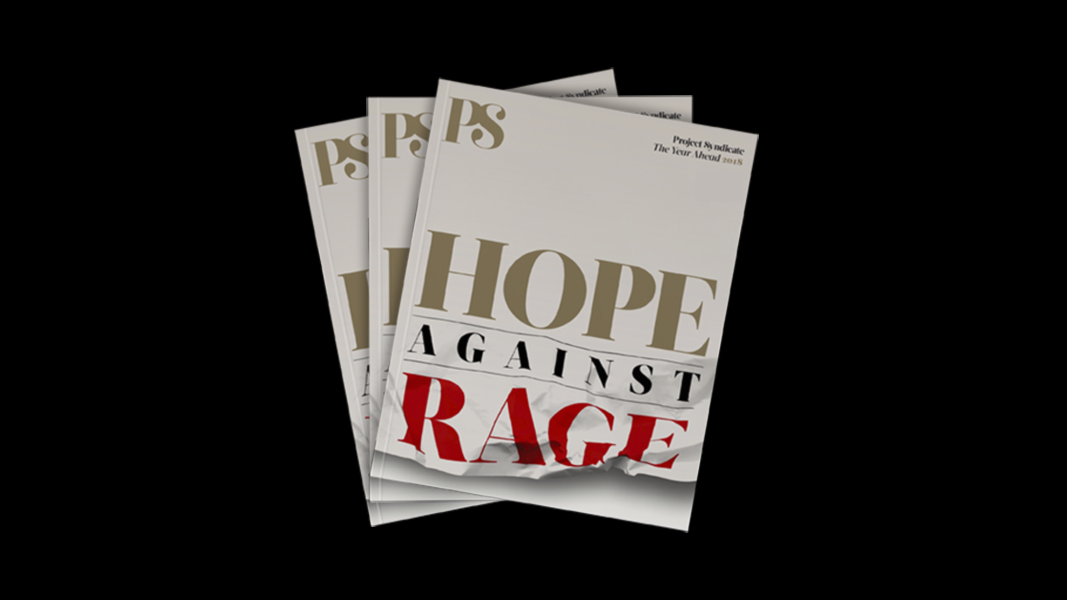 The Year Ahead 2018
The world's leading thinkers and policymakers examine what's come apart in the past year, and anticipate what will define the year ahead.
Setelah pembatalan dilakukan, para peternak komersil dan kelompok pembela hak asasi hewan dihadapkan pada sebuah pertanyaan penting: mungkinkah adanya pasar cula badak yang dihasilkan dari peternakan dapat mengurangi pandemik perburuan liar yang membunuh 1,500 badak liar setiap tahunnya?
Bagi industri badak di Afrika Selatan, keputusan Mahkamah Konstitusi ini merupakan sebuah titik balik. John Hume, yang merupakan peternak badak paling sukses di dunia, mengadakan lelang daring pertama di negara tersebut pada bulan Agustus. Hume menulis argumen pada situs daring online tersebut bahwa "terdapat permintaan yang tinggi akan cula badak dan perdagangan yang legal berpotensi untuk memenuhi permintaan tersebut sehingga mencegah perburuan liar."
Kelompok yang menentang perdagangan tersebut mengatakan bahwa permintaan cula badak dapat meningkat sebagai dampak dari legalisasi, yang menghidupkan kembali permintaan akan hal tersebut. Peningkatan permintaan dapat melebihi jumlah pasokan komersil, dan menyebabkan lebih banyak perburuan satwa liar. Kritikus kebijakan ini juga mengkhawatirkan bahwa berakhirnya larangan perdagangan akan menghilangkan stigma sehubungan dengan kepemilikan cula badak, yang berdampak pada semakin meningkatnya permintaan.
Para peternak dan pedagang seperti Hume mengakui bahwa permintaan "tidak akan menurun dalam waktu dekat". Namun mereka berargumen karena cula merupakan sumber daya terbarukan – cula akan kembali tumbuh ketika dipotong, meskipun tumbuh secara perlahan – maka yang sebenarnya diperlukan oleh Afrika Selatan adalah insentif untuk mendorong peternakan dan konservasi yang bertanggung jawab. " Jika kita tidak mengambil langkah untuk memenuhi permintaan yang ada," Hume berpendapat bahwa, "kita tidak akan bisa menyelamatkan badak."
Kita masih belum mengetahui bagaimana keputusan mahkamah konstitusi akan berdampak pada permintaan cula yang dianggap mempunyai khasiat medis diseluruh negara-negara di Asia. Namun jelas bahwa menaruh terlalu banyak kepercayaan terhadap pendekatan konservasi komersial adalah sebuah hal yang beresiko. Bukti-bukti menunjukkan bahwa meskipun peternakan badak mempunyai peluang di pasar terbatas, hal ini tidak akan mencegah perburuan badak liar.
Upaya serupa untuk melindungi hewan liar melalui peternakan telah mengalami kegagalan. Misalnya saja, sebuah penelitian pada tahun 2010 di Vietnam menunjukkan bahwa peternakan komersial landak, yang merupakan sumber daging yang populer, di Asia Tenggara tidak secara drastis menurunkan tingkat perburuan landak liar. Hal yang sama juga terjadi pada pergadangan gading gajah, empedu beruang, dan wewangian dari rusa jantan. Permintaan terhadap produk-produk dari hewan liar ini jauh melebihi jumlah pasokan yang secara realistis bisa dihasilkan oleh peternakan komersil.
Program peternakan komersil juga tidak diuntungkan dengan adanya persepsi pembeli yang menganggap bahwa produk yang dihasilkan oleh hewan liar lebih berharga. Seperti yang dituliskan oleh peneliti dari Universitas Johannesburg, Lauran Tensen, "hewan liar dianggap lebih unggul karena kelangkaan mereka dan tingginya biaya yang diperlukan untuk mendapatkan hewan tersebut."
Anggapan ini berlaku untuk cula badak. Para pemburu liar sering membuktikan keaslian produk terlarang mereka pada pembeli dengan menunjukkan cula yang telah dipotong dari dasar tengkorak badak, hal ini merupakan sebuah metode pengambilan cula yang menyebabkan kematian badak. Hanya konsumen yang memiliki hati nurani yang akan memastikan bahwa cula yang mereka beli berasal dari peternak yang memiliki izin.  
Secara historis, perburuan juga kebal terhadap fluktuasi harga eceran cula badak. Agar mekanisme harga dapat menghapuskan perburuan liar, maka jumlah permintaan harus mencapai angka yang sangat rendah. Dengan adanya peningkatan permintaan, dan tidak adanya batasan harga yang dapat mendorong peternakan badak, intervensi dari sisi pasokan sepertinya tidak akan efektif dalam melindungi badak liar. Saat ini, cula badak dijual seharga $60,000 per kilogram di beberapa negara di Asia.
Para peternak yakin bahwa dengan sistem perizinan dan teknologi pendeteksian akan membuat cula legal dapat diidentifikasi, sehingga aparat penegak hukum dapat mencegah cula ilegal untuk diperdagangkan, dan perdagangan dalam negeri dapat mengurangi tekanan yang ada pada populasi badak liar. Namun argumen ini bergantung pada sejumlah hal, yang pada saat ini, masih belum menjadi kenyataan.   
Sebagai permulaan, peternakan komersil akan sukses jika cula yang dihasilkan dipandang sebagai produk pengganti dari cula dari satwa liar. Namun para peneliti seperti Tensen melaporkan bahwa hal ini tidak akan terjadi dalam jangka waktu dekat, karena produk yang berasal dari satwa liar dianggap memiliki kualitas yang lebih baik. 
Upaya penegakan hukum juga perlu ditingkatkan untuk mendeteksi pasokan illegal dan membongkar jaringan yang menyamarkan produk ilegal sebagai produk legal. Namun sayangnya, sindikat ilegal yang menyelundupkan produk satwa liar, yang seringkali mendapatkan bantuan dari pejabat pemerintah, sangat mahir dalam menghindari deteksi. 
Dan akhirnya, argument pro peternakan berasumsi bahwa peternak komsersil pada akhirnya akan memasok cula dengan harga yang lebih rendah dibandingkan dengan pemburu liar. Namun peternakan membutuhkan biaya yang tinggi. Misalnya saja para peneliti di Kalifornia, San Diego, telah menunjukkan bahwa badak putih jarang mempunyai keturunan yang subur di dalam kurungan. Lebih jauh lagi, cula badak muda hanya dapat tumbuh sekitar enam sentimeter dalam setahun, dan pertumbuhan ini melambat seiring dengan usia. 
Para peternak komersil membantah bahwa usaha mereka sama dengan "pengurungan", dan model peternakan Hume berupaya untuk mereplikasi kondisi alam liar sebisa mungkin. Namun jika peternakan merupakan solusi alternatif dari perburuan hewan liar, maka peternak lain juga harus mereplikasi kondisi tersebut. Oleh karena itu biaya akan jauh meningkat, dan tentunya akan terdapat beberapa jalan pintas yang diambil.
Meskipun para peternak sangat ingin mempertahankan usaha perdagangan mereka, para ekonom telah membuktikan salahnya mitos bahwa perdagangan legal dalam negeri akan melestarikan populasi badak liar. Meskipun pasokan dari peternakan di Afrika Selatan dapat memenuhi sebagian permintaan global, hal ini tidak akan mengubah permintaan dari konsumen yang menginginkan produk dari hewan liar, atau bagi konsumen yang tidak peduli akan asal dari produk yang mereka beli. Afrika Selatan kemungkinan akan mempunyai dua perdagangan yang berjalan secara paralel, dimana banyak produk ilegal yang disamarkan menjadi barang legal. Kondisi ini mungkin tidak menjadi masalah bagi para peternak, namun hal ini tidak masuk akal bagi mereka yang berupaya untuk melestarikan badak liar.