De neushoornparadox van Zuid-Afrika
JOHANNESBURG – Eerder dit jaar maakte het Zuid-Afrikaanse constitutionele hof het moratorium uit 2009 op de handel in de hoorn van neushoorns ongedaan. Dat was een verwoestende klap voor dierenbeschermingsorganisaties, die de maatregel destijds hadden verwelkomd omdat zij Zuid-Afrika op één lijn bracht met het mondiale handelsverbod dat sinds 1977 van kracht was.
Maar nu de betekenis van de uitspraak van het hof in volle omvang duidelijk wordt, staan commerciële fokkers en dierenrechtengroeperingen voor een cruciale vraag: zou de schepping van een legale markt voor de hoorn van gefokte neushoorns een stropers-pandemie kunnen beteugelen die jaarlijks aan zo'n 1500 wilde neushoorns het leven kost?
De uitspraak van het hof was voor de Zuid-Afrikaanse neushoornindustrie een waterscheiding. John Hume, 's werelds meest succesvolle neushoornfokker, heeft in augustus dit jaar de eerste online-neushoornveiling georganiseerd. Schrijvend op de website van de veiling betoogde hij dat "de vraag naar de hoorn van neushoorns hoog is, en deze vraag kan mogelijk bevredigd worden door de openlijke handel in de hoorn, zodat de stroopjacht op neushoorns kan worden voorkomen."
Tegenstanders van de handel zeggen dat de vraag naar hoorns kan toenemen als gevolg van legalisering, omdat een latente belangstelling erdoor kan worden wakker gekust. Deze groei zou het commerciële aanbod kunnen overtreffen en zelfs tot nóg meer illegale stroopjacht op wilde dieren kunnen leiden. Critici zijn ook bezorgd dat het beëindigen van het verbod ieder resterend stigma zal wegnemen dat verband houdt met het bezit van de hoorn, waardoor de vraag nog verder kan worden aangejaagd.
Fokkers en handelaren als Hume geven toe dat de vraag vermoedelijk "niet heel erg snel zal afnemen." Maar omdat de hoorn een duurzame grondstof is – de hoorns groeien terug als zij worden gekortwiekt, al is het tergend langzaam –, betogen zij Zuid-Afrika feitelijk behoefte heeft aan prikkels om het verantwoordelijk fokken en het verantwoordelijk natuurbeheer te bevorderen. "Als we geen stappen zetten om aan de vraag te voldoen," zo betoogt Hume, "dan zullen we de neushoorn niet kunnen redden."
We weten nog steeds niet hoe het besluit van het hof de vraag zal beïnvloeden naar een grondstof die in heel Azië wordt geprezen om zijn medicinale waarde. Het is echter duidelijk dat het hechten van te veel vertrouwen aan een commerciële aanpak van natuurbeheer riskant is. Bewijsmateriaal duidt erop dat het fokken van neushoorns wellicht een lucratieve nichemarkt-activiteit kan zijn, maar de stroopjacht op wilde neushoorns niet zal kunnen voorkomen.
Subscribe to PS Digital Now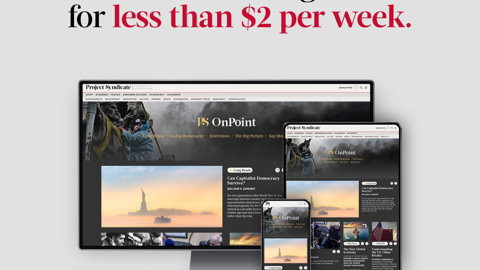 Subscribe to PS Digital Now
Access every new PS commentary, our entire On Point suite of subscriber-exclusive content – including Longer Reads, Insider Interviews, Big Picture/Big Question, and Say More – and the full PS archive.
Soortgelijke pogingen om wilde dieren te beschermen door ze te fokken zijn eerder tekort geschoten. Uit een onderzoek uit 2010 in Vietnam is bijvoorbeeld gebleken dat het commercieel fokken van het Zuidoost-Aziatische stekelvarken, een populaire bron van vlees, de jacht op wilde stekelvarkens niet dramatisch had doen afnemen. Het is hetzelfde verhaal voor olifantenivoor, berengal en muildierhertenmuskus. De vraag naar wilde producten is dikwijls veel groter dan wat commercieel fokken realistisch gezien kan bieden.
Commerciële fokprogramma's zijn nog verder in het nadeel vanwege de indruk van sommige kopers dat wilde producten waardevoller zijn. De aan de Universiteit van Johannesburg verbonden wetenschapper Laura Tensen heeft opgemerkt dat "wilde dieren superieur worden geacht wegens hun zeldzaamheid en hoge kosten."
Dat geldt vooral voor neushoorns. Stropers bewijzen dikwijls de waarachtigheid van hun illegale product door aan kopers hoorns te laten zien die van de schedelbasis zijn verwijderd, een methode waar het dier aan sterft. Slechts de meest gewetensvolle consument zou zich ervan vergewissen dat de hoorns die hij koopt afkomstig zijn van gecertificeerde fokkers.
Van oudsher is het stropen ook immuun geweest voor fluctuaties in de detailhandelsprijs van de hoorn van neushoorns. Als we het stropen via het prijsmechanisme willen elimineren, zal de vraag moeten afnemen. Nu de vraag echter feitelijk stijgt, en er geen drempelprijs is ter bevordering van het fokken, zullen interventies aan de aanbodzijde waarschijnlijk niet effectief zijn als het gaat om het beschermen van wilde neushoorns. Momenteel wordt de hoorn van neushoorns in delen van Azië voor wel $60.000 per kilo verkocht.
Fokkers zijn ervan overtuigd dat legale hoorn met behulp van vergunningssystemen en detectietechnologie geïdentificeerd kan worden, dat wetshandhavers kunnen voorkomen dat illegale hoorn in de handel wordt gebracht, en dat met binnenlandse handel de druk op wilde populaties kan worden verminderd. Maar deze argumenten zijn afhankelijk van een aantal voorwaarden die op dit moment louter in wensvorm bestaan.
Om te beginnen zal commercieel fokken alleen maar slagen als hoorn die afkomstig is van gefokte neushoorns als een goed substituut wordt beschouwd voor producten die afkomstig zijn van wilde dieren. Maar volgens onderzoekers als Tensen is dit op de korte termijn onwaarschijnlijk, gezien de hogere status die wordt gehecht aan producten van niet-gefokte dieren.
Ook de wetshandhavingspogingen zullen moeten worden uitgebreid om illegaal aanbod te ontdekken en witwaspraktijken tegen te gaan. Helaas slagen de illegale syndicaten die wildproducten smokkelen er dikwijls met behulp van overheidsfunctionarissen heel goed in om niet ontdekt te worden.
Tenslotte gaat de argumentatie vóór fokken ervan uit dat commerciële fokkers uiteindelijk hoorn zullen aanbieden tegen lagere prijzen dan de stropers. Maar het fokken van neushoorns is duur. Wetenschappers van de Universiteit van Californië in San Diego hebben bijvoorbeeld aangetoond dat witte neushoorns in gevangenschap zelden vruchtbare nakomelingen voortbrengen. Bovendien groeien de hoorns van jong-volwassen neushoorns met slechts ongeveer zes centimeter per jaar, en dat tempo loopt terug als ze ouder worden.
Commerciële fokkers spreken tegen dat hun activiteiten zich "in gevangenschap" afspelen, en het model van Hume is bedoeld om de omstandigheden in het wild zoveel mogelijk na te bootsen. Maar als fokken ooit wil worden gezien als een alternatief voor oogsten in het wild, moeten andere fokkers deze omstandigheden nabootsen. De kosten zouden aanzienlijk zijn, en er zou ongetwijfeld mee gesjoemeld worden.
Hoewel fokkers graag hun activiteiten willen verdedigen, hebben economen de mythe als lariekoek afgedaan dat een legale binnenlandse markt voor de hoorn van neushoorns zal leiden tot bescherming van de wilde populaties. Zelfs als het gefokte aanbod uit Zuid-Afrika in een deel van de wereldwijde vraag zou kunnen voorzien, zou dat degenen die onverschillig zijn over de herkomst niets uitmaken en de vraag naar het wilde product niet terugdringen. Zuid-Afrika zal binnenkort waarschijnlijk de thuishaven zijn van een parallelle markt, waar het witwassen van illegale hoorn op uitgebreide schaal plaatsvindt. Dat is misschien aanvaardbaar voor de fokkers, maar zou anathema moeten zijn voor iedereen die probeert de wilde neushoorns te beschermen.
Vertaling: Menno Grootveld