Ucrania y el futuro de Europa
BERLÍN – ¿Qué ocurrirá cuando se haya completado el despliegue de tropas rusas a lo largo de la frontera con Ucrania? ¿Dará el Presidente ruso Vladimir Putin la orden de atacar para privar a uno de sus vecinos –un estado soberano y miembro de las Naciones Unidas y del Consejo de Europa- de su independencia y obligarlo a volver bajo el yugo del Kremlin?
Todavía no lo sabemos, pero los hechos apuntan de manera abrumadora a una guerra inminente. Si eso llegara a ocurrir, las consecuencias para Europa serían profundas, cuestionando el orden y los principios europeos –renuncia a la violencia, autodeterminación, la inviolabilidad de las fronteras y la integridad territorial- sobre los que se ha basado desde el fin de la Segunda Guerra Mundial.
Debido a la violenta agresión por parte de Rusia, Europa una vez más quedaría dividida en dos esferas: una "Europa rusa" en el este europeo de la UE y la OTAN en las partes occidentales y centrales del continente. Los intereses imperiales volverían a fijarse contra los de las democracias que colaboran entre sí bajo un estado de derecho en común.
Peor aún, no se podría confiar más en las palabras, los vínculos, los compromisos y tratados, los países aumentarían su nivel de rearme para protegerse y habría una completa reorganización de las relaciones económicas, en particular en el sector de la energía. Europa ya no podría arriesgar el tipo de dependencias económicas por las que se la pudiera chantajear en épocas de crisis. Si bien una reorganización de las relaciones económicas podría ser costosa para la UE, no habría otras opciones. La única alternativa sería someterse y renunciar a los propios principios europeos.
Al centro de la crisis actual se encuentra el hecho de que la Rusia de Putin se ha convertido en una potencia revisionista. No solo ya no le interesa mantener el statu quo, sino que está dispuesta a amenazar e incluso usar la fuerza militar para cambiarlo a su favor.
Si Europa cediera ante estos impulsos imperiales, traicionaría sus valores más fundamentales y tendría que renunciar al modo en que vive y desea vivir. Significaría renunciar a todo el progreso que representa la UE. Las consecuencias son impensables y, por consiguiente, enteramente inaceptables.
Subscribe to PS Digital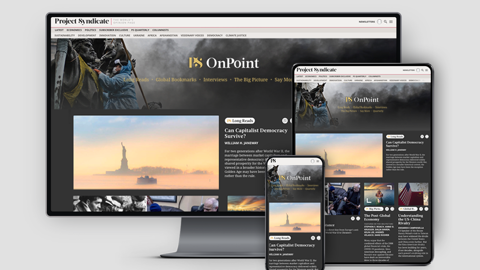 Subscribe to PS Digital
Access every new PS commentary, our entire On Point suite of subscriber-exclusive content – including Longer Reads, Insider Interviews, Big Picture/Big Question, and Say More – and the full PS archive.
Las exigencias de Rusia muestran con precisión lo que realmente está en juego en el conflicto ucraniano. Putin quiere que la OTAN abandone su política de puertas abiertas, no solo en Europa del Este sino también en Escandinavia (frente a los estados miembros de la UE Suecia y Finlandia). No se trata del supuesto arrinconamiento de Rusia por la OTAN, sino de la restauración del imperio ruso y la amenaza existencial de Putin al arraigo y la propagación de la democracia. Lo que está en juego en la crisis ucraniana es el derecho a la autodeterminación, la prerrogativa de todos los países soberanos a escoger sus propias alianzas.
Putin desea desesperadamente borrar la humillación de la caída de la Unión Soviética y la pérdida histórica de su país como potencia global. En su opinión, el Imperio Ruso debe regresar y convertirse en un actor de peso. Esta aspiración afecta de inmediato a Europa, porque Rusia nunca ha sido una potencia global sin primero convertirse en una fuerza hegemónica en Europa. Hoy, la independencia de Ucrania está en juego. Mañana serán los demás estados post soviéticos; y después, la dominación de Europa. Los europeos que conocen su historia deberían estar familiarizados con esto.
Dadas las implicancias de la agenda de Putin, cabe preguntarse a qué está esperando Europa. ¿Qué más tiene que pasar para que los europeos despierten ante los hechos? Si alguna vez hubo un tiempo para poner de lado conflictos menores, es ahora. Si sus principios han de sobrevivir en un mundo de renovada competencia política entre grandes potencias y rivalidades geopolíticas, Europa debe convertirse en potencia en sí misma. Sus principios están bajo amenaza directa. ¿Quién los defenderá?
No hay dudas de que, en las actuales circunstancias, la garantía de seguridad estadounidense en Europa es evidente y necesaria. Pero para que mantenga el pacto transatlántico, Europa debe fortalecerse, lo que exigirá que Alemania –en primer lugar- reevalúe su papel. Es y seguirá siendo el mayor estado de Europa en lo económico y demográfico.
Considerando la magnitud de las amenazas actuales, ¿de verdad sigue siendo un problema la promesa del gobierno alemán saliente de destinar al menos un 2% del PIB a defensa? ¿O es ahora más importante que el gobierno alemán haga un anuncio claro y positivo acerca de su compromiso con el apoyo a Ucrania y la defensa de los principios europeos? Eso enviaría un mensaje del que el Kremlin no se podría desentender. Pero el tiempo se acaba.
Traducido del inglés por David Meléndez Tormen