Oekraïne en de toekomst van Europa
BERLIJN – Wat zal er gebeuren wanneer de Russische inzet van troepen langs de Oekraïense grens is voltooid? Zal de Russische president Vladimir Poetin het bevel geven om aan te vallen, in zijn poging om een van Ruslands buurlanden – een soevereine staat, die lid is van de Verenigde Naties en de Raad van Europa – van zijn onafhankelijkheid te beroven en terug te dwingen onder het juk van het Kremlin?
We weten het nog steeds niet, maar de feiten wijzen overduidelijk op een op handen zijnde oorlog. Mocht dat gebeuren, dan zou dat ingrijpende gevolgen hebben voor Europa, waardoor de Europese orde en de beginselen – afzien van geweld, zelfbeschikking, onschendbaarheid van grenzen en territoriale integriteit – waarop deze sinds het einde van de Koude Oorlog is gebaseerd, op losse schroeven zouden komen te staan.
Als gevolg van de gewelddadige agressie van Rusland zou Europa opnieuw in twee sferen worden verdeeld: een ʻRussisch Europa' in het oosten, en het Europa van de Europese Unie en de NAVO in het westen en midden van het continent. Imperiale belangen zouden opnieuw worden afgewogen tegen die van democratieën die samenwerken in een gemeenschappelijke rechtsorde.
Erger nog, omdat woorden, banden, verbintenissen en verdragen niet langer zouden worden vertrouwd, zou er een toename zijn van de herbewapening voor zelfbescherming en een volledige reorganisatie van de economische betrekkingen, met name in de energiesector. Europa zou niet langer het risico kunnen nemen van het soort economische afhankelijkheden waardoor het in crisissituaties kan worden gechanteerd. Hoewel een reorganisatie van de economische betrekkingen voor de EU duur zou uitvallen, is er geen andere optie. Het enige alternatief zou onderwerping en het opgeven van Europa's eigen principes zijn.
De kern van de huidige crisis is het feit dat Rusland onder Poetin een revisionistische macht is geworden. Het land is niet alleen niet langer geïnteresseerd in handhaving van de status quo; het is ook bereid te dreigen en zelfs militair geweld te gebruiken om de status quo in zijn voordeel te wijzigen.
Als Europa zich zou onderwerpen aan deze imperiale impulsen, zou het zijn meest fundamentele waarden verraden, en zou het afstand moeten doen van de manier waarop Europeanen leven en willen leven. Het zou betekenen dat alle vooruitgang waarvoor de EU staat, wordt opgegeven. De gevolgen zijn ondenkbaar, en dus volstrekt onaanvaardbaar.
Subscribe to PS Digital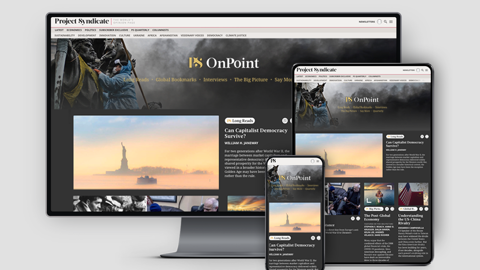 Subscribe to PS Digital
Access every new PS commentary, our entire On Point suite of subscriber-exclusive content – including Longer Reads, Insider Interviews, Big Picture/Big Question, and Say More – and the full PS archive.
De eisen van Rusland laten precies zien waar het in het Oekraïense conflict werkelijk om gaat. Poetin wil dat de NAVO haar opendeurbeleid niet alleen in Oost-Europa, maar ook in Scandinavië (ten aanzien van de neutrale EU-lidstaten Zweden en Finland) opgeeft. Het gaat hier niet om de vermeende omsingeling van Rusland door de NAVO. Het gaat om het herstel van het Russische rijk, en om Poetins existentiële angst dat de democratie wortel zal schieten en zich zal verspreiden. In de Oekraïense crisis staat het recht op zelfbeschikking op het spel – het voorrecht van alle soevereine landen om hun eigen bondgenootschappen te kiezen.
Poetin wil wanhopig de vernedering van de ondergang van de Sovjet-Unie en het historische verlies van de wereldmacht van Rusland uitwissen. In zijn ogen moet het Russische rijk herrijzen en zich opnieuw kenbaar maken. Bij dit streven is Europa onmiddellijk betrokken, want Rusland is nooit een wereldmacht geweest zonder eerst een hegemoniale macht in Europa te worden. Vandaag ligt de onafhankelijkheid van Oekraïne op het hakblok. Morgen zullen het de andere post-Sovjetstaten zijn; en daarna wacht de overheersing van Europa. Europeanen die hun geschiedenis kennen, zouden maar al te bekend moeten zijn met dit patroon.
Gezien de implicaties van Poetins agenda, vraag je je af waar Europa op wacht. Wat moet er nog meer gebeuren voordat de Europeanen de feiten onder ogen zien? Als er ooit een tijd was om kleinzielige conflicten opzij te zetten, dan is het nu wel. De EU moet een volwaardige macht worden als haar beginselen willen overleven in een wereld van hernieuwde grootmachtpolitiek en geopolitieke rivaliteit. Deze beginselen worden rechtstreeks bedreigd. Wanneer zal de EU ze verdedigen?
Zeker, het belang van de Amerikaanse veiligheidsgarantie in Europa is onder de huidige omstandigheden evident. Maar wil het transatlantisme blijven bestaan, dan moet Europa zelf sterker worden. Daartoe moet Duitsland – eerst en vooral – zijn rol heroverwegen. Duitsland is en blijft economisch en demografisch de grootste lidstaat van Europa.
Is, gezien de omvang van de huidige dreiging, een Duits binnenlands geschil over de belofte van de vorige regering om ten minste 2 procent van zijn bbp aan defensie te besteden, nog echt een probleem? Of is het nu belangrijker dat de Duitse regering een duidelijke en positieve verklaring aflegt over haar inzet voor de ondersteuning van Oekraïne en de verdediging van de Europese beginselen? Dat zou een boodschap zijn die het Kremlin niet kan misverstaan. Maar de tijd dringt.
Vertaling: Menno Grootveld