L'Ukraine et l'avenir de l'Europe
BERLIN – Que va-t-il se passer lorsque le déploiement de troupes russes le long de la frontière ukrainienne sera terminé ? Le président russe Vladimir Poutine va-t-il donner l'ordre d'attaquer pour priver l'un des voisins de la Russie – un État souverain et membre des Nations Unies et du Conseil de l'Europe – de son indépendance et le forcer à revenir sous le joug du Kremlin ?
Nous n'en savons toujours rien, mais les faits indiquent en grande majorité une guerre imminente. Si cela devait se produire, les conséquences pour l'Europe seraient profondes, remettant en question l'ordre européen et les principes (renonciation à la violence, autodétermination, inviolabilité des frontières et intégrité territoriale) sur lesquels elle repose depuis la fin de la Guerre froide.
En raison de la violence russe, l'Europe serait à nouveau divisée en deux sphères : une « Europe russe » à l'Est et l'Europe de l'Union européenne et de l'OTAN dans les parties centrale et occidentale du continent. Les intérêts impériaux seraient une fois de plus opposés à ceux des démocraties qui œuvrent de concert sous une règle de droit commune.
Pire encore, parce que les mots, les obligations, les engagements et les traités ne seraient plus dignes de confiance, il y aurait un réarmement accru pour l'autoprotection et une réorganisation complète des relations économiques, en particulier dans le secteur de l'énergie. L'Europe ne serait plus en mesure de risquer le genre de dépendances économiques qui l'exposent au chantage durant les crises. Bien qu'une réorganisation des relations économiques soit coûteuse pour l'UE, il n'y aurait pas d'autre option possible. La seule alternative serait la soumission et la reddition des principes propres à l'Europe.
Au cœur de la crise actuelle se trouve le fait que la Russie, sous Poutine, est devenue une puissance révisionniste. Non seulement elle n'est plus intéressée par le maintien du statu quo, mais elle est prête en outre à menacer et même à utiliser la force militaire pour changer le statu quo en sa faveur.
Si l'Europe devait se soumettre à ces impulsions impériales, elle trahirait ses valeurs les plus fondamentales et devrait renoncer à la façon dont les Européens vivent et veulent vivre. Cela reviendrait à renoncer à tous les progrès que l'UE représente. Les conséquences sont impensables et donc totalement inacceptables.
Secure your copy of PS Quarterly: The Year Ahead 2023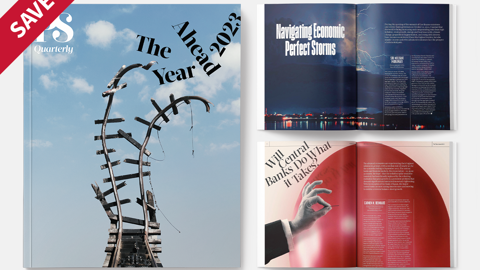 Secure your copy of PS Quarterly: The Year Ahead 2023
Our annual fourth-quarter magazine is here, and available only to Digital Plus and Premium subscribers. Subscribe to Digital Plus today, and save $15.

Les exigences de la Russie montrent précisément ce qui est réellement en cause dans le conflit ukrainien. Poutine veut que l'OTAN abandonne sa politique de porte ouverte non seulement en Europe de l'Est mais également en Scandinavie (vis-à-vis des États membres neutres de l'UE, la Suède et la Finlande). Il ne s'agit pas ici d'un encerclement supposé de la Russie par l'OTAN. Il s'agit de la restauration de l'Empire russe et de la crainte existentielle de Poutine de voir la démocratie s'enraciner et se propager. Le droit à l'autodétermination est en jeu dans la crise ukrainienne – la prérogative de tous les pays souverains de choisir leurs propres alliances.
Poutine veut désespérément effacer l'humiliation de la chute de l'Union soviétique et de la perte historique de puissance mondiale de la Russie. Selon lui, l'Empire russe doit se relever et se faire connaître. Cette aspiration implique immédiatement l'Europe, parce que la Russie n'a jamais été une puissance mondiale sans d'abord devenir une force hégémonique en Europe. Aujourd'hui, l'indépendance de l'Ukraine est menacée. Demain, ce sera le tour des autres États post-soviétiques ; et après cela viendra celui de la domination de l'Europe. Les Européens qui connaissent leur histoire ne connaissent que trop bien ce schéma.
Compte tenu des implications de l'ordre du jour de Poutine, on peut se demander pourquoi l'Europe perd autant de temps. Que faut-il de plus pour que les Européens ne se réveillent ? S'il y a bien une occasion de mettre de côté les conflits mineurs, c'est maintenant. L'UE doit devenir une puissance en soi si ses principes veulent survivre dans un monde de nouvelles politiques de grande puissance et de rivalité géopolitique. Ces principes sont directement menacés. Quand l'Europe va-t-elle les défendre ?
Il est certain que l'importance de la garantie de sécurité américaine en Europe est évidente dans les circonstances actuelles. Mais pour que le transatlantisme perdure, l'Europe elle-même doit devenir plus forte. Il faudra pour cela que l'Allemagne, d'abord et avant tout, se penche à nouveaux frais sur le rôle qu'elle doit jouer. Elle est et restera le plus grand État membre de l'Europe sur le plan économique et démographique.
Compte tenu de l'ampleur des menaces actuelles, un différend intérieur allemand sur la promesse de l'ancien gouvernement de dépenser au moins 2 % de son PIB  dans la défense est-il vraiment un problème ? Ou bien est-il plus important pour l'heure que le gouvernement allemand fasse une déclaration claire et positive sur son engagement à soutenir l'Ukraine et à défendre les principes européens ? Cela enverrait un message clair au Kremlin. Mais le temps presse.