Od jaderné bezpečnosti k zabezpečení jaderného materiálu
WASHINGTON, DC/MOSKVA – Před čtyřmi lety zasáhlo pobřeží Japonska ničivé cunami. Patnáctimetrové vlny prolomily ochrannou zeď jaderné elektrárny Fukušima Daiči, přerušily její nouzové napájení a vyřadily z chodu chladicí systémy.
Tato jaderná havárie byla nejhorší od výbuchu v jaderné elektrárně Černobyl v roce 1986. Vyšetřovatelé dospěli k závěru, že jednou z nepřímých příčin bylo sebeuspokojení: vedení elektrárny věřilo, že bezpečnostní systémy jsou robustní, a v objektu neexistoval efektivní nezávislý dohled.
Japonská katastrofa podnítila reformy v oboru jaderné bezpečnosti. Pokud jde o zabezpečení jaderného materiálu, představuje sebeuspokojení i nadále velký problém. Nesmíme čekat, až se stane tragédie, abychom začali konat.
Dnes je v několika stovkách objektů v 25 zemích světa rozmístěno více než 1,5 milionu kilogramů vysoce obohaceného uranu a plutonia – klíčových složek potřebných pro výrobu jaderných zbraní. Některé z nich jsou špatně zabezpečené. Přesto i tak malé množství jaderného materiálu, že se vejde do pytlíku s cukrem, postačuje ke konstrukci zbraně s potenciálem usmrtit statisíce lidí a napáchat škody ve výši mnoha miliard dolarů.
V posledních letech se pro lepší zabezpečení jaderných objektů vykonalo mnoho, avšak vlády musí dělat ještě víc, aby ochránily své občany před riziky katastrofálního jaderného terorismu. Jako užitečný návod k reformám nám mohou sloužit ponaučení z krize ve Fukušimě.
Tak především musí vlády a zástupci sektoru přistupovat k jadernému zabezpečení jako k procesu ustavičného zlepšování a pracovat tak, aby udrželi tempo s vývojem hrozeb a problémů. Objekt považovaný před 20 lety za bezpečný by dnes mohl být zranitelný vůči kybernetickému útoku, který obchází jeho bezpečnostní systémy nebo hatí snahu sledovat jaderný materiál.
Subscribe to PS Digital Now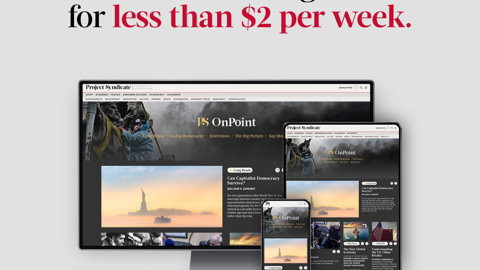 Subscribe to PS Digital Now
Access every new PS commentary, our entire On Point suite of subscriber-exclusive content – including Longer Reads, Insider Interviews, Big Picture/Big Question, and Say More – and the full PS archive.
Dobře organizované a dobře financované nestátní skupiny, jako je Islámský stát, mohou využívat novou taktiku, technologie a kapacity ke krádežím jaderných materiálů. Vlády proto musí ustavičně vyhodnocovat vyvíjející se technologie a hrozby tak, aby bezpečnostní systémy určené k ochraně jaderných materiálu měly náskok před kapacitami těch, kdo se je snaží ukrást.
Za druhé by vlády a zástupci sektoru měli zajistit, že se kultura jaderného zabezpečení stane stejně jako kultura přímé bezpečnosti nedílnou součástí provozu všech jaderných objektů. Jak kdysi prohlásil generál Eugene Habiger, bývalý vrchní velitel strategického velení Spojených států, jenž býval "bezpečnostním carem" amerického ministerstva energetiky: "Dobré zabezpečení tvoří z 20% vybavení a z 80% lidé."
Vlády a zástupci sektoru by měli spolupracovat na podpoře silné kultury zabezpečení. Každý jeden zaměstnanec jaderného objektu – od strážců přes vědce až po členy vedení – musí chápat zabezpečení jaderných materiálů jako základní součást své práce.
Za třetí musí vlády bezpečnostní systémy v jaderných objektech pravidelně hodnotit. Nestačí, když provozovatelé jaderných zařízení prohlásí, že bezpečnost jejich provozů je "dost dobrá". Účinný dohled může vyloučit sebeuspokojení.
Fukušima odhalila potřebu, aby regulátoři prováděli pravidelné zátěžové testy a hodnotili schopnost jaderných objektů obstát při různých nepředvídaných událostech ovlivňujících jejich bezpečnost. Regulátoři by měli provádět podobná hodnocení zaměřená konkrétně na vyhodnocování schopnosti objektů odolávat bezpečnostním hrozbám včetně krádeží ze strany osob v nich pracujících.
A konečně by vedoucí světoví představitelé měli usilovat o navázání užších forem mezinárodní spolupráce v oblasti jaderného zabezpečení. Jak ukázaly Černobyl a Fukušima, zranitelnost jaderné bezpečnosti v jedné zemi může mít hluboké důsledky pro zbytek světa. O rizicích nedostatečného zabezpečení jaderných materiálů lze říci totéž.
Sdílíme politický – a morální – závazek zajistit, aby se nejnebezpečnější materiály na světě nikdy nedostaly do rukou teroristů. Státy by si měly vzít příklad z Nunn-Lugarova programu spolupráce na snižování hrozeb, úspěšného programu spolupráce v oblasti jaderného zabezpečení mezi Spojenými státy, Ruskem a postsovětskými republikami. Země disponující jadernými materiály by si měly vyměňovat informace o tom, jak nejlépe zvýšit jejich zabezpečení, zlepšit sdílení informací o společných problémech a zkoumat možnost provádění peer review.
Náš přítel a kolega Sam Nunn, spolupředseda Iniciativy proti jaderné hrozbě, často varuje, že jsme účastníky závodu mezi spoluprací a katastrofou. Je důležité, abychom si vzali ponaučení z Fukušimy a zakomponovali je do naší strategie boje proti jadernému terorismu. V tomto závodě si nemůžeme dovolit zůstat pozadu.
Z angličtiny přeložil Jiří Kobělka.